Case in point: In early 2014, Virgin America, the California-based domestic airline founded in 2007, reported its 6th straight quarter of year-over-year bottom line improvement.
And when you think about it, Virgin America's success is impressive—considering the challenge of breaking into an industry that, in and of itself, continues to face many obstacles.
So how did Virgin America insert itself into an already crowded industry—and succeed? Well, they've set themselves apart by showing customers they care—by doing their homework via market research surveys.
And the customer insights they've gained have given them invaluable information about their business, from identifying their target market to finding out what consumers care about most.
Increase the power of your brand
You can't improve what you don't measure. Start tracking your key brand metrics today with SurveyMonkey Audience.
A departure from the norm – piloted by customer feedback
If anybody can speak to the why behind this airline's success, it's Virgin America's Vice President of Marketing and Communications, Luanne Calvert.
Calvert says that one of the challenges Virgin America faces is being able to provide travelers with a great customer experience. "Part of our marketing strategy is to give our guests what they have on the ground and bring it to the sky."
While other airlines are cutting corners, Virgin America is trying to deliver on their brand promise—that they're "on a mission to make flying good again." And they're doing that by collecting customer feedback with online surveys. For example, when it comes to in-flight meal options, Calvert says: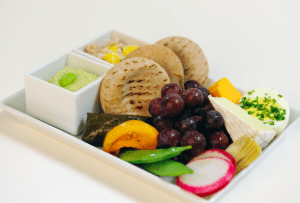 "Instead of other airlines that you're kind of reliant on when the trolley happens to roll over your foot down the aisle, we encourage people to do their own ordering.
"So we wanted to make sure that people actually had the right selection that they wanted–so we used SurveyMonkey as a way to revamp our catering menu."
And the feedback Virgin America collected means more fresh food, small plates, and, well, potato chips. "Pringles are probably in it for the long haul," says Calvert.
All snacking aside, it's also been important for Virgin America to get an understanding of whether or not their customers are staying loyal to their business, says Phil Seward, Director of Guest Loyalty at Virgin America. "One of the measures we use internally to understand how our guests appreciate the whole experience is through the Net Promoter Score."
The Net Promoter® Score, or NPS, is a standard that companies around the world use to measure customer loyalty. And Seward says it's invaluable to his company. "NPS is very important to us to learn about the overall perspective of the end-to-end guest experience. But more importantly, we use SurveyMonkey to drill down into the detailed aspects of the experience, to identify where there's opportunity for improvement—but equally where we're doing well and where we can continue to differentiate from the competition."
Finding out if customers are recommending their airline to others? Great! Giving customers what they want? Awesome! But how does Virgin America know who's taking their flights—and how to target their marketing efforts accordingly?
Make your marketing efforts count by discovering who's on board
But all the customer feedback in the world will only take you so far. Although it's important to listen to your customers, you need to know who you're speaking to. Seward says Virgin America realized that it had another problem to solve—finding out more about their customers: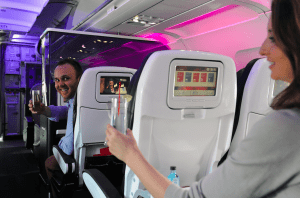 "Another of our challenges here as we continue to evolve our network, we're really trying to appeal to the business traveler. We learned that a very large proportion of our guests came from small businesses.
"We wanted to make sure that we had an understanding of what was actually important to a small business traveler, or to someone with an entrepreneurial mindset. How can we drive appeal to that particular segment? We used SurveyMonkey to deploy a very detailed survey in order to try and understand what those priorities were for the small business traveler."
Improve the customer experience – Use feedback the right way
Sure, knowing their target demographic and figuring out what they want are essential to Virgin America's success. But knowing what to do with that data is crucial. Seward explains how Virgin America uses the customer feedback they collect: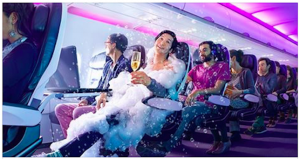 "The important part about the survey results is that they affect every part of the operation and they're shared across all departments in the business. What we're able to do is to get down into the detail and understand how that guest experience can actually affect our operations across the airline.
"That's everything from the digital experience, the reach of our advertising, the actual physical experience, the interaction with our teammates and the guest perceptions of the product and the amenities and how valuable they are to them. The granularity of the data we collect can be very important to us from both an operational perspective but also from a marketing and experiential perspective as well."
Conducting consumer research isn't a one-time deal for Virgin America. They regularly collect customer feedback to set business benchmarks to monitor their progress. And just the act of asking for all of this customer feedback is working in their favor. "We're always surprised at just much much [customers] are willing to share their feedback with us," Seward says.
"We believe it's a reflection of how they feel about the brand. They feel that we're going to genuinely listen to their feedback and it's important for us to show that we take their feedback seriously and actually use it to affect how we evolve the airline going forward."
Watch Virgin America's Luanne Calvert, along with her colleague Phil Seward talk about how they use customer feedback to inform their business decisions:
How do you collect customer insights? Have you made a decision (big or small) based on customer feedback?
Brand awareness, crisis management, ad testing: There's many things you can do with market research surveys. See more examples here.