Market Research Survey
Get to know your customer, grow your business.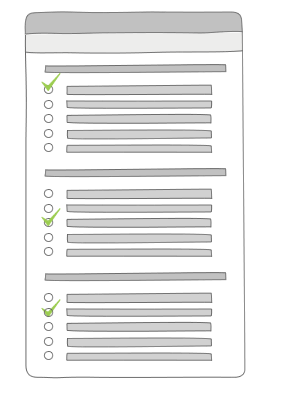 The only way to keep your customers is to know exactly what they want. Guesswork and gut instinct won't cut it, so business owners and marketers turn to surveys to gather data about their target consumers. Marketers unlock the power of surveys to research a target market, understand buying habits, get product feedback, measure customer awareness, gain new customers, and so much more.
Marketing pros use online surveys to...
Update product offerings or pricing options. In this case, marketers would likely ask questions such as: what changes would most improve our new product? Or, what do you like most about competing products currently available from other companies? Sending an online product feedback survey to customers will help you gain insights that drive product improvements, customer satisfaction, and ultimately, sales.
Social media strategies and campaigns. With the increasing importance of social media in the marketing mix and the brand experience, some of our customers use online surveys to figure out which social media channels they need to pay attention to. Some have posted their marketing survey URLS on Facebook or Twitter to survey customers to gauge interest in product categories. Should you send out about company updates via a blog, on LinkedIn, or on a Facebook newsfeed? Use an online survey to find the answers you need.
Market research and analysis. Your marketing budget is probably one of your business's largest expenses. Before you earmark funds for any marketing plans or initiatives, it's absolutely critical to know that the strategies will drive your success. A market research survey can help you analyze the potential market size for your offering, the prime location for your retail store, or the optimal price for your products. The effort you expend on a market study will be rewarded with go-to-market strategies that have a higher chance of success.
Gain insights into customer demographics. Need to identify potential customers in a new service area? Survey on gender, age, and location, income, where they shop, what they do for fun, how many children they have, and more. You can then target your messaging and campaigns to really speak to your customers. You'll also be able to concentrate time and resources on where they'll matter most.
Market segmentation. Segmenting your customers, that is, focusing your ninja marketing prowess on one group that shares common attributes (such as demographics, geography, lifestyle, product usage, brand affinity etc.) might just help to tip the scale in your favor. To gain this competitive advantage, many marketers send online surveys. A health club owner could segment based on facility or service usage (spa, cardio equipment, daycare, nutrition classes), while a consumer packaged goods company might segment based on lifestyle (health-conscious, low-cal, vegetarian diet) to develop finely-tuned marketing programs that target the needs of one or more of the segments in order to increase membership sign-ups.
Decide which campaign creative to launch. This or that? Would your customer base be more likely to respond to an online re-marketing banner ad or a billboard on the freeway close to home? Which email subject line would make you click through to the product detail page? Do you need to test a new ad format? Helping to prioritize spend and resources, online marketing surveys should be an essential tool in your strategy toolkit.
Measure customer awareness, usage and satisfaction over time. Ever get carded? Companies might use marketing surveys to test the overall effectiveness of a rewards program and its impact on customer loyalty. Surveys can provide insight on customer acquisition, retention, and sales.
Branding, positioning, and naming testing. Just do it. Think different. Why do some companies get all the love? Why do loyal customers refuse to be wooed by lower price tags, and choose to stick by their favorite brands? The most revered brands listen to their customers, and tailor their marketing strategies to their target audience. Surveying your customers to test branding and naming concepts will help you understand the attitudes motivations, and preferences of your customers, especially in relation to your competitors.
An online marketing survey can help you increase traffic, boost conversions, and grow sales. Our website feedback template contains questions such as: Why did you come to our site? Did you find what you needed? If not, please tell us what information you were looking for. Whether you choose from our extensive Question Bank library of certified questions, or come up with your own, try to balance user experience questions with customer demographic information.
Five Tips for Getting Started
Know your target market. Define geographic as well as demographic parameters. Many marketing professionals focus on their "best customers" based on sales. This makes it easier to track purchases and patterns. In order to cultivate new customer relationships, others might also choose to study customers who have abandoned carts or lapsed in activity altogether.
Calculate your net promoter score. Best customers are one thing; brand advocates sweeten the deal. A powerful metric based on an 11-point scale, your net promoter score will help you identify brand champions, measure loyalty, and drive change.Not only will this score give you great insight into what your customers think about you, but it quantifies the customer experience. Survey respondents should be grouped into three categories: detractors, passives, and promoters. While a customer satisfaction survey will give you more actionable data, it's a great customer-engagement health-checker.
Use a certified template. All marketing survey template questions are written by a team of professional survey methodologists to help you get the most useful responses. Customizable to fit your needs, online survey templates can be used as is, or tailored to your company colors and themes. Brand your survey templates by adding your logo, inserting images, and more.
Keep it short and simple. By limiting the number of questions you have, you increase the likelihood that each survey taker will answer every question. Keeping language simple, the questions comfortably short, and spread over many short pages (as opposed to cramming them all into long one) will prevent drop-outs. Minding the length will also help you focus on what's most important. Our market research product feedback survey template packs a punch in ten powerful questions.
Sharing is caring. Be transparent with your customers, let them know what you learned, and share your plans to take action based on the results you collected. Send out follow-up market research surveys if you need more information. You might consider featuring your results in promotional materials and pointing out what you've done to improve.
You don't have to spend loads of money to get answers. You just need to take advantage of the smart, cost-effective tools. Not sure how to reach the right people? SurveyMonkey Audience gives you access to millions of respondents ready to provide the answers you need to make critical decisions. At SurveyMonkey we're always working to improve our technology to help you make your best decisions. By sending a survey to reach out to your target market, you can make sure your efforts are as effective as possible.
So what are you waiting for? Get started and check out our market research templates today. You can create a survey in minutes, and start getting the critical feedback you need to grow your business.
Looking for More Survey Types and Survey Examples?
Why Do 15+ Million People Use SurveyMonkey?
Free
Send an unlimited number of surveys and polls with our FREE plan.
Easy to Use
Create and monitor your survey directly over the Internet — we've made it easy to get started, learn & use.
Intuitive Design
There's no need to be a programmer or engineer — if you can check email or use Facebook, then you can use SurveyMonkey.
Real Time Results
You can view your data as it comes in, keeping it to yourself or allowing others to see it.
Trustworthy & Experienced
SurveyMonkey has helped over 15 million satisfied customers gather information online.
Expands with Your Needs
SurveyMonkey PRO plans enhance your ability to gather & interpret information with advanced analytics and more.