September was a busy and exciting month, and it's time for our September recap of The Daily Q, our social series where we survey people on current events, trending topics, and more! This month we covered the Emmys, toxic traits at work, and more! But don't forget: the Daily Q is just one question; imagine the deeper insights you could get from sending a full survey! 
Yes, your coworkers are snooping at your work tabs.

We all have some toxic work traits, and our survey confirms that one of the most common ones is checking out what is going on in your colleagues' tabs. We've all been there: someone is droning on during a meeting, and you can't help but take a peek at what else they're working on. Gasp, is that a job application for another job? One too many online shopping tabs? Let this be a lesson: always check your tabs before hitting screen share. 
What's the key to better meetings? We found that 67% of workers said gathering feedback from employees would help improve the effectiveness of their meetings. Try our meeting feedback survey template so you can avoid poorly run meetings!
When it comes to infomercial inventions, The George Foreman Grill reigns supreme.

You know you have a soft spot for them, and it's not definitely just because it's 2am. If you've been around (and up late) since the nineties or aughts, then you know what we're talking about: infomercial inventions. Something about them always made you think, "why didn't I think of that?" Our survey only scratched the surface of the iconic products, but among the ones we highlighted, the George Foreman Grill was a clear crowd favorite. 
Think you have the next big idea? Find out what people want, need, and expect with surveys that show you how to improve your products and website—and how to win more brand champions.
People are interested in supporting underrepresented groups.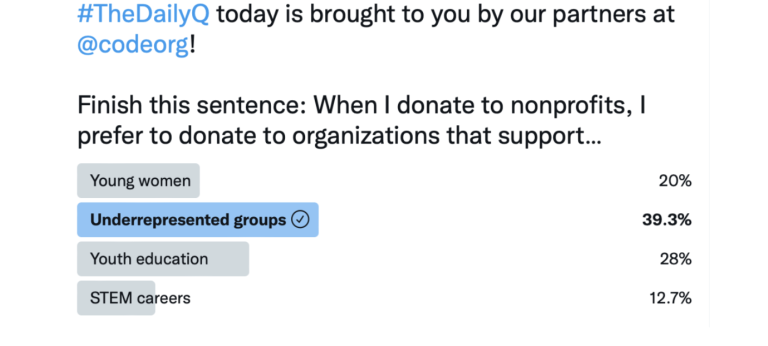 Our partners at Code.Org were curious to know what people are most interested in when considering which nonprofits to donate to. "Underrepresented groups" won in a landslide. But this question has another layer to it, since all of the groups listed can be supported by signing up for SurveyMonkey Contribute and selecting Code.org as your chosen nonprofit! Doing so lets you take surveys in exchange for nonprofit donations and help bring quality education to every child.
Nothing beats free shipping when it comes to online shopping.

It can take dozens of interactions to push through just one sale, and each customer touchpoint offers companies an opportunity to shine or sink. So we wanted to know, when it comes to making an online purchase, what's most important to consumers? Turns out, nothing beats free shipping—although having great reviews was a close second.
Sheryl Lee Ralph steals the show at the Emmys.

There were a lot of highlights from the 2022 Emmys, from Lizzo winning her first Emmy for "Watch Out For The Big Grrrls" to Jennifer Coolidge's slightly chaotic acceptance speech. However, our survey found that Sheryl Lee Ralph's moving rendition of Dianne Reeves' song "Endangered Species" was the night's highlight, and we cannot help but agree.
That's it for this month, but check back next month for our favorite statistics from October's best Daily Q's.