This is the second part in a series for HR professionals on how to use surveys throughout the employee lifecycle. For even more detailed best practices, tips, and a library of HR-specific survey templates, download our eGuide, Employee feedback for the win.

In our last post, we discussed the importance of using feedback at every stage of the employee lifecycle, and showed you how to use surveys to attract top talent. The next step? Using feedback to create a first-class onboarding experience.
How much does onboarding matter? According to one study, when employees go through a structured onboarding process, they are 58% more likely to remain with the organization after 3 years.

Onboarding—not to be confused with training—is a critical stage of the new hire experience. Training focuses on the day-to-day specifics of a particular role. It's an essential piece of the onboarding puzzle, but generally speaking, what many of us know as onboarding takes a bigger-picture approach, introducing employees to the organization on a cultural level.

Creating better onboarding experiences
Once you've signed your latest and greatest employee, you need to get them up to speed. Besides job-specific training, this means teaching your new hire about your company's culture, values, and important policies.

The faster you can do this, the better. But your onboarding process shouldn't just be fast: it needs to be effective, so new employees have everything they need to succeed.

That's where surveys come in.

Once onboarding has ended, ask new employees what they thought of the process. Here are some sample questions to get you started:
How satisfied are you with your experience at [company] so far?
Looking back to before you started work, how did we do in terms of getting you what you needed to get started?
What else would have been useful to you before your first day on the job?
Overall, how relevant is the onboarding material to your role?
How clear was the presentation of information?
Was your workstation ready when you arrived at work on your first day?
What else do you need to get up and running?
Quick tip: Reinforcing your current onboarding programs
Sometimes onboarding can be information overload. But there's a fun, easy way to find out what's sticking: use quizzes!
SurveyMonkey lets you create quizzes for anything, so you can make sure employees understand company values, protocols, or whatever else you think is important. You can choose to show results to quiz takers so they know what they got right, and what they didn't.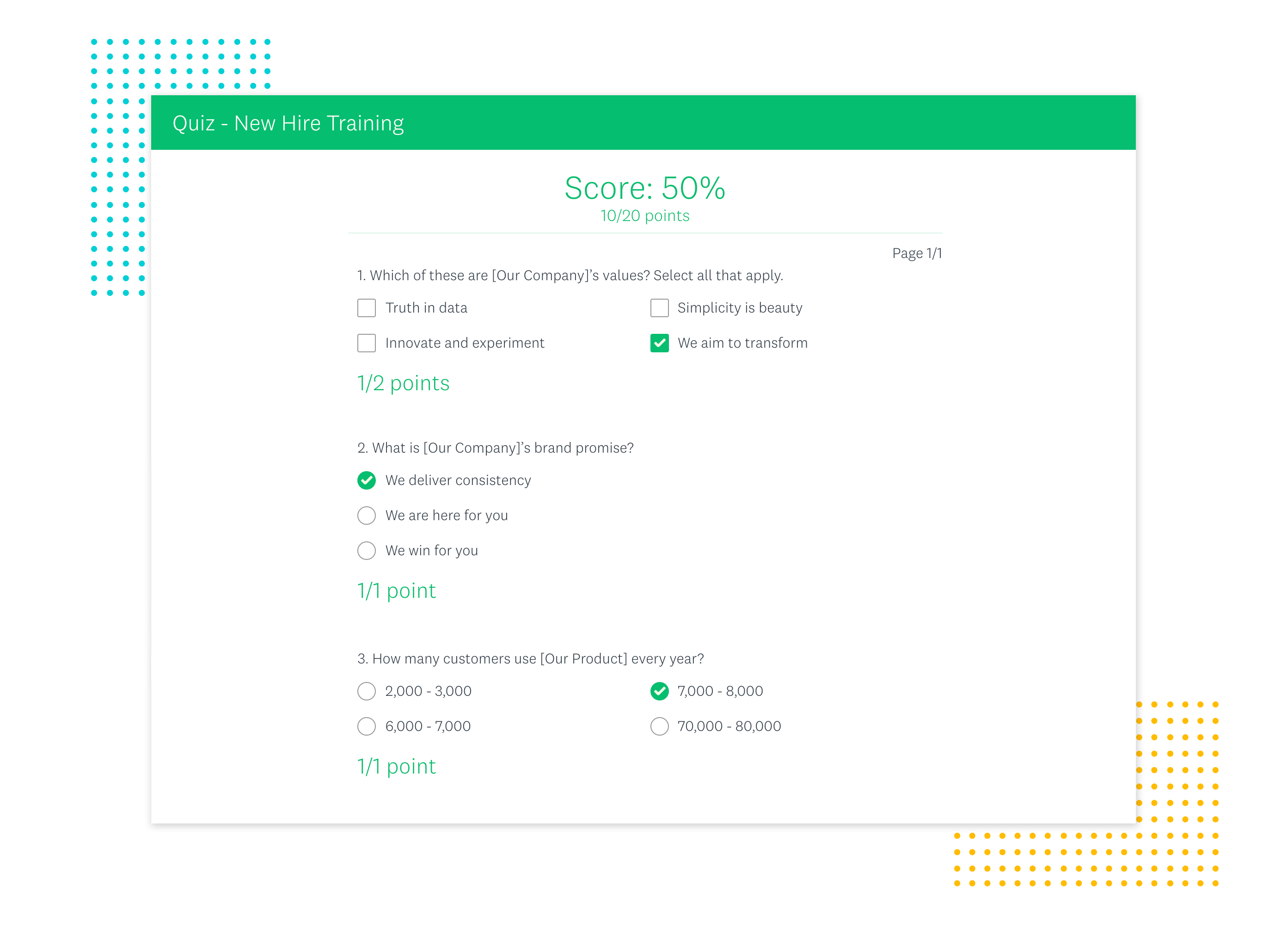 It's important to give ongoing support to new employees. Use surveys to follow up at chosen intervals (e.g. 30, 60, and/or 90 days) to see if they still feel the onboarding process adequately prepared them for their job. This lets you quickly and easily identify new employees who need additional help, while improving your own process.

Some questions you might ask:
How satisfied are you with your experience at [company] so far?
What are some factors that have contributed to your [positive or negative] experience?
How well do you understand how your job impacts your company's goals?
Which of the following activities occurred during your first [30, 60, 90] days? (Follow this with a checklist of your planned new hire activities)
How well did your manager equip you with resources to ramp up quickly and effectively?
What else would have been useful in your first [30, 60, 90] days?
First impressions are important, and can color how people feel about future events. Once someone goes from being a candidate to a new employee, the effectiveness of their onboarding program can be an influential factor in how long they stay with the organization. So as an HR professional, it's a job you absolutely want to get right—and it starts with asking the right questions!

Want to learn more, including how to create a feedback loop to inform future recruiting efforts? Check out our free guide.

The next post in our series will focus on development. Coming soon!

Want to build a more inclusive employee experience from beginning to end?
Our comprehensive HR playbook explains how to use surveys to attract, engage, and retain talent.