More than a third (36%) of Americans plan to shop in-store during this year's Black Friday. 
Does that number mean the annual tradition is well liked? And will Black Friday continue to motivate people to get out and shop, rather than order things online? Maybe not. 
We asked 598 adults on SurveyMonkey Audience their opinions to better understand the state of Black Friday. Despite that first stat, the results aren't positive: About 44% of adults either hate or dislike it, compared to 32% who like or love it.
Here are 5 Black Friday statistics that help explain people's unfavorable views of the day, as well as why it isn't as lucrative for business as you might think.
What questions do you want answered?  
SurveyMonkey Audience can present them to the audience you want to hear from. 
1. About 81% of adults who dislike shopping on Black Friday cite "Overcrowded" as a reason why.
Here's what some of the respondents said:
"The lines at the register get too long."

"The stores turn into complete chaos."

"It's easy to get stressed out."
The big crowd isn't the only reason people dislike Black Friday: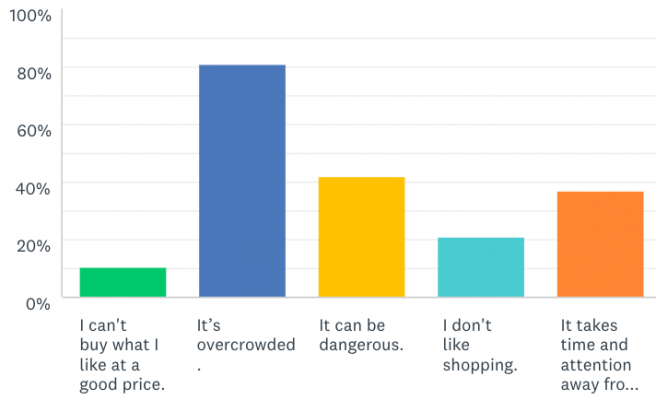 Some reasons vary in popularity, depending on the respondents' gender. For example, 27% of men don't like shopping, versus 16% of women; and 46% of women think it can be dangerous, compared to 37% of men.
2. Only 33% of adults are willing to sacrifice sleep on Black Friday.
This might disappoint the stores that open during the wee hours on Black Friday. On the bright side, sleeping in might be boosting customers' moods as they aren't inclined to go mad when they eventually go shopping. Here's what people would be willing to do to get what they want: 

Younger shoppers (18-29 years old) are more likely to get carried away: about 20% would get in a physical or verbal altercation, and roughly half would cut back on sleep. 
3. Just 20% of adults like Black Friday more than they used to.
Compare that with the 37% of adults who now like it less and you can see a clear downward trend in its popularity.  
Our word cloud from the free-response question, "What word best sums up your feelings on Black Friday?" can help explain why.

 4. Only 26% of adults plan to spend $500 or more during Black Friday.
This is lower than the share of adults who plan to spend under $100 (28%). Older adults are especially less inclined to spend big. Only 15% of adults over 60 years old plan to spend at least $500, compared to 43% of adults between 30 to 44 years of age.
5. 81% of adults don't consider Black Friday a tradition.
Despite its longevity, people—especially young adults— aren't willing to put it in the same class as other annual events; 83% of those ages 18-29 don't consider it a true tradition. 
These Black Friday stats reveal that despite the heavy discounts and pervasive ads, the annual event doesn't have a firm place in the hearts of most consumers. Alternative shopping events, like Amazon's Prime Day—which has already outsold Black Friday—might become the new norm.