At SurveyMonkey, we like to think of surveys as conversations between the survey creator and the people taking the survey.

Just like conversations, good surveys require some artistry, a bit of nuance—and just a tad of finesse—to engage the people you're connecting with.

There are new customization tools available for every type of survey—from playful to professional—and for every level of plan—from free to first-class. That means, depending on your plan type, you can:

Upload your own images as survey backgrounds to make surveys that truly reflect your personality—or your company's.
Now you can place survey questions anywhere on the page you want—easily repositioning them to fit new custom backgrounds.
Don't have the perfect background in mind? Choose one of our pre-designed themes or browse our database of thousands of stock photos to find one that complements your survey.
Add some zest to your survey by changing colors to match your brand or however you're feeling that day.
Plus, change your fonts, add logos, access white labeling options, and much, much more.
The bottom line is that now you can have full control over the look and feel of your surveys, and the sky's the limit for how you make them into engaging, eye-catching experiences.  

Ready to customize your own surveys? 
Try out all our new survey customization features—from choosing images to changing your survey layout—on your own survey.
Making a more delightful, more beautiful survey can go a long way in encouraging your respondents to take and finish your surveys. Want to see how? Let's look at how survey creators in each plan can take advantage of these new features. First, let's look at what surveys look like now. Simple. Clean. Effective. We understand you might want to add a little extra sparkle—or branding—to your next survey, so here are some ideas how.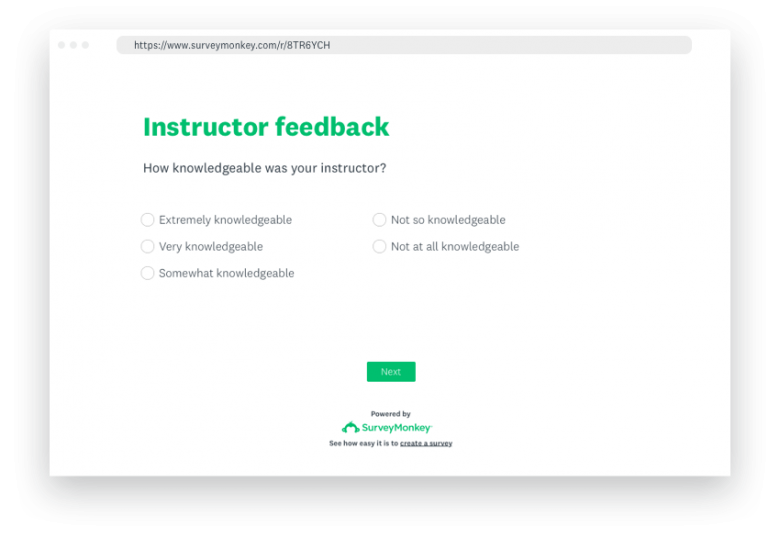 Have a free account? Add some extra spice to your survey

Even if you're on a budget, you can still customize your surveys to give survey-takers a better experience.

For example, let's say you're a teacher who's looking for some end-of-semester feedback from your students. Everyone wants their survey to look good (and you're no exception) but you'd rather customize it in your Free account.

You've got a plenty of free survey themes to choose from, ranging from clean and simple to a little more fancy. While you're at it, why don't you catch your students' attention with a font that's a little more bold? Accentuating key phrases is never a bad idea when you don't have the world's most captive audience.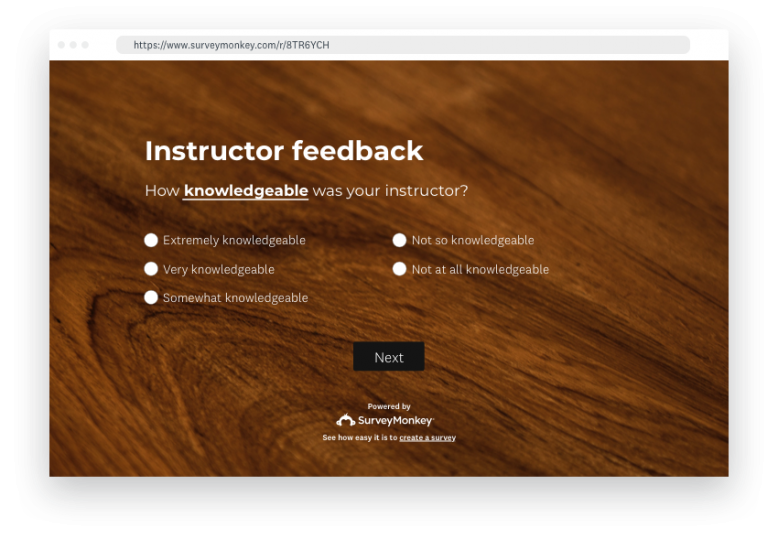 Make truly beautiful surveys with a paid plan

Ever try organizing your own wedding? We wouldn't necessarily recommend it, but pre-event surveys can make the logistics a whole lot easier. What's even better is that you can make your survey just as festive as the rest of your party.

If you've got paid plan on SurveyMonkey, you can choose from one of thousands of stock photos or upload the picture of your choice as your background, then reposition your survey questions so that they fit with your background just right. While you're at it, change the color palette to match it and add a font you like. Heck, maybe even add a custom survey URL that's a cheesy combination of both your names.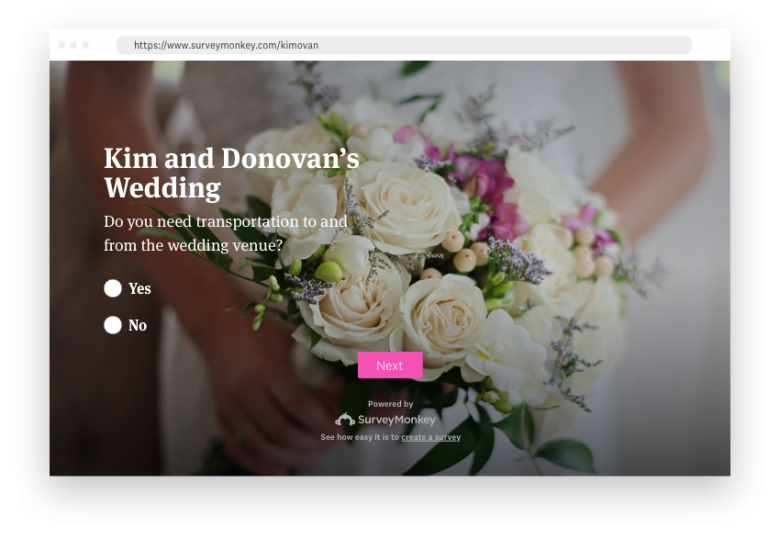 Brand every aspect of your survey with a Premier plan

Sometimes you need to take full control over how your survey looks. For example, let's say you run the customer satisfaction surveys for CarpoolLane, a scrappy ridesharing company. You've got brand guidelines that state everything—from your survey's email invitation to its color palette—has to match your brand. Not to worry: With a Premier plan you can do all that and more.

Apply your logo, save your custom color palette, upload a brand-friendly background image and reposition your survey to match. Here's where things get interesting. As a Premier user, you can remove SurveyMonkey's branding from every part of your survey—even the url.

Now you've got a survey that truly represents your brand (and nobody else's) in every way.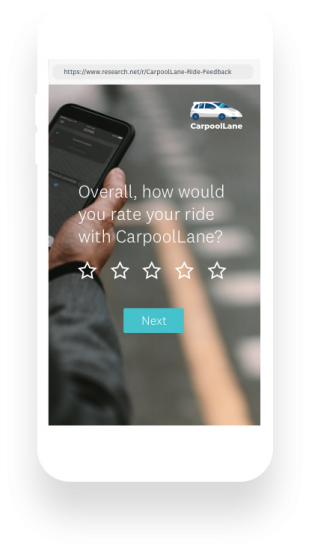 Want to go a step further? You can customize the email invitation of your survey to match your brand or even redirect people who finish your survey to your own site. There's a ton of opportunity when you've got full control over your survey.

These are just a few examples of how you can adapt your survey to fit your own needs—even when your needs change. After all, just like in conversations, you probably wouldn't talk to your customers the same way you talk to your kids—or to your wedding guests like you'd talk to your boss.

While everyone has their own individual needs for survey customization, the great thing is that anyone can benefit from a more beautiful, more engaging survey—especially the people taking your surveys.