Whether you're starting a new company, launching a new product, or just ready to refresh your look (like Slack just did), one of the first visual branding decisions is what the logo design will look like.
There's a lot that goes into a logo design: text, fonts, imagery, iconography, colors, spacing, sizing. And getting it right is important. A logo is the first thing about a brand that people recognize. It's the visual representation of everything a brand stands for.
But what elements of logo designs work best for building brand trust? What colors combinations work best? Are there logo components marketers should avoid? And how does this vary by industry?
SurveyMonkey teamed up with Venngage to find out. We surveyed 1,308 adults in the United States using our DIY market research panel, SurveyMonkey Audience. We asked respondents to rate the trustworthiness of 6 different hypothetical logo designs across 6 different industries: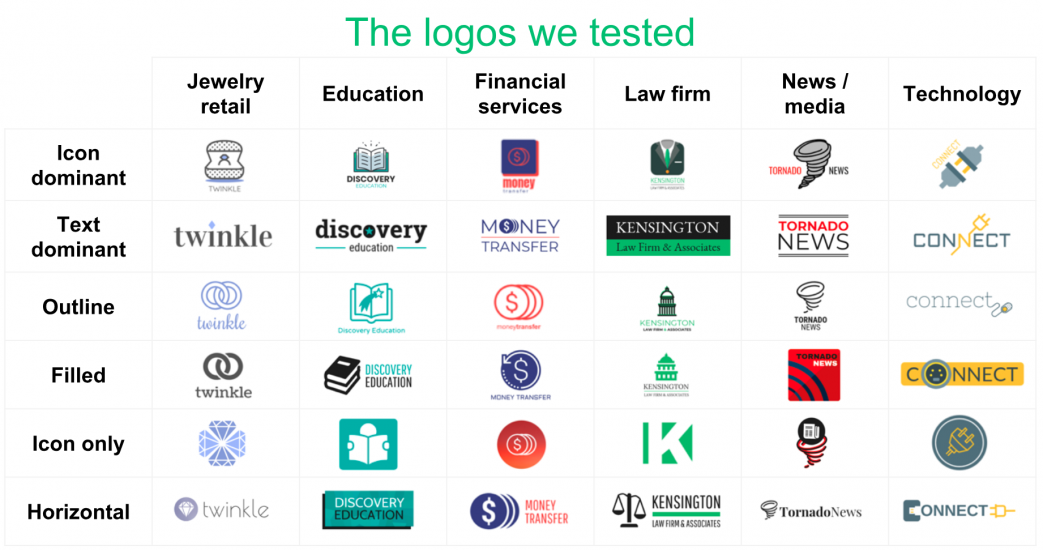 Logo trustworthiness varies by industry. I wish this research resulted in a universal, magic logo formula, but alas - the industry you're designing for truly matters.
Almost every industry resulted in a different logo design being most trusted:

Most trusted logo design: horizontal style
Best-fit logo color scheme: purple and silver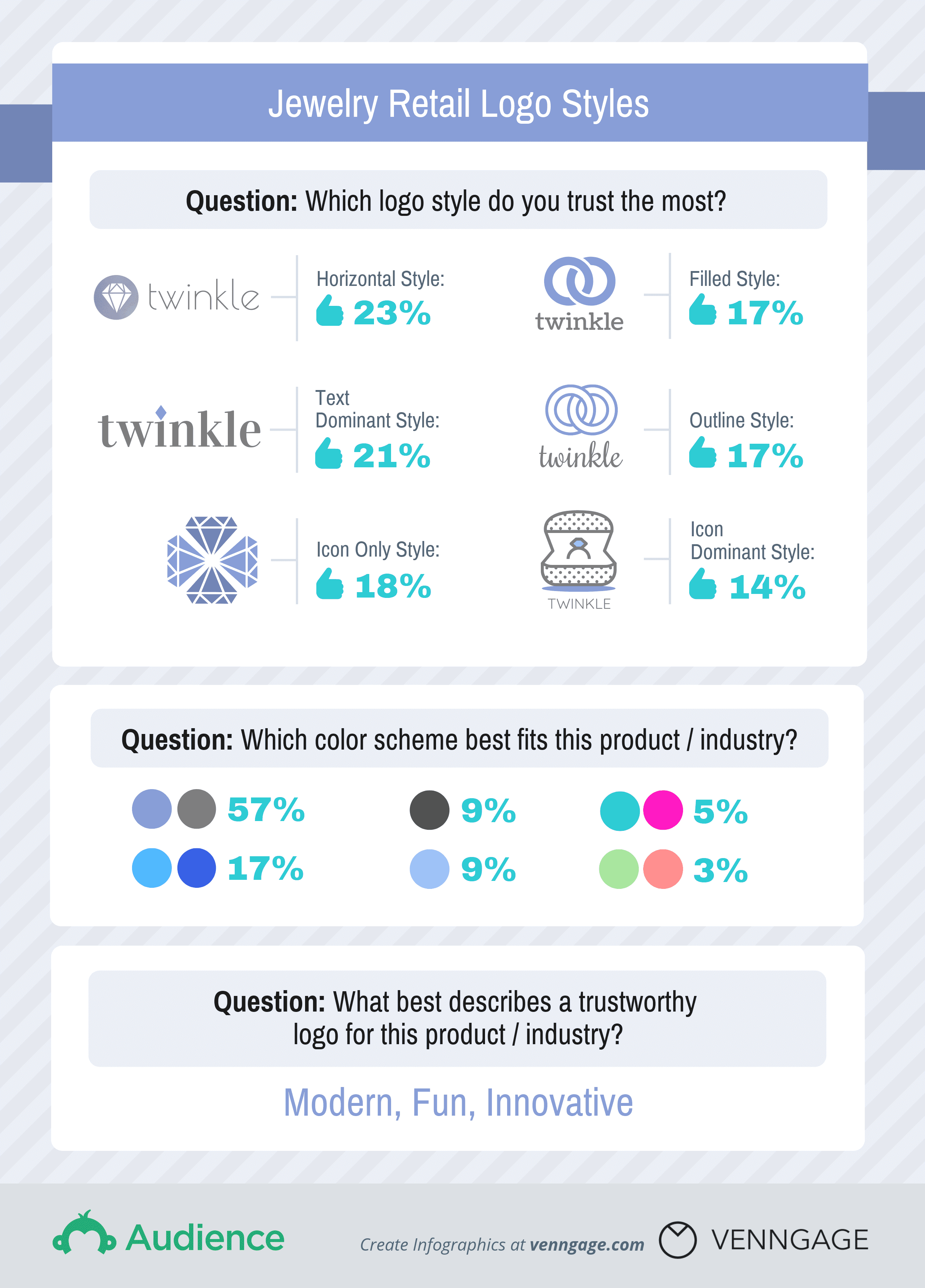 Most trusted logo design: icon dominant
Best-fit logo color scheme: blue and navy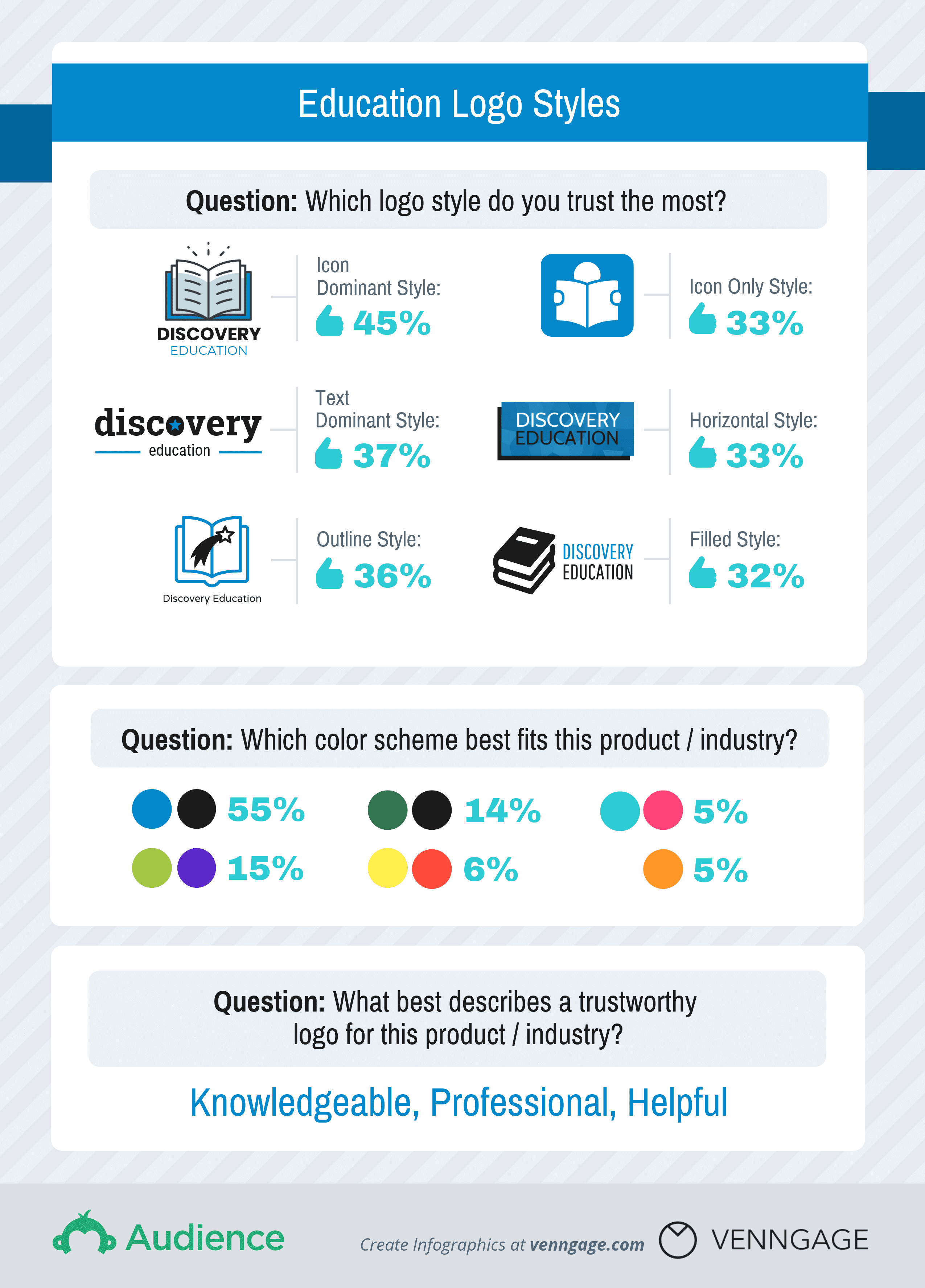 Most trusted logo design: outline style
Best-fit logo color scheme: green and forest green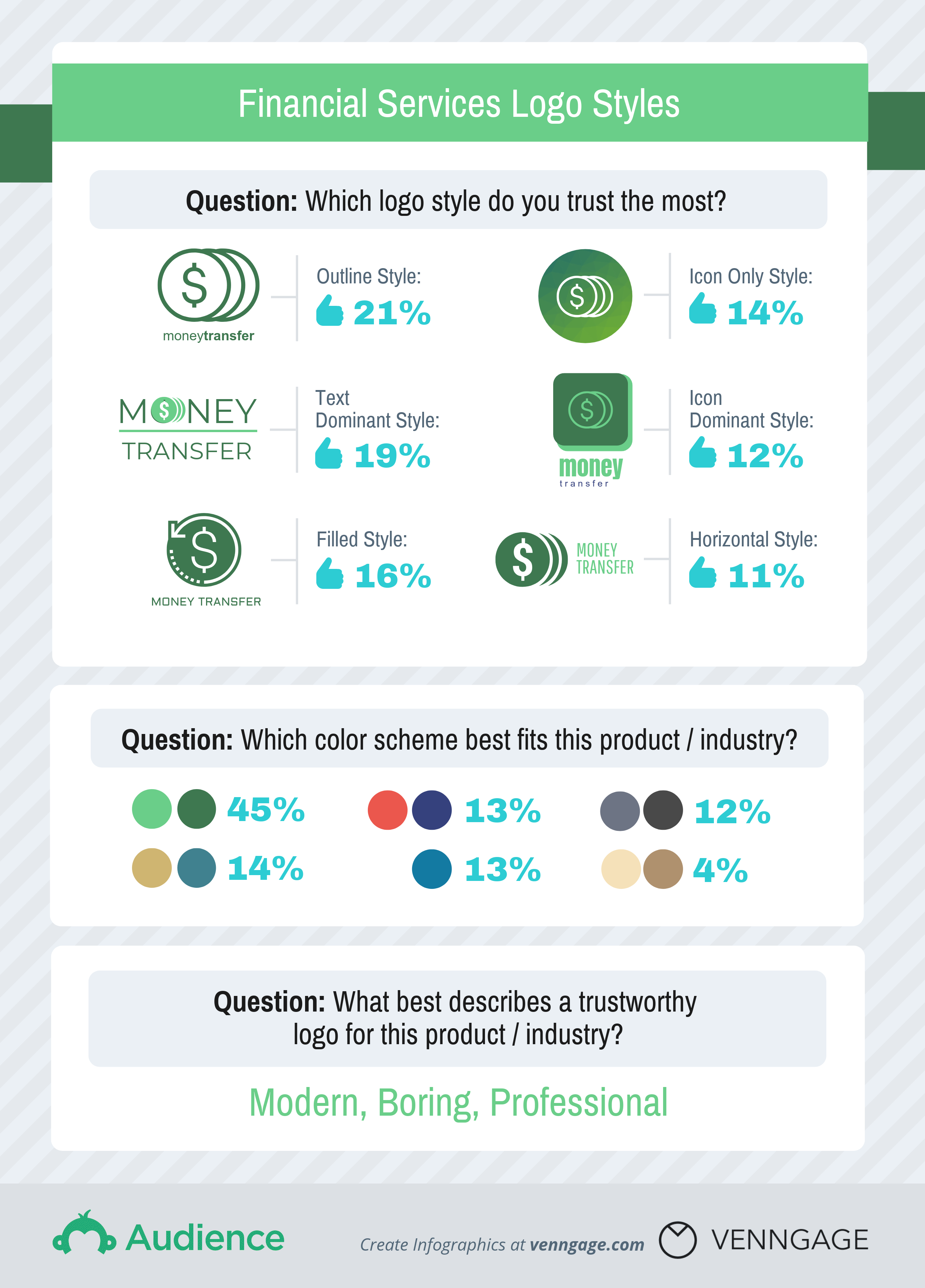 Most trusted logo design: filled style
Best-fit logo color scheme: grey and blue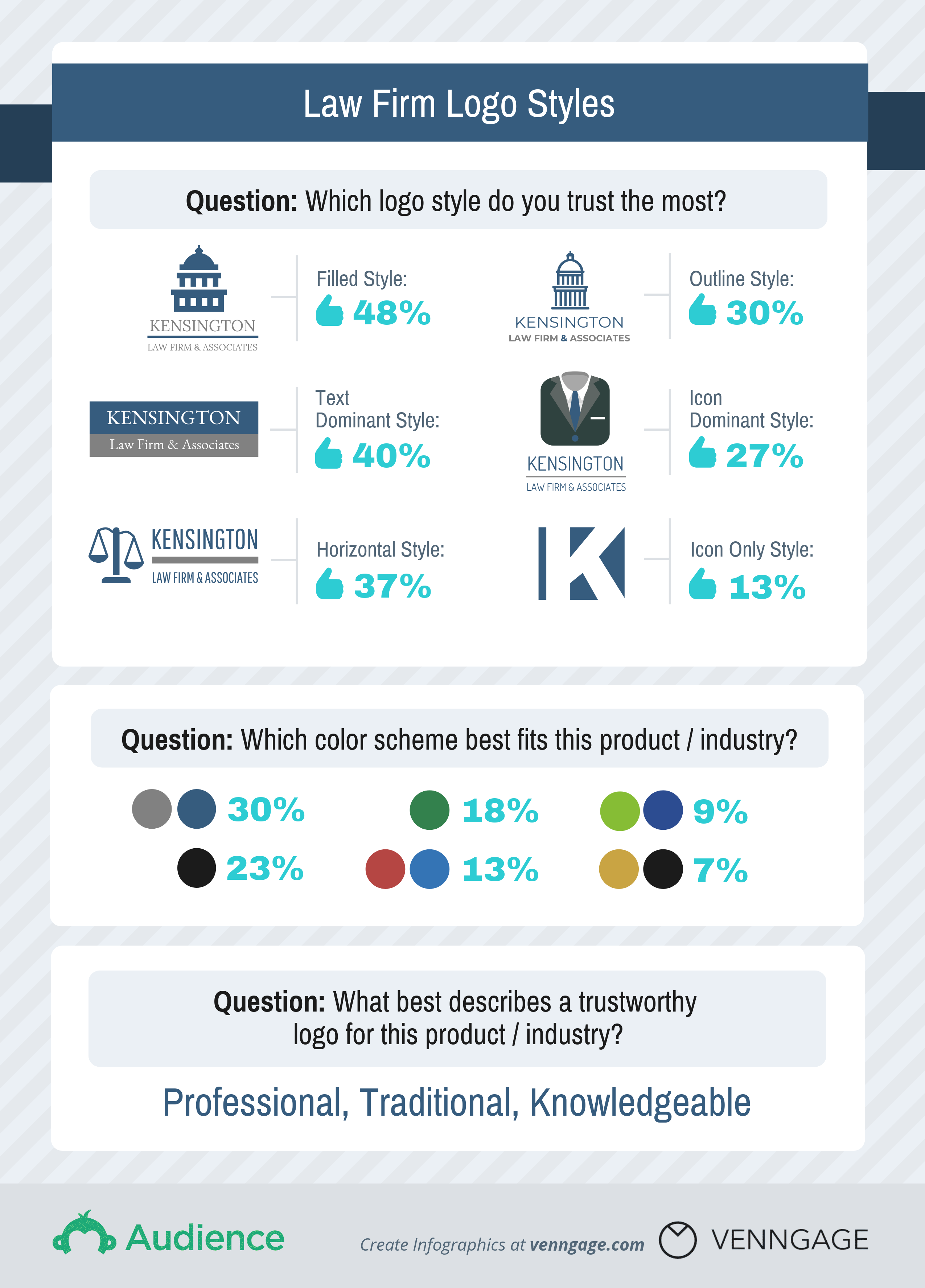 Most trusted logo design: filled style
Best-fit logo color scheme: red and black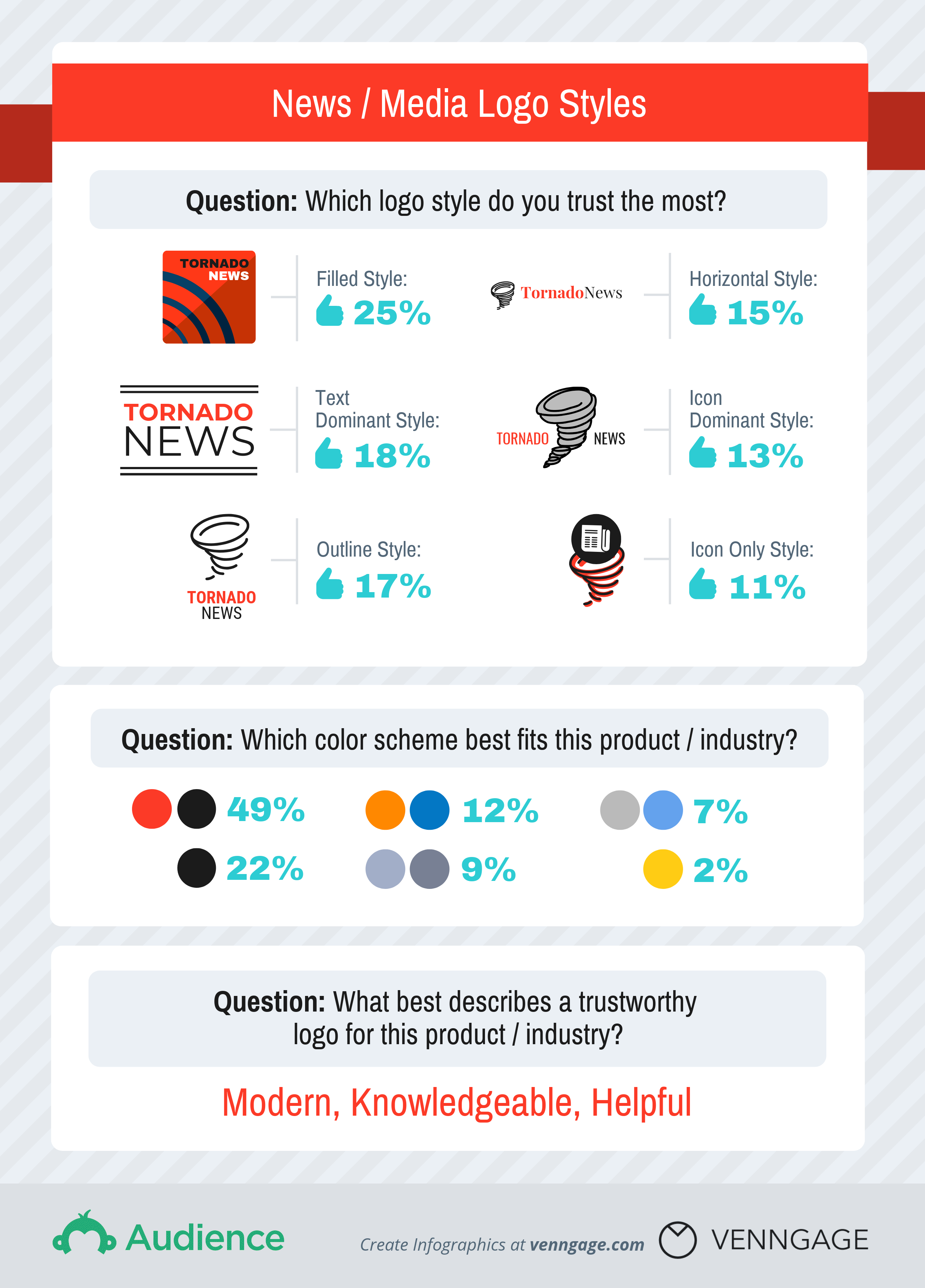 Most trusted logo design: text dominant style
Best-fit logo color scheme: grey and yellow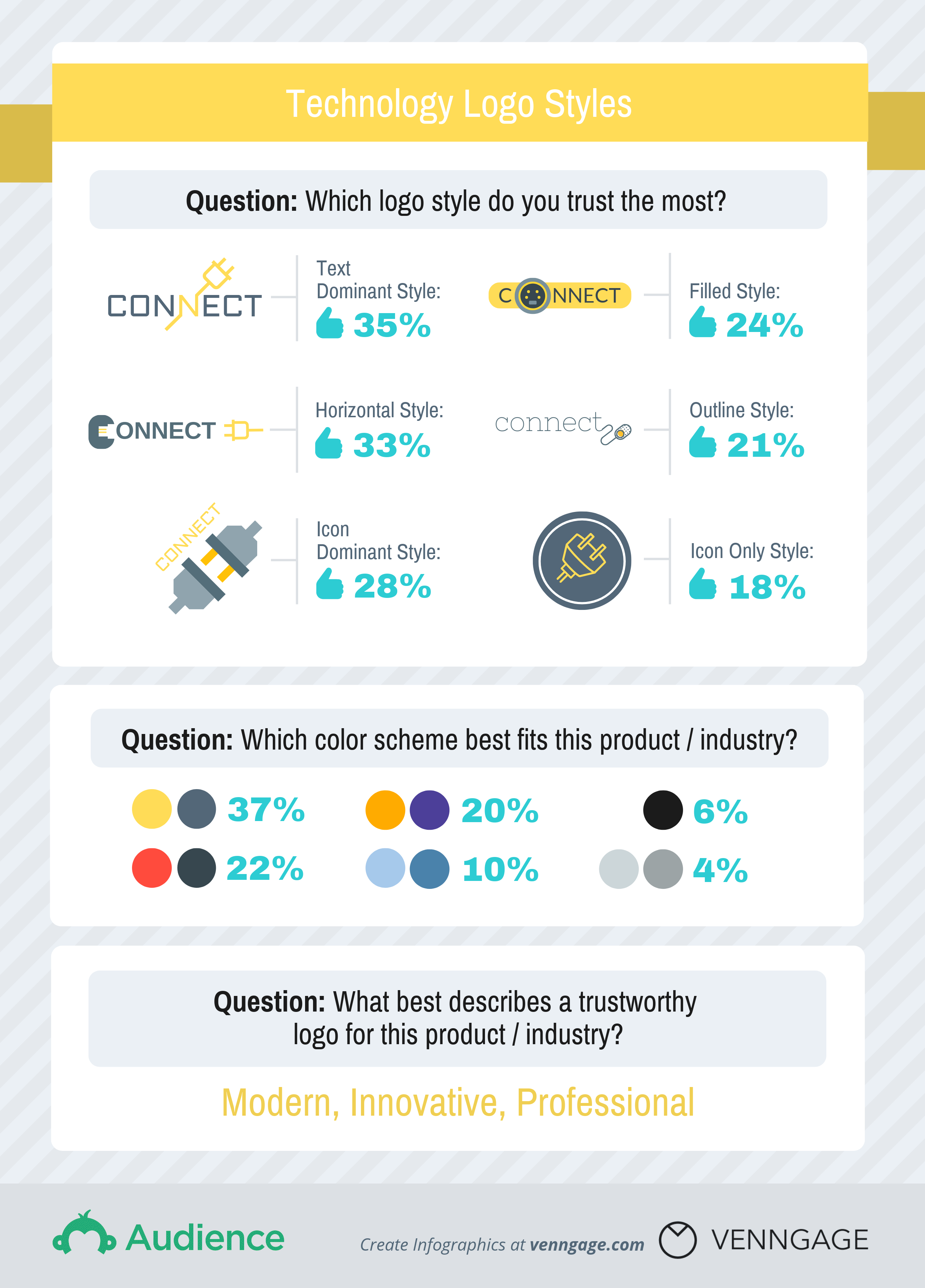 Logo preferences were consistent across demographics. Interestingly, there weren't any significant differences in which logo designs were most trusted across the major demographics like age, gender, and US region. It would be interesting to test this with industries that skew heavily to one gender or age group.

But when it comes to overall brand trust, logos can only do so much. Our research found that the industry had a larger impact on brand trust than the logo design itself. The most trusted industry tested was education, and financial services was the least - but the least trusted education logo was more trusted than the most trusted financial services logo, demonstrating the vastness of the gap between industries.
That said, depending on your industry, your logo could have a sizable impact within your industry. The spread in trust scores from most to least trusted logo for the jewelry industry was only 9%, but the spread for the law industry was 35% - indicating that for some industries, the logo design can seriously move the needle when it comes to trust.
So what does this mean for marketers?

Test, test, test. It's clear that different designs work for different industries, so in order for your logo to be successful, you need to know what works for your product/service category. The best way to know if a logo will get the positive reaction you're hoping for? Testing your ideas with your target audience before launching in-market. Lucky for you, SurveyMonkey has survey templates and our very own built-in market research panel so you can do just that.
Ready to test your logo designs?
Our comprehensive concept testing guide will teach you how to plan, design, send, and analyze your own logo testing survey.
Staring at a blank page (or screen) and not knowing where to begin can be intimidating. Venngage makes it easy with logo templates and a logo maker to get you started.
Interested in diving in deeper? Check out the infographic below for the detailed results of our study:

Methodology: This SurveyMonkey Audience / Venngage study was conducted online on December  17, 2018 among a total sample of 1,308 adults age 18 and over living in the United States.  Respondents for this survey were selected from SurveyMonkey Audience, SurveyMonkey's online survey panel. Responses were balanced on age and gender to ensure representative responses.