Patient Satisfaction Surveys
From hospitals to health clinics, make sure patients get the care they expect.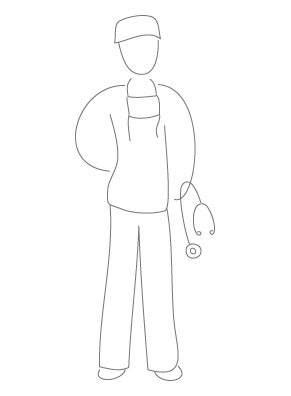 How healthy is your medical practice? In today's competitive healthcare environment, customer satisfaction drives success. Use surveys to make sure your patients feel good about the quality of care, the information they receive from you, and that you're doing everything you can to deliver positive experiences. Remember that your staff is critical to the health and well-being of your customers. Survey them, too, to gauge job satisfaction and gain valuable insights for streamlining office operations and improving patient care.
We make it easy to send patient satisfaction surveys and analyze the results—for free! Join the thousands of healthcare organizations that use SurveyMonkey.
How to Use Patient Satisfaction Surveys
Patient satisfaction is the heart of any long-term healthcare business. Ask the survey questions that help you understand what makes your patients happy, what you can do to make visits to your office more comfortable as possible, and whether they recommend you to their friends and family.
Sample Survey Templates
Surveys are a science, but we provide the expertise so you can focus on what you do best: Deliver excellent healthcare. Professional survey methodologists write our template questions, so you can use them as-is with confidence. You can also customize our example survey templates to fit your needs, or create your own, using the certified questions in our Question Bank. (At this time, most of our survey templates are in English only, although we do plan to offer them in other languages soon.)
Healthcare Questionnaires. Whether they're in a hospital setting, small medical office, or a clinic, healthcare professionals across the medical industry use surveys to collect feedback to improve business operations or conduct medical research. Check out this collection of survey templates to explore ways in which physicians, pharmacists, administrators, and medical staff can use online surveys.
Meeting and Event Planning Surveys. Need a complete view into every facet of an event you're planning? Whether it's a corporate Health Fair or a live webinar panel, you make sure the details are in place. With meeting and event planning surveys, you can manage contacts, send invites, get real-time reports, and gather valuable speaker and event feedback.
Online market research with SurveyMonkey Audience gives you access to millions of respondents ready to provide the answers you need for healthcare research and business decision making. Get the expert opinions of physicians across a particular medical specialty. Or compare some aspect of your patients' healthy behaviors with those of the rest of the US. SurveyMonkey Audience is seamlessly integrated with our online survey tool and features more than 30 million deeply profiled survey participants.
Employee Satisfaction Surveys. Stop guessing, and ask employees if they're happy on the job. Use employee surveys to check in with employees about their satisfaction with their roles and responsibilities, the work environment, and their experiences with management. Happy employees help ensure the good health and well-being of your patients.
3 Quick Tips to Improve Survey Response Rates
You've taken the time to create your surveys. Here are some ideas for encouraging patients and employees to complete them.
Question clarity. Will you ask respondents to answer straight-forward questions or to take multi-step action, such as visit a website to complete the survey? The simpler the instructions and questions, the better. Read our guide on how to write great survey questions.
Survey length. Be mindful of your respondents' time, and keep the length reasonable. On average, keep the time required to complete your survey to 5-15 minutes. And if your survey will take 15 minutes, don't tell respondents it will only take 5!
Reminder emails. A gentle nudge to respondents will certainly help improve response rates. Send email reminders to those who have not yet answered your first invitation through the SurveyMonkey Email Collector.

Looking for More Survey Templates and Survey Questions?
Why Do 15+ Million People Use SurveyMonkey?
Free
Send an unlimited number of surveys and polls with our FREE plan.
Easy to Use
Create and monitor your survey directly over the Internet — we've made it easy to get started, learn & use.
Intuitive Design
There's no need to be a programmer or engineer — if you can check email or use Facebook, then you can use SurveyMonkey.
Real Time Results
You can view your data as it comes in, keeping it to yourself or allowing others to see it.
Trustworthy & Experienced
SurveyMonkey has helped over 15 million satisfied customers gather information online.
Expands with Your Needs
SurveyMonkey PRO plans enhance your ability to gather & interpret information with advanced analytics and more.