Healthy Living Survey Templates
Use Questionnaires to Identify Ways to Help Clients Build Healthier Lives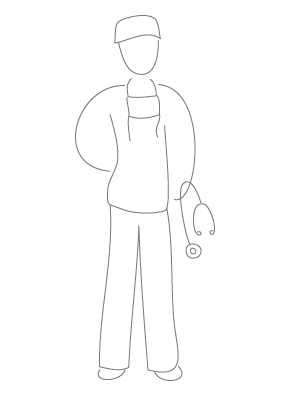 As a personal trainer, nutritionist, life coach, or other medical professional helping people build happier, healthier lives, you need insight about your clients. Surveys are a great tool for gaining these and other important insights. What goals are they trying to achieve, and what challenges do they struggle with? You may want to know their food and exercise habits, and whether or not they smoke. What motivates or de-motivates them? And why are they taking action now? It may be useful to know if your clients are experiencing unusual stress: Are they in the middle of or expecting a major change, such as a job loss, marriage, divorce, new baby, or relocation?
Together, using the feedback from questionnaires, you and your clients can make key mind-body connections: how, for example, exercise habits might be influencing weight and blood pressure, or how big life changes might be causing the stress that's prompting unhealthy choices. You can also use surveys to get your clients' feedback on your services and support— information that can help you give your clients what they need to succeed. You can even use health interview surveys to discover pertinent medical information during a patient interaction.
How to Use Surveys in Client Coaching
Use surveys at the outset of your client engagements, and ongoing, as a way to gauge their progress towards goals. During and after your engagements, ask for feedback to find out how you're doing and to identify opportunities for improving your services.
Client goals and challenges. Use surveys to build your clients' positive self-perception even as you're gathering background information. Learn about your clients' goals and attitudes, as well as the attempts they've made in the past and why they believe they were successful or not. What other programs or approaches have they tried to stop smoking, for example, and how long did they end up not smoking? Ask about past challenges they faced and overcame— and have them describe what they believe made them successful.
Lifestyle and habits. Establish a baseline prior to beginning an exercise, nutrition, or behavior modification program with your new clients. Use surveys to find out about height and weight, diet and exercise, health and nutrition, and smoking habits. See if your client is attempting to change their habits during a period of stress at work or at home, and use this insight to help them prepare good coping strategies.
Client satisfaction. Are you meeting your goal of helping your clients? If you're not seeing the results you expected, ask your clients for feedback. Are clients concerned about how healthcare reform will affect them? Are they happy with your services and the way in which you're working with them? Use surveys to obtain both structured and unstructured feedback that can help you improve what you're doing and help your clients succeed. CaHPS and HCaHPS surveys were created just for this purpose to allow doctors and hospitals to obtain feedback, but any professional can use these templates.
Marketing. How did your clients hear about you? Why did they choose you, your group practice, your gym, or your class over others in their community? Use surveys to figure out what strategies are most effective for client programs and education, as well as to ask for referrals and testimonials. Share surveys on social media to discover new ways to engage your clients.
Sample Healthy Living Survey Templates
Use one of our sample surveys as is or customized. Or build your own survey! Get started with our best practices on creating good survey questions, or use our Question Bank of methodologist-certified questions.
3 Quick Tips to Improve Survey Response Rates
Here are some ways to encourage respondents to complete your surveys.
Keep your surveys short. How much time would you spend on a survey? Try to keep the length to 5-7 minutes to keep your respondents engaged. Focus on obtaining the information you need most.
Make sure the questions are clear. Create straightforward questions rather than asking respondents to do multiple tasks, like visit a web site and then weigh in and record their weight online. Clear, succinct questions stand a better chance of being answered. Using sample health surveys can keep you in drafting effective surveys.
Offer incentives. Little incentives like a small discount or an entry into a drawing can help you obtain more responses.
Need to comply with HIPAA?
SurveyMonkey supports surveys that collect protected health information! If you're a covered entity regulated by the Health Insurance Portability and Accountability Act of 1996 (HIPAA) and want to collect protected health information in your health and well-being surveys, please see our HIPAA Compliance at SurveyMonkey page for more details.
Have More Questions?
If you are interested in using a health or nutrition survey but have further questions, please get in touch with us.
Looking for More Survey Types and Survey Examples?
Why Do 15+ Million People Use SurveyMonkey?
Free
Send an unlimited number of surveys and polls with our FREE plan.
Easy to Use
Create and monitor your survey directly over the Internet — we've made it easy to get started, learn & use.
Intuitive Design
There's no need to be a programmer or engineer — if you can check email or use Facebook, then you can use SurveyMonkey.
Real Time Results
You can view your data as it comes in, keeping it to yourself or allowing others to see it.
Trustworthy & Experienced
SurveyMonkey has helped over 15 million satisfied customers gather information online.
Expands with Your Needs
SurveyMonkey PRO plans enhance your ability to gather & interpret information with advanced analytics and more.