In one of last week's blog posts, we explored what questions were asked more often in different Survey Categories.  This week, we thought it would be interesting to find out how many questions people ask.
We know you want to collect as much information as possible.  But, you don't want to overwhelm your respondents with too many questions.  Let's face it, you're a little worried about the length of your survey.  Should you be?  We wanted to provide some data to show you the median length of surveys in different Survey Categories.
It turns out that the median survey length of SurveyMonkey paid surveys is 10 questions. Industry Specific surveys and Market Research surveys tend to have more questions as they typically require more details to in order conduct thorough research; on the other hand, Event surveys and Just for Fun surveys tend to be short and simple in order collect more responses.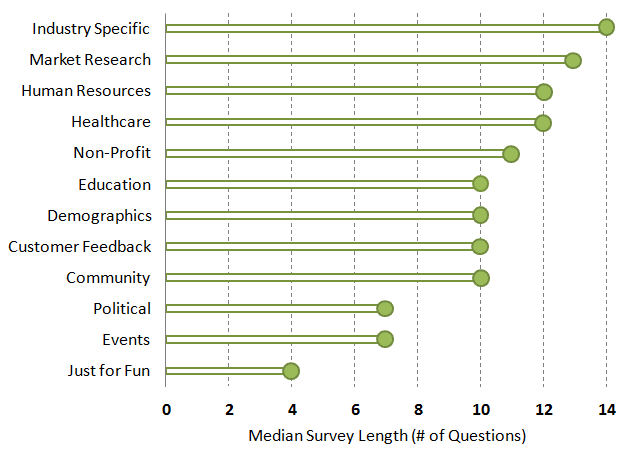 Interested in reading more about survey length?  Read our previous post about what happens to response rates when you add one more question to your survey.  
Have an idea for an upcoming post?  Suggest a Data and Insights topic below and we'll work it into our 2012 schedule!