Our team of survey scientists are a busy bunch.
They're tasked with tracking public sentiment across political issues; they run a variety of market research projects across industries and with different media partners; and they study the impact different survey features have on responses.
Through these responsibilities, they've ran and analyzed countless surveys. They're excited to share some of the key learnings they've gathered to help you run surveys that deliver more valuable responses and provide a more engaging experience for respondents.
So here are 5 survey features the team relies on and believes can turn any survey creator into a true pro.
1. Question bank: Choose from the best questions
Do you know the type of feedback you want but aren't sure how to ask for it?
Getting survey-writer's block is common. And if it happens to you, our question bank can be your new best friend.
The question bank is a feature that includes hundreds of questions written by our survey scientists. You can access it on the side bar when you're designing your survey, and choose which questions to use within seconds.
The feature also lets you browse through different categories to help you find the right question, faster. And if you like a particular question but want to edit it, you can do so after adding it.
Whether you're new to writing surveys or not, it's a valuable resource. Just look at our survey scientists. They've been writing surveys for years (and years!), and treat it as the first place to visit when coming up with a new survey.
Note: Some questions in the bank are "benchmarkable." This means that once the responses from this type of question come back, you'll be able to compare the data against other SurveyMonkey users (across locations, industries, and company sizes) who asked the same question. To find a benchmarkable question, look for a small bar chart on the top right corner of the question.
2. Survey logic: Personalize the survey experience 
Respondents are people. We know, this isn't earth-shattering news.
But it means that your questions need to be relevant and interesting for each respondent. Otherwise, they'll leave your survey or, equally as bad, answer questions dishonestly.
Ensure a valuable survey-taking experience with survey logic—which uses respondents' answers to put them on the appropriate track of questions.
Survey logic can take several forms, including:
1. Question Skip Logic- Allows you to skip respondents to a specific page or to a particular question on another page based on the answer they provide in a closed-ended question.
2. Page Skip Logic- Unlike Question Skip Logic, the specific answers a respondent selects aren't taken into account. Instead, it allows you to skip respondents to a particular page when they click "Next" on the current page they're on.
3. Advanced Branching- Lets you not only skip questions or pages based on a single answer but also apply skip logic based on a variety of "conditions."
These conditions can include the responses, the survey takers' custom data, and custom variables. For example, if you use respondents' email addresses as a custom data field, you can set a condition that skips respondents with a specific address from seeing a certain page.  
We can write a whole post about Advanced Branching. If you want to learn more about it, check out its help center article.
4. Question & answer piping- Helps you personalize your survey by taking respondents' answers to previous questions and plugging them into future question prompts. This helps respondents feel heard and turns the survey experience into a more personal conversation. In addition, by contextualizing your survey, you're able to collect more focused responses.  
Our survey scientists use survey logic on most of their surveys. But don't take my word for it. Just look at our "Small Business Survey" partnership with CNBC. Through the partnership, we run surveys on a quarterly cadence to get a pulse on small business owners' sentiments at a particular moment, and see how they change over time.
But not everybody who takes these surveys works at a small business. To help our team ask questions that are relevant to both small business owners and everyone else, we use Question Skip Logic on the first question. Here's what we ask: 

Those who answer, "Yes," receive questions on the next page about their small business: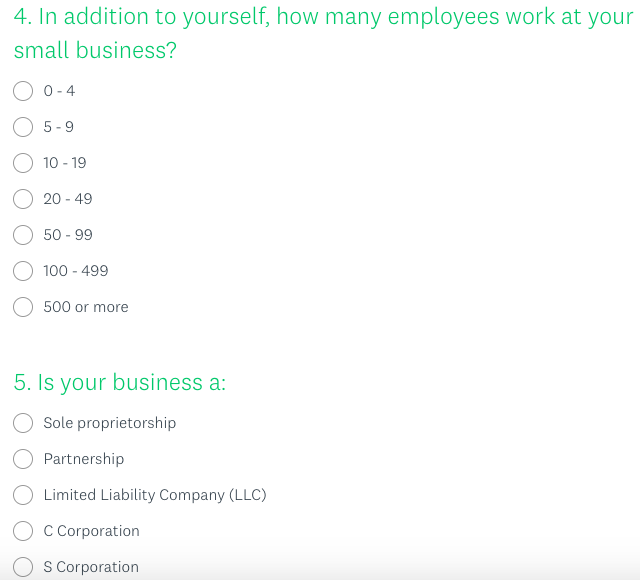 While those who say they don't own a small business get the following questions on the next page: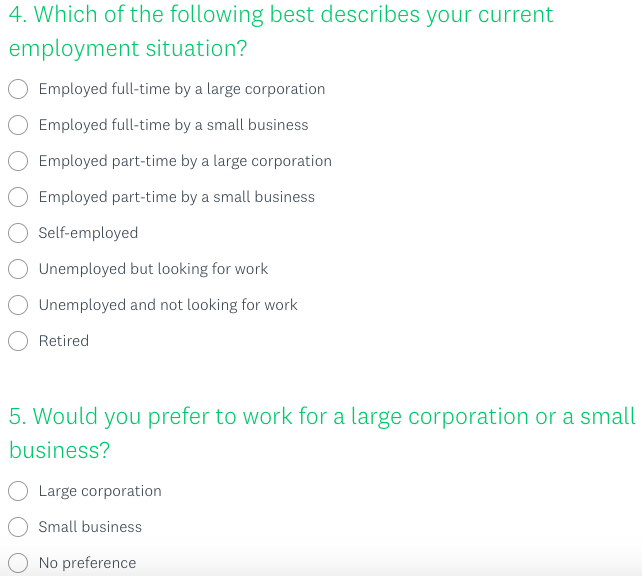 And with that, we've been able to create two separate survey experiences that are relevant for each audience.
3. Recurring surveys: Track changes in sentiment
Like its name suggests, recurring surveys allow you to regularly share the same survey over a given period of time. 
By surveying customers, employees, prospects, and other audiences over time, you'll have a contextual and timely understanding of their experiences. You can then put your best foot forward and take the appropriate steps to improve the engagement.
Recurring surveys are considered a "longitudinal study," which is running the same survey, consistently, over an extended period of time. Our survey scientists use longitudinal studies in all types of ways.
One of the use cases involves tracking our company's brand on a semi-annual basis. The responses help us understand how our target market perceives SurveyMonkey at a specific period as well as how their opinions have changed over time.
Before using the feature, keep the following tips in mind:
1)  Survey respondents either on a quarterly or semi-annual cadence. Sharing surveys more frequently can overwhelm respondents and burn them out from taking more in the future; while sending a survey on an annual basis (or less often) makes it difficult to pick up on patterns and take action on time. The only exception to this rule of thumb are pulse surveys (short and frequent survey check-ins) .
2) Keep your survey questions unchanged over time. Otherwise, it becomes difficult—and unfair—to compare the responses across touch points.
4. Survey reminders: Get more folks to respond
If a respondent cares about your survey topic, has a close connection to you and/or your organization, and likes the survey incentive you offer, they probably want to take your survey.
Here's the catch: Most people are plenty busy.
Survey reminders can be the solution to overcoming people's hectic schedules. I'll let one of our survey scientists, Laura Wronski, explain: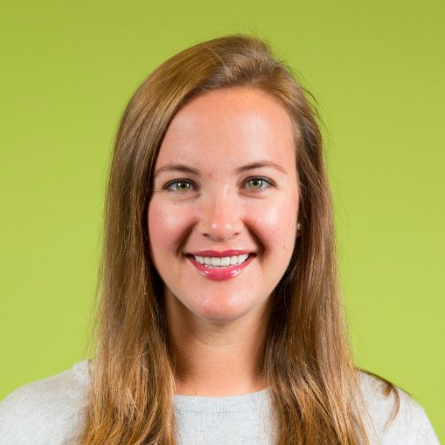 Getting responses to your survey is all about timing. If someone is too busy the first time around, they'll ignore your email. A reminder email increases the chances it's read and that your survey gets taken.
So give your audience a few chances to take your survey by politely reminding them about it after your first touchpoint. We recommend using no more than two reminders per survey, and spacing each out by a week. That way, you aren't overwhelming recipients but gently keeping the survey top of mind.
Note: If you're set on using reminders, stick to using our email collector—it's the only option that lets you use them.
5. SurveyMonkey Genius: Collect expert feedback 
Finished a draft of your questions? Think it's final and ready to launch?
Whatever state your survey is in, use our machine-learning and AI powered SurveyMonkey Genius feature to get survey design feedback—straight from our survey scientists' best practices.
You'll learn things like its estimated completion rate, how long it'll take to finish, and whether or not you have the right balance of different question types. Plus, you'll get an overall score in the form of a percentage. Psst, our survey scientists make it a habit to score theirs, and always aim for 100%!
We recommend checking your Genius score early and often. Receiving consistent feedback can help you write a better survey more quickly.
Whether you're a survey scientist or not, there are a bunch of features that improve your surveys. If you can use them in the right ways, consistently, you'll collect more valuable responses and give respondents a better survey-taking experience.
And with that, you're officially a survey pro! Don't take the honor lightly.