Healthcare Questionnaires & Medical Research Surveys
Physicians, Nurses, & Administrators Improve Healthcare, One Survey at a Time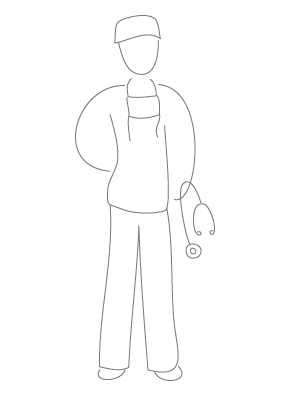 Whether they're in a hospital setting, small medical office, or a clinic, healthcare professionals across the medical industry use surveys to collect feedback to improve business operations or conduct medical research.
Read on to explore some of the ways physicians, pharmacists, administrators, and medical staff use online surveys.
Healthcare Surveys in Action
Improve business operations. Are you a well-oiled machine, or are their squeaky wheels? Send out an online survey to get full insight into each staff member's role, how effective processes are working, and identify any deficiencies. Are there opportunities to decrease spending? Should you become more visible in the community?
Conduct medical research. To collect health statistics, or to gather data from specific members of the medical community, consider using SurveyMonkey Audience to get the insights you need. Get the expert opinions of physicians across a particular medical specialty. Or, compare the exercise habits of moms in California to those across the rest of the US population. Audience is seamlessly integrated with our online survey tool, and features over 30 million deeply-profiled survey participants.
Healthcare questionnaire. Are your patients satisfied by the care given by physicians and nurses? Was the appointment on-time, and did the patient feel that their needs were met by clinician they visited? Send out a healthcare questionnaire after each patient interaction and continuously make improvements based on the feedback shared by your patients.
Evaluating healthcare access. Researchers or healthcare providers might send out a survey to explore potential benefits and barriers to healthcare access among senior citizens or low-income families. They might also want to deploy surveys to understand the healthcare needs of specific populations, such as those living in rural areas or inner cities.
Health insurance survey. Patient advocacy groups could deploy a survey to poll prospective enrollees on possible changes to insurance plans, or features that might meet their healthcare needs more closely. Insurers could survey their enrollees to learn more about factors influencing selection, expectations, renewal, and healthcare utilization. An online survey would pin down whether or not enrollees are satisfied with their access to preventative care and wellness services, and how they feel about the availability of benefits information.
HIPAA compliance.* HIPAA, the Health Insurance Portability and Accountability Act, has impacted all aspects of healthcare delivery. Enacted to protect the privacy of patient data, HIPAA has ensured hospitals and other medical organizations keep their information systems and technologies compliant with all of these regulations. To ensure that all departments are adhering to HIPAA standards, many hospitals will send out a survey to gain a full view into their organization's practices.
Women's health research. What are the varying needs and medical priorities of women in different age groups? How do they feel about the care they are receiving currently? What are the concerns of pregnant women? Collect feedback from a pregnancy and childbirth education seminar or analyze a hospital experience in the maternity ward. Uncover any opportunities for enhancements and improvements by sending out an online survey.
Community outreach programs. Hospitals or other organizations conducting medical missions or participating in community service can coordinate their programs by sending out a survey. For instance, a teaching hospital can pool the resources, opinions, and ideas of medical professionals on developing an annual program that provides education, research, patient screening, and treatment options to an at-risk population in a neighboring region.
Patient care satisfaction. Track patient satisfaction with a medical patient survey template. Ask patients to give feedback on their interactions with staff, medical technicians, physicians, and nurses. Send out a survey asking about possible improvements to waiting rooms, check-in procedures, appointment-setting, and more. Find out if patients would benefit from online access to their medical records or appointment information.
Healthy lifestyle programs. Hospitals might want to gauge interest in patient program offerings, such as nutrition classes, smoking cessation, stress reduction, weight loss, overcoming insomnia, anxiety management, childbirth, or pain management for chronic conditions.
Teen health survey. Assess the health habits of youth and teens with a questionnaire that tracks teenager activities. Anonymously calculate tobacco and recreational drug use rates, and discover potential school bullying problems or family health issues that could cause emotional issues. Use online teen surveys to reach to at-risk teens, and develop helpful programs.
Pharmacy customer service. Are patients satisfied with the service options for obtaining their medications? Do patients prefer automatic refills to be shipped to their home, or would they rather pick it up at a local pharmacy? Are wait times reasonable; are pharmacists able to answer all of patients' questions regarding contraindications? Do patients feel they have access to the information they need about their medications? Send out an online survey to find out.
Medical membership survey. HMOs and PPOs commonly send out surveys to learn more about the health-related needs and interests of the members in their community. Aiming to uncover insights about their members' preferences on healthcare service delivery, organizations need to gather sound evidence to make better decisions, and support research that will ultimately improve each member's quality of life.
Healthcare questionnaire for relief efforts. Are you a nonprofit or NGO working in a disaster-stricken area? Quickly triage the healthcare needs of disaster survivors with an online questionnaire. Track medical history, vaccinations, immunizations, and more. Make field hospital relief efforts more effective by allocating medical resources to the patients most in-need.
4 Tips to Improve Survey Response Rates
Keep these four factors in mind to ensure you get the highest response rates possible.
Target population. If you're trying to gather responses from a hard-to-reach population—say, single parents living in Florida and Texas—consider using SurveyMonkey Audience, the perfect way to reach qualified survey takers who meet your specific targeting criteria.
Question clarity. Will you be asking respondents to simply answer straight-forward questions or will you ask them to undergo multiple tasks, like visiting a web site and then asking them to weigh in? The clearer, more succinct questions win every time.
Survey length. Be mindful of your respondents' time, and keep the length reasonable. On average, this means it should take anywhere from 5-15 minutes to complete. If you are trying to optimize for completed survey responses, try to keep your survey short. Consider using skip logic to shorten a survey—this will allow respondents to navigate to only to the questions relevant to them.
Reminder emails. A gentle nudge to respondents will certainly help improve response rates. You can send email reminders to those who have not yet answered your first invitation through the SurveyMonkey Email Collector.
Let's Get Started
Rely on SurveyMonkey to create and send fast, easy and secure medical research questionnaires. SurveyMonkey gives you the tools to quickly and easily create, send, and analyze your surveys, whether you're sending out a survey to different hospital departments or writing a health science survey for a course you teach. We have thousands of satisfied healthcare customers including Kaiser Permanente, Anthem Blue Cross and the American Red Cross.
Sign up for SurveyMonkey today. View our plans and pricing.
Need to comply with HIPAA?
SurveyMonkey supports surveys that collect protected health information! If you're a covered entity regulated by the Health Insurance Portability and Accountability Act of 1996 (HIPAA) and want to collect protected health information in your healthcare or medical research surveys, please see our HIPAA Compliance at SurveyMonkey page for more details.
Have More Questions?
If you are interested in using a medical research survey but have further questions, please get in touch with us.
Looking for More Survey Types and Survey Examples?
Why Do 15+ Million People Use SurveyMonkey?
Free
Send an unlimited number of surveys and polls with our FREE plan.
Easy to Use
Create and monitor your survey directly over the Internet — we've made it easy to get started, learn & use.
Intuitive Design
There's no need to be a programmer or engineer — if you can check email or use Facebook, then you can use SurveyMonkey.
Real Time Results
You can view your data as it comes in, keeping it to yourself or allowing others to see it.
Trustworthy & Experienced
SurveyMonkey has helped over 15 million satisfied customers gather information online.
Expands with Your Needs
SurveyMonkey PRO plans enhance your ability to gather & interpret information with advanced analytics and more.