October had some of our favorite insights from The Daily Q yet. We had big questions to ask this spooky season, and learned everything from where people stand on candy corn to what the best fictional small business is, all from asking one question a day. If we can settle age-old debates with just one question, think about what you could learn from setting up your own survey!
Not even Pennywise is scarier than a 4PM meeting on a Friday.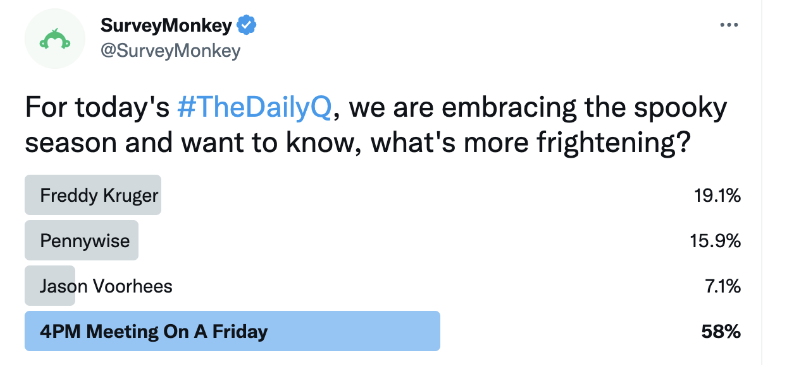 Looks like people would rather take their chances with a dream demon, killer clown, and masked murdered than recieve the dreaded notification that they have a meeting at 4PM on a Friday. 
Pst! Managers: if you want candid employee feedback, check out our employee survey templates so you can start building a better workplace!
Candy corn has more foes than friends. 

October marks the time of the year where people either dust off their candy jars or pitchforks in the spirit of the age old candy corn debate. We all have our opinions but we can't all be right, right? Since we're no candy experts, we took to The Daily Q audience to put this controversy to rest. It was a tight race, but ultimately the people have spoken: thumbs down. 
In the States, people plan to vote in person this election year.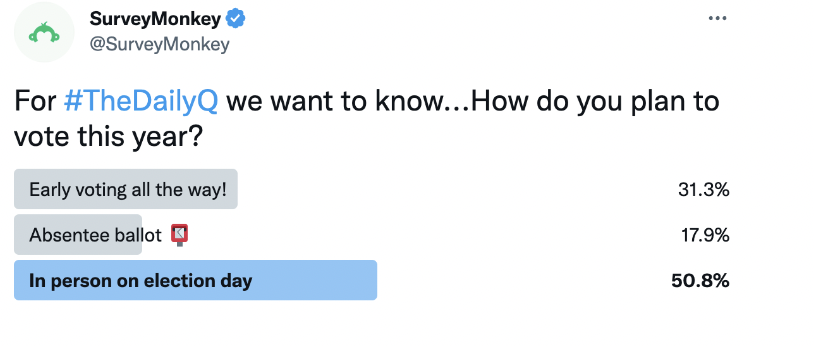 In case you missed it, in the United States, election day is right around the corner and there are some important candidates and decisions on the ballot. So, we were curious to see people's preferences on how they play to submit their vote, and a majority of people said that they prefer to vote in person on election day (though we should note that not every state allows people to vote absentee without an excuse.)
Curious to know how people feel about the 2022 midterms? Explore our research to find out how gender, race, and union membership impact how people vote!
The Krusty Krab wins the best small fictional small business in a narrow race.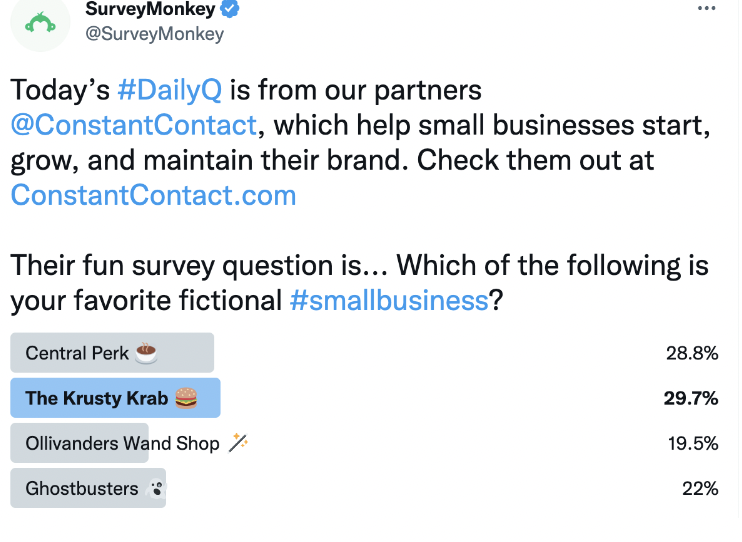 There's a lot of great small businesses out there, but some of the most inspirational—and creative—ones live on the screen. We partnered with our friends at Constant Contact to figure who has the best small business in the fictional universe. It was a tight race, but shout out to Mr. Krabs from SpongeBob for starting the iconic Krusty Krab, which narrowly beat out Friends' classic coffee shop, Central Perk. 
We're all manifesting a new album from RiRi.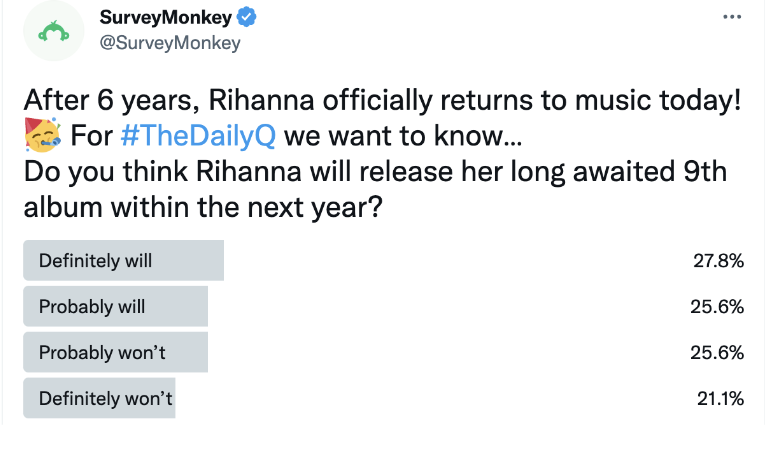 Perhaps no other album is as highly anticipated as Rihanna's 9th studio album, after nearly seven years since her last release. With her upcoming Super Bowl halftime show and new released single "Lift Me Up" for the next Black Panther movie, people have been speculating that 2023 might be the year we finally get that album. According to our survey, only 55% of people think she definitely or probably will release the album. Regardless of what RiRi has in store for us, we're just happy to hear signature vocals once again.