New to survey writing? Or just to SurveyMonkey? Our latest product addition has you covered.
The feature is called "Build It For Me"—and that's exactly what it does. Quick, simple and (nearly) impossible to mess up, this option automates the majority of your survey creation for you, then guides you through the rest of the process step-by-step. It's incredibly simple and comprehensive. Already, 36% of new users are using Build It For Me to create their first survey!
Build It For Me is a great way to ensure that your survey is complete, optimized for responses, and scientifically sound, without having to worry about writing it yourself. You can use it for dozens of different popular use cases.
In short, Build It For Me gets you an expert-crafted survey, tailored to your specific goal, in minutes.
Serving over 17 million users and 95% of the Fortune 500 has given SurveyMonkey a pretty serious data set from which to learn which questions are best for our most popular survey use cases. Our survey scientists use that data (plus their research expertise) to build surveys that eliminate bias, maximize responses, and drive clear, accurate results. Build It For Me combines that wealth of expertise with artificial intelligence (powered by SurveyMonkey Genius Assistant) to give you the perfect survey for your needs.
It's also fast. If you want to measure NPS™ or employee engagement or anything else and don't have time to sit down and come up with questions, Build It For Me solves that for you with only a few minutes of work between starting your survey and sending it out.
Finally, Build It For Me is extremely helpful for SurveyMonkey newbies. You don't have to figure out how to do complex survey building techniques like incorporating question logic or whitelabeling your survey with your brand—that's all built right into the flow. So if you're just starting out or asking a group of survey-inexperienced team members to participate, Build It For Me minimizes the room for error. 
A tour of the build it for me experience
You can find Build It For Me as one of 3 options at the top of the page after you click "Create Survey" in your SurveyMonkey account. 

Once you click the button, it will take you through a personalized flow that helps you with everything you need to know about the survey creation experience, beginning with who your audience is and ending with the best way to send your survey. The first step is to identify your audience, which is grouped into the most popular 6 audiences in SurveyMonkey.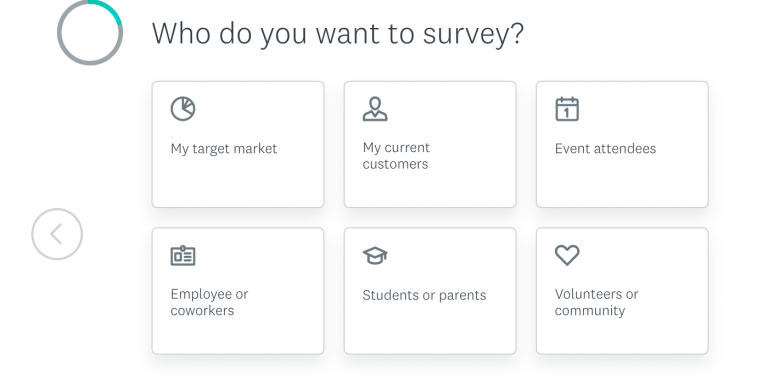 Next, you choose your goal. Each goal is tailored to the specific audience you're surveying, which means the goals that appear for market surveys will be different from the goals that appear for customer or employee surveys.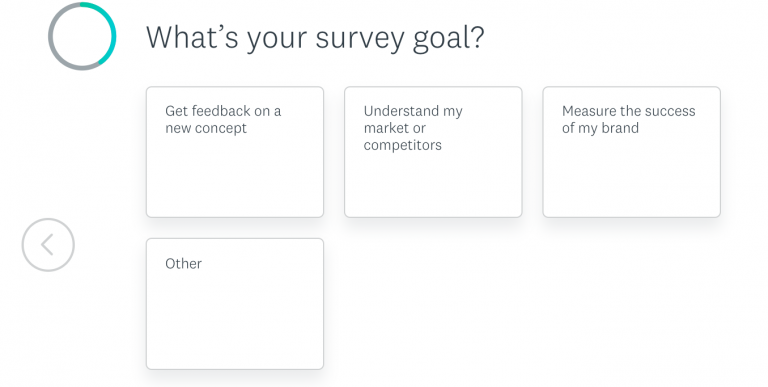 Under each goal, we'll recommend the best expert-designed questions for your goal.
Build It For Me generates your survey, then walks you through the different ways that you can customize your survey with information specific to you or your company (like adding in your logo or the names of your products, etc.). This step introduces a sidebar powered by the same Genius Assistant that follows you throughout the process, so that you can track your progress and/or skip between steps at any time.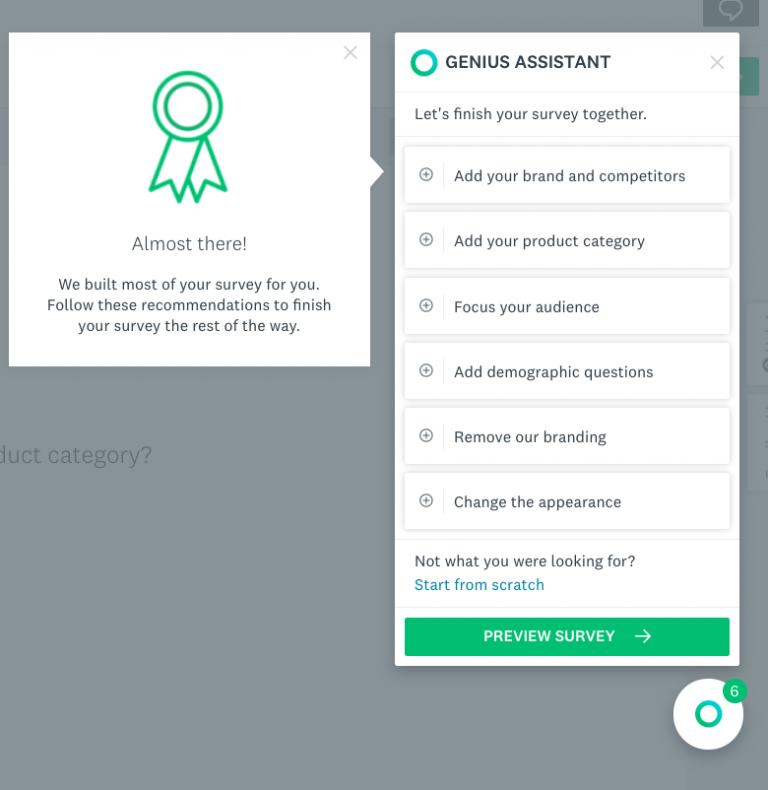 Genius Assistant provides a checklist of things to do before finish creating your survey, to ensure that your survey is pitch-perfect—like seeing how it will look like on various devices and getting feedback from others. Just click the button and you can do the action listed on each part of the checklist. The final item is sending your survey out to respondents.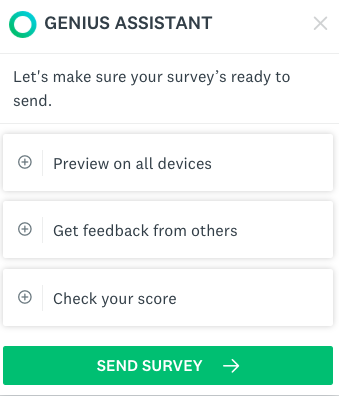 After clicking "Send survey", you'll see a list of recommendations about the best way to get your survey out, based on your use case. These might include anything from creating a QR code, to sending your survey via email, to leveraging our global panel of survey respondents, SurveyMonkey Audience.


It doesn't matter how new you are to survey writing or how little time you have to work on it. You can get better results and better insights in the time it takes to brew your morning coffee. With Build It For Me, we'll handle the heavy lifting.