As survey experts, our SurveyMonkey research team wants to encourage people to ask questions—but we want them to do it in an optimal way. So what's the best way to ask about sexuality orientation and gender identity?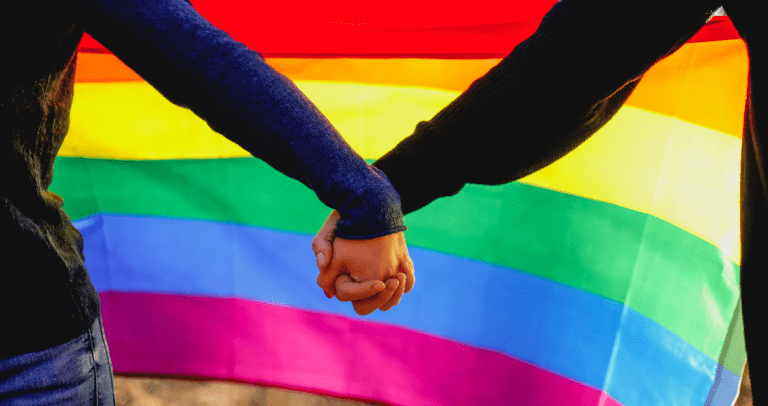 During the most recent meeting of the American Association of Public Opinion Researchers (AAPOR), we heard from some of the top experts on the subject about the best practices they use.
We'll use this blog post to lay out everything we learned and help you feel confident about asking about sexuality in gender in your next survey.
If you're nervous about asking questions about sexual orientation and gender identity (survey researchers call them SOGI questions), we've got data to calm some of your fears.
Researchers at the Census Bureau conducted an experiment to see whether respondents were more likely to skip SOGI questions than typical demographic questions. They didn't find evidence for that at all; in fact, significantly more people skipped the question about income than the question on sexual identity.
When the same researchers explicitly asked respondents how they felt responding to the question on sexual identity, the vast majority of respondents had no problem with it. Nearly all said they were "comfortable" (90%) or "neither comfortable nor uncomfortable" (8%) with being asked about their sexual identity.
This research indicates that people are willing to answer personal SOGI questions—so let's talk about how best to ask them.
How to ask SOGI questions
People have no problem answering SOGI questions if they consider them to be standard demographic questions. In fact, the Census Bureau has recently been criticized for excluding SOGI questions from some of its landmark surveys, including the 2020 Decennial Census. Researchers and advocates have argued that the data collected from these questions are just as important as the standard demographic data on race, age, and geography.
Just about every survey asks standard demographic questions, like whether respondents are male or female. Here are two questions from SurveyMonkey's Question Bank that ask the exact same thing—with different response options.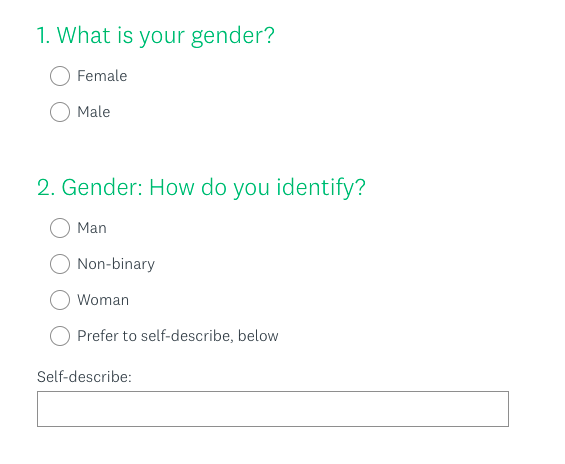 The second question is more inclusive; it allows people to provide a response even if they don't identify as either male or female, and it allows them to self-describe if that is their preference. That's a good first step for writing LGBTQ-friendly survey questions.
If you decide to ask more specific SOGI questions, make sure you know how and why you're going to use the data, because that will inform the way you ask each question. For example, for many years the Gallup tracking survey has asked the yes or no question, "Do you personally identify as lesbian, gay, bisexual, or transgender?" Research has indicated that this is a good way to get a crude estimate of LGBTQ individuals, but that it systematically underestimates the percent of individuals who identify as both straight and transgender. Therefore, it's better to separate out the second question on transgender identity, as below.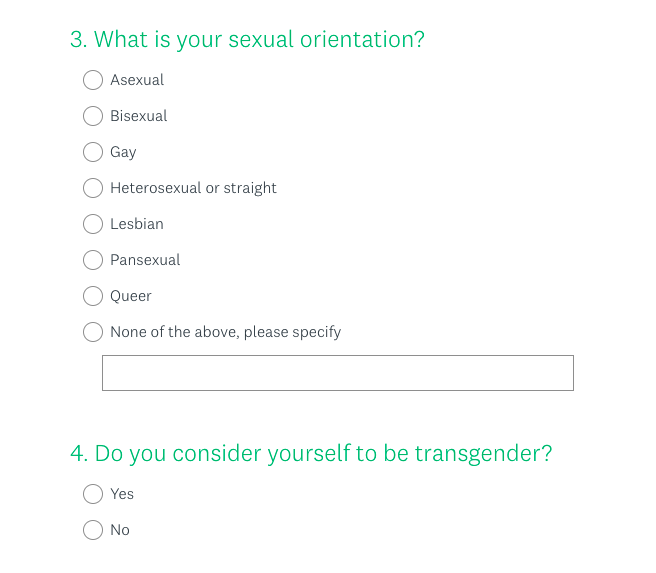 There's another benefit to the multi-step approach, too. Researchers at UCLA conducted an experiment asking separate questions on gender and transgender identities versus asking one combined gender and transgender question. They found that even though the two-step question series is twice as many questions as the combined version, it takes less time to complete than the single combined question.
Even if you've written a good question on sexual orientation or gender identity and you know respondents will be comfortable answering it, there might still be a valid reason for not asking it in your next survey.
First of all, these questions are very personal. If you aren't planning on actually using the data, you can't really justify asking the question. This is true of every question that you include in a survey, but it's particularly important for sensitive demographic items, as they might cause a high number of people to drop out of your survey. The Human Rights Campaign has more advice on when and how you should use LGBTQ-friendly demographics questions, along with some examples.
Second of all, even if you want to use the data, make sure you are able to do so. Oftentimes you'll be restricted by sample size issues or logistics. For example, we weight all of our SurveyMonkey polls to demographic characteristics from the U.S. Census Bureau so that our results are representative of the national population. The Census Bureau's respondents have to identify as either male or female, which means that we have to do the same when we ask for respondents' gender.
SurveyMonkey always recommends asking some standard demographic questions in your surveys. Whether you're an HR professional surveying your company's workers or a college student doing a research project, knowing a little bit about who your respondents are—their age, sex/gender, and race/ethnicity—helps you better understand the responses they provide.
Questions on sexual orientation and gender identity can give you really valuable information about your respondents. Don't be shy about asking them.
Sensitivity and Specificity of a 1-item Assessment of LGBT Identity in a National Sample of U.S. Adults. Stephanie Marken (Gallup), Evan Krueger (University of California – Los Angeles), Ilan Meyer (University of California – Los Angeles), Walter Bockting (Columbia University Medical Center), Sari Reisner (Harvard Medical School), Jody Herman (University of California – Los Angeles). Presented at the 2017 AAPOR Annual Meeting http://www.aapor.org/getattachment/Conference-Events/Annual-Meeting/AAPOR-17-CP_webFNL.pdf.aspx
Comparing Two Versions of a 2-step Assessment for Identifying Transgender Respondents in a National Sample of U.S. Adults. Ilan Meyer (University of California – Los Angeles), Evan Krueger (University of California – Los Angeles), Stephanie Marken (Gallup), Sari Reisner (Harvard Medical School), Walter Bockting (Columbia University Medical Center), Jody Herman (University of California – Los Angeles). Presented at the 2017 AAPOR Annual Meeting http://www.aapor.org/getattachment/Conference-Events/Annual-Meeting/AAPOR-17-CP_webFNL.pdf.aspx