As a survey-creator, chances are good you've probably asked yourself, "what's the best way to ask my question so I get the best possible results?"
And it's probably not the only question you have about survey design. Maybe you've wondered if your questions make sense or if your survey is too long. But have you ever stopped to consider just how people may be taking your survey?
You might have created your survey on your computer, but that doesn't necessarily mean your respondents are completing it on one. With the multitude of devices available, we're seeing a lot more people taking surveys on tablets and smartphones. In fact, based on the latest mobile statistics from Mary Meeker, 15% of all global traffic is mobile traffic and will continue to grow.
So, when you're thinking about how to design your survey, make sure you also consider how to optimize surveys for mobile users. So, what does this mean?
Well, in addition to all the survey-writing best practices you're already using like making sure your survey isn't overly long and the questions are clearly written and easy to understand, spend some time thinking about when you send out your survey.
We looked at our survey taking data over the period of a month and of users that finished their survey we found the following: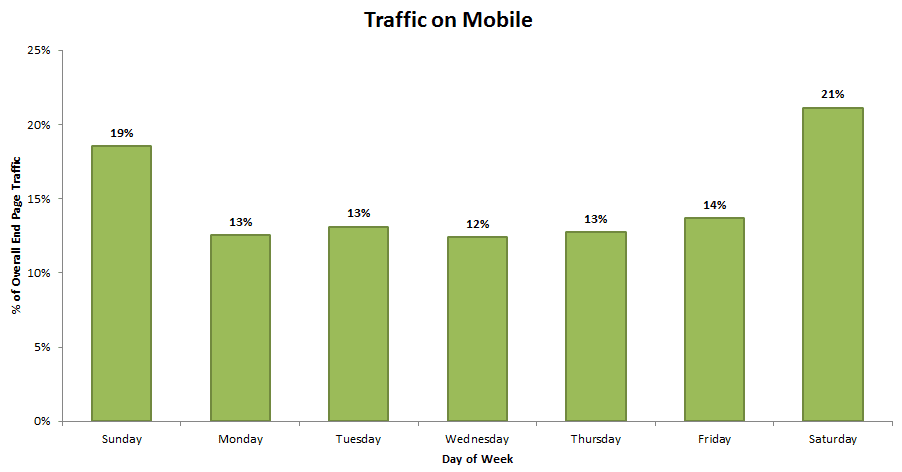 As you can see from the graph above, of the overall traffic each day, there's a definite increase of mobile traffic on weekends versus weekdays.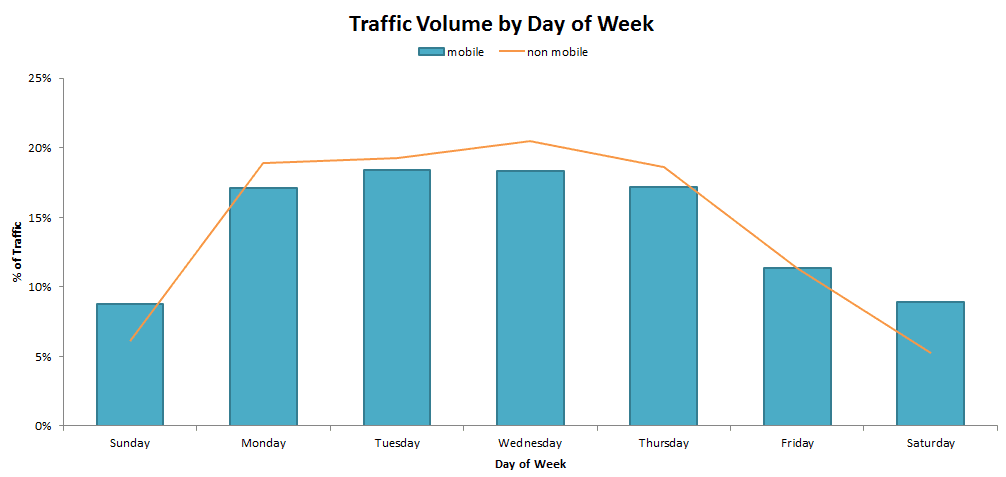 Though most traffic does occur on weekdays, regardless of the device, mobile users are more actively taking surveys on weekends.
The percentage of traffic coming from mobile users on weekdays ranges from 7 to 21%. Overall, there's an increase of respondents completing surveys on mobile devices during peak commuting hours and after work.
Not surprisingly, non-mobile users are coming to the site earlier in the day and during work hours and heavily drop off once works end since they're no longer in front of a computer. Mobile users, however, are coming to the site early but there isn't a drop off when work hours end. Instead, usage is steady throughout the day.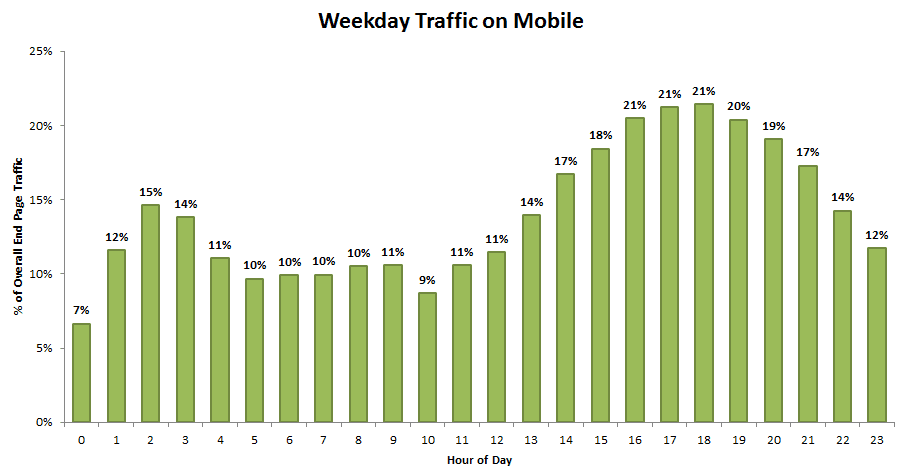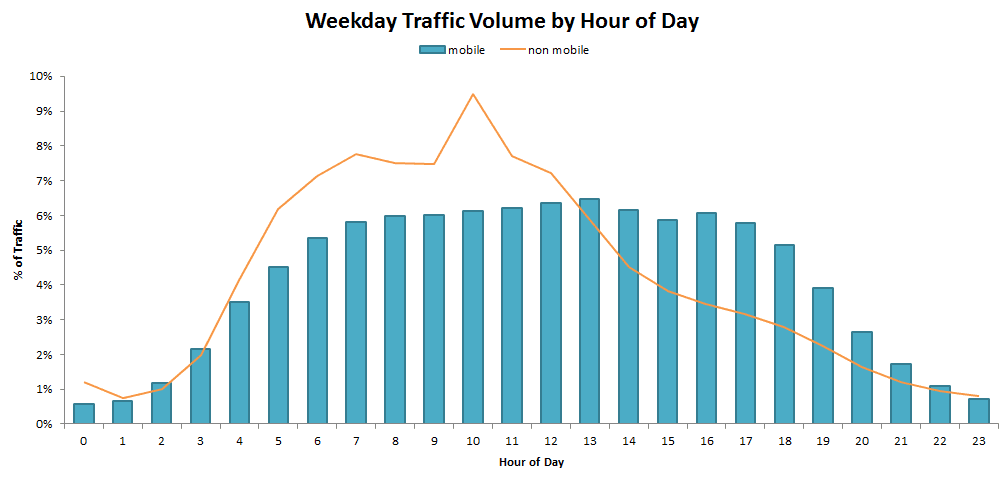 On the weekends the amount of traffic coming from mobile is consistent throughout the day. This is because both mobile and non-mobile users take surveys at similar times. Saturday traffic is earlier in the day with a slow taper and Sunday has a slow increase throughout the day, with higher peak hours towards the evening.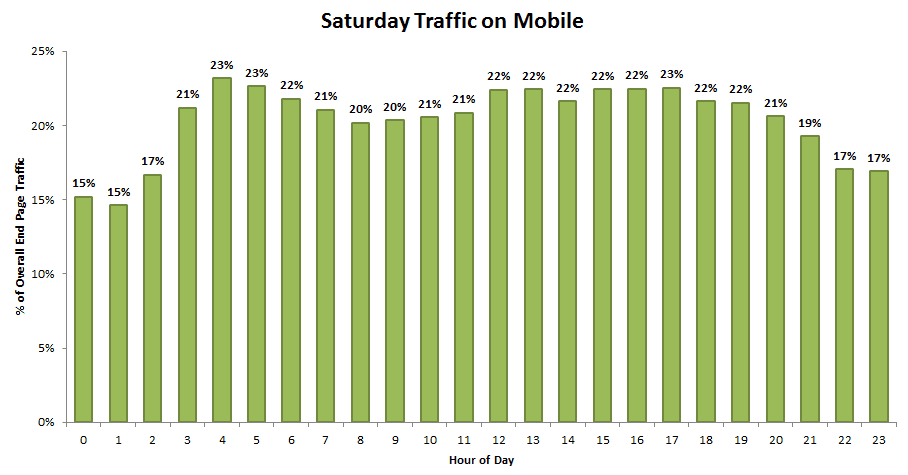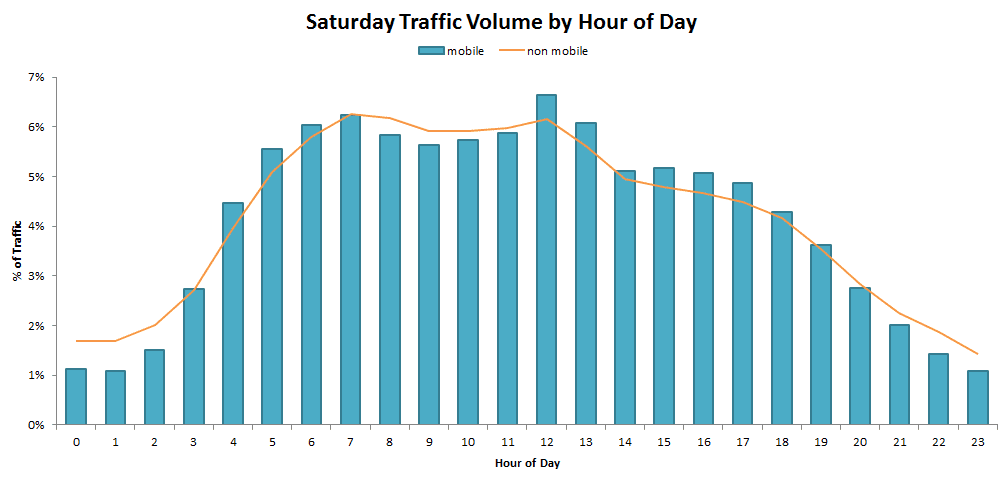 There you have it; respondents are increasingly using mobile devices to complete surveys—especially over the weekend. So, make sure you take these mobile trends into account for your next survey.
Any questions or comments on mobile trends? Let us know in the comments section below!