After all, you'll need to be adept at writing questions, understand all the nuances of sending surveys, and know how to analyze responses to get truly valuable insights.
We'll help you nurture your survey skills by sharing some of our most helpful resources and features! Whether you're in between surveys or in the middle of one, these tips can be just what you need to collect—and use—actionable data.
1. Watch comprehensive video tutorials with our resident survey pro.
In partnership with Skillshare, we've produced more than a dozen videos that feature our Director of Survey Research, Sarah Cho, discussing each step of running a survey.
Ready to become a survey expert?
Access the entire video series—for free!—with a Skillshare account.
The videos are broken down by topic—from planning your survey to reviewing your data—so you can easily jump to those you're most interested in. We don't call her Sarah Cho the survey pro for nothing! After watching them you'll be able to:
Write unbiased questions that yield authentic, thoughtful responses.
Apply survey logic to ask different groups of respondents more targeted questions.
Efficiently preview and test your survey to proactively catch mistakes.
Send your survey in the best way(s) possible to gather more responses.
Analyze your responses holistically and at a more granular level.
2. Learn everything you need to know about key survey use cases.
Every use case for running surveys has subtle distinctions—in how you write the questions, collect the responses, or interpret the data.
The guides below have everything you need to know about running surveys for some of our most popular use cases:
These guides not only offer use-case specific tips and tricks, but they also explore how you can take a more systematic approach to running your surveys, and begin running a true feedback program, instead of just one-off surveys. This includes how you can collaborate on the questions, share the responses internally, measure your results over time, and a whole lot more!
3. Use our in-product features and resources for guidance.
We strive to help our users build five-star surveys. This is reflected in several of our in-product features and resources.
Our survey scientists and product teams have developed a suite of features to make creating expert surveys easy:
1. SurveyMonkey Genius: Use our AI-powered tool to automatically score your survey and receive tips for improving it. You'll even get your estimated completion rate, so you'll know how your survey will perform!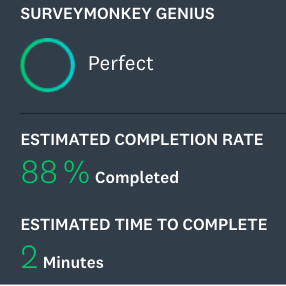 2. Question Bank: Know what types of questions you want to ask but don't know how to ask them? Looking for inspiration on the types of questions you can use? Whatever question-writing needs you have, our Question Bank has the answers!
Use the Question Bank to easily find—and use—specific questions as you design your survey.
3. Survey templates: Eager for more from our survey scientists? Check out our library of nearly 200 survey templates. Each of them are ready to use as is, but you're free to edit them to meet your needs.
Our templates cover just about anything you'd want to use a survey for, from measuring customer satisfaction to gauging employee sentiment to running market research. So check them out today!
4. Help others help you by collaborating on your survey.
When you get down to the nitty gritty of writing your questions, the details might get lost on you.
You'll need your colleagues, friends, or whoever else is invested in your survey, to help spot check your grammar, the order of your questions, and other details. An extra pair of eyes also lets you pressure-test the questions—giving you a chance to add any you hadn't thought of while removing others that might not be as valuable.
Perhaps most importantly, using our collaboration features gives you the chance to learn how others approach survey design. This experience can broaden your perspective and skill set when writing surveys in the future.  
We make it easy to share your survey. Just keep in mind that you can edit the permissions so that certain collaborators can only view the survey, while others can view and edit it.
5. Visit our help center for anything on using SurveyMonkey.
Just about every aspect of using SurveyMonkey is covered in our help center. Through a combination of short videos and text, you can get a refresher on the survey basics (like creating a survey), and also explore more advanced topics (like block randomization).
The help center's homepage allows you to easily navigate to specific topics under creating a survey, sending it, reviewing the responses, accessing account information, etc. So it may be helpful to reflect on the particular things you want to learn before you begin exploring the page!
Running surveys with success isn't a guarantee. But as you continue your journey as a survey creator, and take advantage of the great resources and features in this post, you'll only increase your chances at effectively gathering and leveraging survey data!