Cross tabulation and cross-tabs? What's that?
A handy analysis tool available on select paid plans
A cross tabulation, or "cross-tab," report shows the relationship between two or more survey questions
It provides you with a side-by-side comparison of how different groups of respondents answered your survey questions
Why use a cross-tab report?
Results Overview displays the results for all completed surveys and provides a summary of your data. But what if you want to compare the differences (and similarities) in responses from two different groups—dog versus cat owners, for example? Any time you need to see if there is a relationship between two survey questions, then you can cross-tab.
Survey Tip: if you know you will want to cross-tab groups of respondents mentioned above, you're going to want to keep that in mind when designing your survey. A simple question of "which do you prefer—dogs or cats?" will make cross-tabbing (and overall analysis) much simpler once you have your results.
Consider the example below:
If you were to just to look at your overall results, you would find that 54% of respondents said they may be interested in buying your product.
You have a hunch that there is a relationship between gender and intent to buy.
Since you took the above survey tip to heart, you included a question about the gender of your survey respondents in your original survey, as well as a question about purchase intent.
To test your theory, you create a cross-tab report that filters by people interested in your product and cross-tabs by gender.
What you (may) learn:

While 45% of all survey respondents say they will definitely buy the product, you see that there is a big difference between the purchase intent of female shoppers compared with male shoppers.
Women represent 66% of people interested in your product, while men only represent 33%.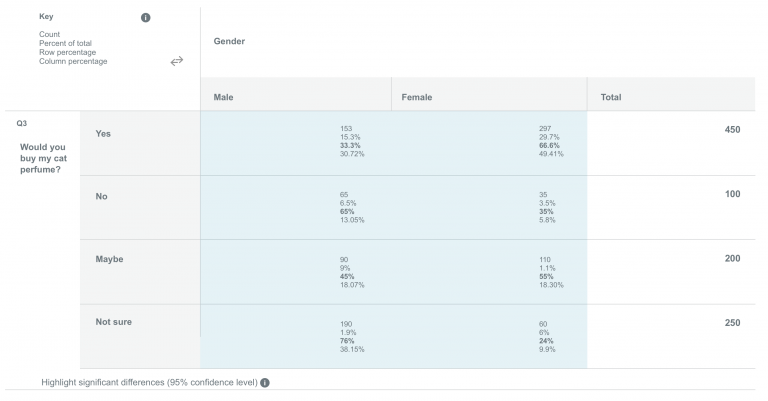 How do I create a cross-tab report?
In creating a cross-tab, the question that you believe changes or affects the responses to the other question, should be the column question. The question responses that are being affected or explained, should be the row question. In the example above, the theory is that gender affects likelihood of purchase, so gender is the column question.
You can also apply a filter to a cross-tab report. For example, in addition to analyzing the relationship between gender and intent to buy in the cross-tab above, you can add a filter for age if you want to analyze only males and females between 18 to 34 years old.
What kinds of insights can cross-tabs uncover?
How do satisfaction levels differ between repeat and first-time buyers?
What is the relationship between how satisfied customers are and whether they would recommend our product or service?
How do employees in specific departments feel about our company?
Is there a relationship between office location and satisfaction [cross-tab]? Does that relationship still exist when we control for length of employment? [apply filter to cross-tab]
Is there a difference between men's and women's intent to purchase my brand?
Does age affect my brand awareness?