Getting the insights you need to make better decisions depends heavily on survey completion and response rates. Getting better completion and response rates start with creating better surveys—surveys people can't wait to take. The most engaging surveys are enjoyable for your respondents but for you, they yield richer data.
For over 20 years, we've helped more than 335,000 organizations worldwide collect and act on feedback. Our experience has helped us isolate the best practices for improving the quality of large-scale feedback, and it all starts with creating surveys that are more engaging.
1. Create surveys that feel like a conversation
Mastering the "art of conversation" isn't just a cliché. It's especially critical when you're trying to gather feedback because the way you sound can make or break your survey. Ensure your respondents understand what you're asking them by creating surveys that are clear, easy to read, and friendly. Treat your surveys like a casual conversation between two people, instead of a mechanism for collecting data. 
SurveyMonkey's conversation survey format displays your survey questions like a chat conversation in a messaging app, which feels more familiar to people taking your survey. Find out if your customers are satisfied by creating a conversation about your product. Ask your employees if they're engaged in their work with a chat-like survey that invites more honest responses. Explore whether your target market is interested in your new product with a quick, conversational concept testing survey.
Survey "conversations" are best used on one-page surveys with less than 100 questions and no more than 5 answer options for each question. You're also not limited to mobile—conversational surveys provide chat-like experiences on desktop and tablet, too.
2. Personalize your survey experiences
How your survey looks really contributes to how engaged your respondents are. Personalized surveys are more appealing to the people taking them, and you can make customizations in a snap. For example, add your logo so your survey is recognizable to your audience. Choose a theme and survey layout that's fun and playful, or professional and sophisticated. Add small touches like colors and fonts to align with seasonal surveys.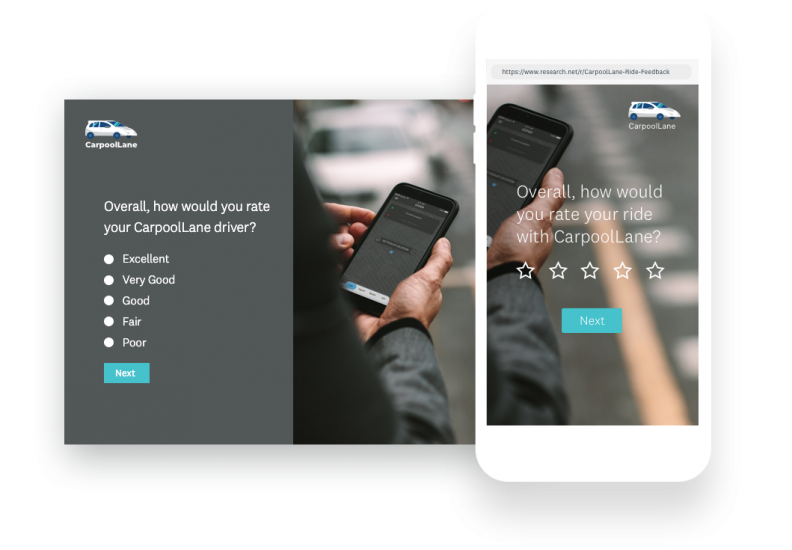 Want your email invitation to stand out? Create a personalized survey—from the start—by including first names in your email invites. With custom HTML invitations, you can even add images and embed videos, which are also great ways to increase engagement.
3. Ask questions people can't wait to answer
It's the questions themselves that survey takers interact with most, so start by piquing interest with your very first question. Respondents might not have context about your survey, so use this question to build rapport and motivate them to answer the rest.
Surveys that start with a multiple choice questions tend to have higher completion rates because these types of questions are easy to answer. Furthermore, embedding that first question into the email invitation can actually increase the number of people who take your survey by 22%.
The type of questions you ask can dramatically change respondents' experience. Optimizing for questions types that reduce the amount of work respondents have to do can lead to a more engaging survey. Including a few open-ended options ensures that your respondents still have space to voice their thoughts.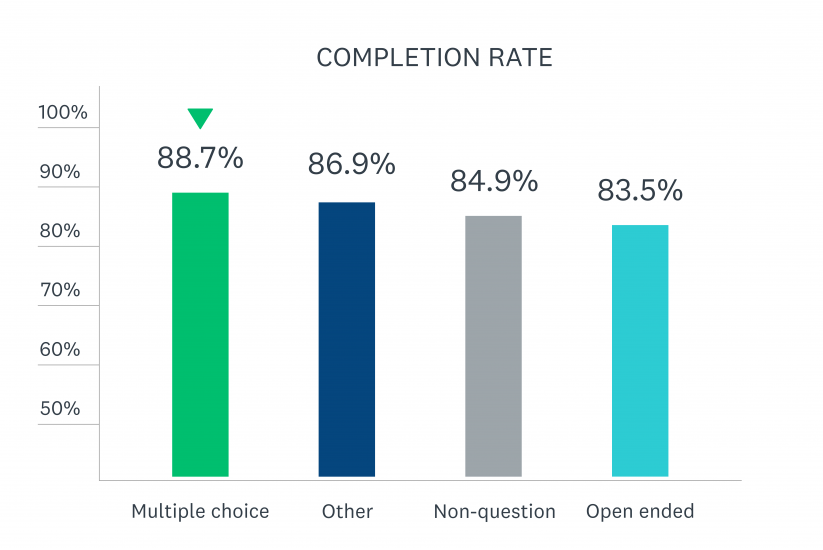 When it comes to using open-ended questions in your survey, try using a hypothetical to get richer responses. For example, if you're looking for feedback on a recent support issue, you might ask, "How could we have provided you with better service?" instead of leaving a generic text box for comments. Ask your open-ended questions in a more compelling way so that your respondents want to contribute their opinion
4. Tell people why their opinions are valued
Customers, employees, and your target market all want to feel valued. Be upfront with why you're collecting feedback and your respondents will be more motivated to provide honest answers. Use the description box at the front of your survey to briefly explain why you're gathering feedback and what will happen to their opinions and data once the survey closes. Some examples below:
Customer satisfaction survey: Share your goal of increasing your customer satisfaction with your respondents by explaining that their opinions will help you offer better products and services.
Employee training survey: Tell employees that HR is evaluating the effectiveness of training and team-building events and that you're looking for fresh ideas that might lead to new educational opportunities.
Product development survey: Explain that your company is looking for feedback on new product designs and that this feedback may inform the launch of a new product line.
Giving respondents context about why their opinions matter will keep them engaged in your survey, and can also enable you to close out on a positive note. Thank respondents for their time and offer to follow-up on the survey results. Redirect respondents back to your site if you'd like them to have more information (available on Premier plans).  
5. Reach people via familiar channels
Respondents are more likely to take and complete your survey if it's convenient, so look for opportunities to engage them in the channels that they use everyday: email, apps, social media, etc. Send personalized email invitations that customers are likely to open. Launch employee surveys and polls from collaboration apps like Slack and Microsoft Teams without interrupting their workday. Reach your target market on social media by publicly tweeting a link to your survey, or posting it on your Facebook page. It'll feel easy to your respondents—and get you more answers!