Following President Trump's address to the nation Monday night outlining a new strategy for the Afghanistan War, SurveyMonkey's tracking poll found the president may be sailing into public opinion headwinds.
A majority of Americans (51 percent) prefers to bring home the U.S. troops now in Afghanistan, with the rest divided between keeping troop levels the same and sending more (22 percent for each).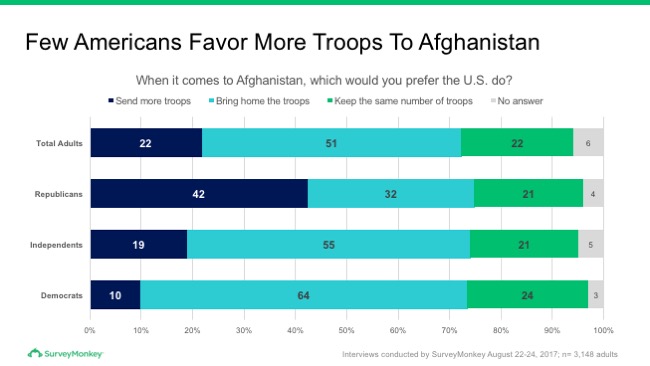 While partisan divisions are evident in views on the Afghanistan War, they are softer than other issues and views of the president. On the question of troop levels, majorities of Democrats (64 percent) and independents (55 percent) want to bring the troops home. Among Republicans, however, there is more of a split. While 42 percent want to send more troops, 32 percent want to bring troops home.
Softer partisan divisions are also in evidence on the question of the Afghan War itself, with the overall numbers resembling the nation's views on Trump: Just 40 percent are confident that the U.S. is doing the right thing in Afghanistan, 54 percent say the U.S. should not be involved.
Again, within partisan groups, the confidence divide is not quite as intense as the typical 80–20 margins in Trump's ratings. In this case, 67 percent of Democrats think the U.S. should not be involved and 63 percent of Republicans think the war is the right thing to do.
The pattern is similar on the question of whether the war in Afghanistan is worth fighting. Nearly three out of four Democrats (74 percent) say it was not, as do nearly two-thirds of independents (65 percent). Republicans are more divided, however, with a narrower majority (56 percent) saying the war has been worth fighting.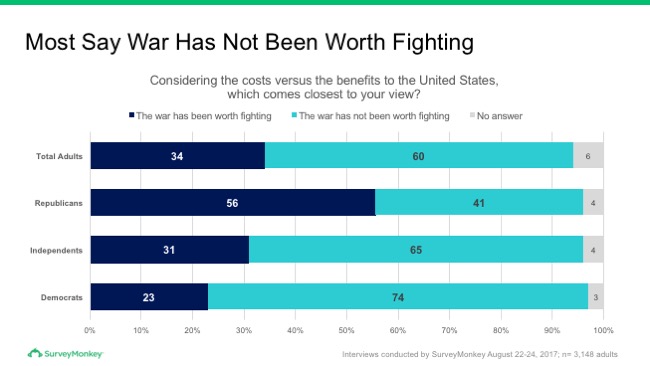 When it comes to perceptions of Trump as "commander in chief," on the other hand, the more extreme partisan polarization returns.
Overall, 41 percent of adults are confident in Trump as commander in chief; fully 57 percent are not (just a few percentage points higher than his overall 39 percent approval rating this week). Republicans are confident in Trump as a military commander, by an 83 to 17 percent margin, while by a 11 to 88 percent margin, Democrats are not.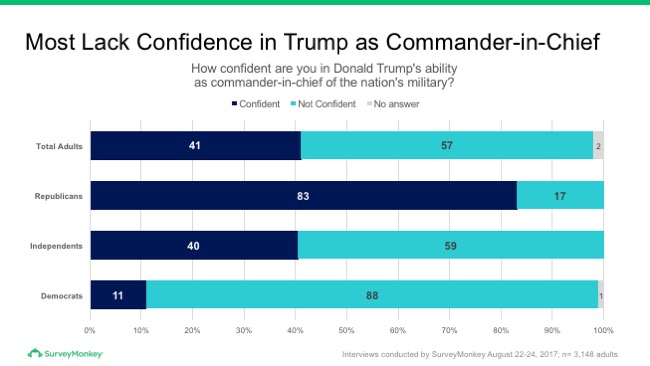 Similarly, when asked who would make better military decisions, 38 percent of Americans choose Trump versus 42 percent who choose Barack Obama and 15 percent Hillary Clinton. Again, nearly all Republicans prefer Trump, while nearly all Democrats prefer Obama or Clinton.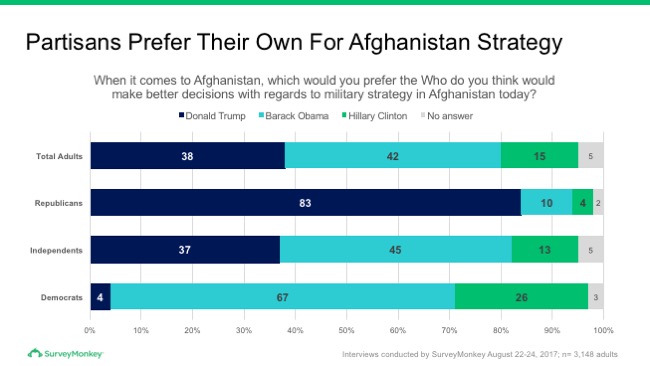 Only a small fraction of Americans (13 percent) are concerned that the generals in President Trump's administration have "too much influence." Most think the generals have about the right about of influence (42 percent) or not enough (41 percent).
Again, this result appears to an indirectly reflect the partisan polarization about Trump (either confidence in his approach or fear of it): Republicans overwhelmingly say the generals have the right amount of influence, while most Democrats wish they had more.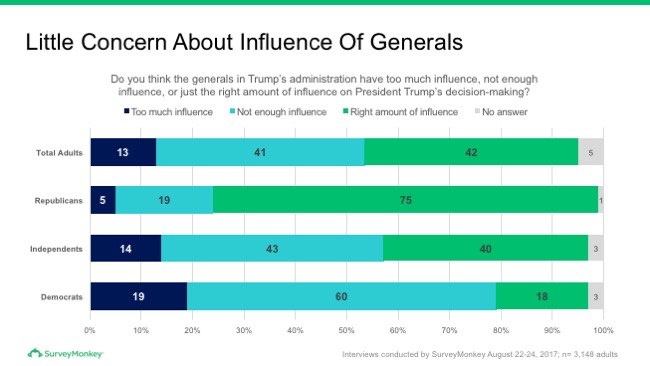 With the Afghanistan speech dominating news coverage, President Trump's overall job rating ticked down a point this past week, from 40 to 39 percent in SurveyMonkey's tracking from August 18 through August 24. Trump's disapproval percentage also moved up a point, from 56 to 59 percent.
These latest results are at the low end of Trump's approval rating as measured by SurveyMonkey's tracking over the past five weeks, in which Trump's approval rating has varied between 39 and 41 percent and his disapproval varied between 57 and 59 percent.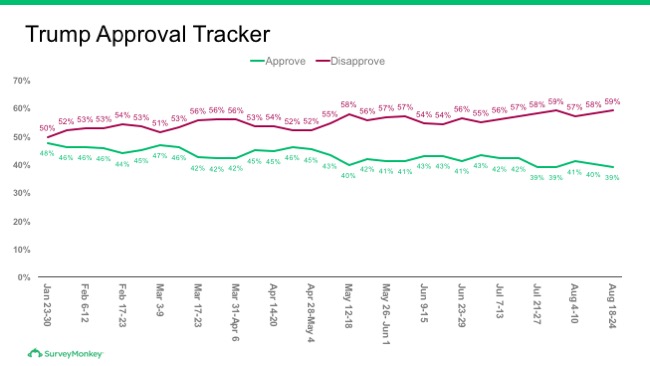 Our report last week noted a mid-week decline to 37 percent approval, following the President's August 15 news conference in which he reverted to blaming "both sides" for the violence in Charlottesville. The latest results suggest that initial reaction has started to fade.
We noted previously a late-week decline in evidence among Republicans. This week's data shows Trump's approval rebounding slightly all three groups where it had declined during the previous week: among Republicans, independents who lean Republican and independents who lean to neither party.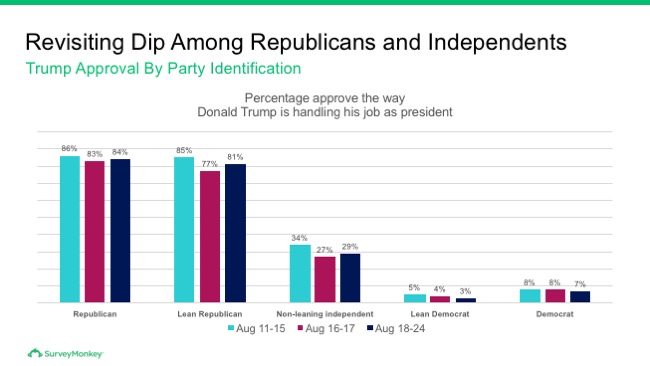 Finally, a month after the U.S. Senate rejected the Republican's scaled down attempt to repeal President Barack Obama's Affordable Care Act, "health care" has fallen a few percentage points behind "jobs and the economy" as the issue Americans tell us matters most to them right now.
Concerns about health care had spiked upward during debate over Republican efforts to repeal and replace the "Obamacare" law, peaking at 30 percent in late June and again in late July but have fallen off steadily since. This past week, 21 percent mention health care and 24 percent mention jobs and the economy as the most pressing concern.
Methodology: SurveyMonkey poll on the Afghanistan war was conducted online August 22 through August 24, 2017 among a national sample of 3,148 adults ages 18 and up. Respondents for this survey were selected from the nearly 3 million people who take surveys on the SurveyMonkey platform each day. Data for this week have been weighted for age, race, sex, education, and geography using the Census Bureau's American Community Survey to reflect the demographic composition of the United States. The modeled error estimate for this survey is plus or minus 3.0 percentage points.
The full week tracking survey of presidential approval and issue concerns was conducted online August 18 through August 24 among 9,172 adults ages 18 and up using the same sampling and weighting procedures. The modeled error estimate for this survey is plus or minus 2.0 percentage points.