This is the fifth part in a series for HR professionals on how to use surveys throughout the employee lifecycle. For even more detailed best practices, tips, and a library of HR-specific survey templates, download our eGuide, Employee feedback for the win.

Fact: every employee leaves your company, eventually. Their roles, motivations, and circumstances will vary, but as an HR pro, one thing is certain: the offboarding process is a valuable opportunity to gather important information.
Making a good last impression
When an employee leaves, your offboarding process kicks into gear. It probably looks something like this:
Communicating the change
Preparing relevant paperwork
Transitioning the workload
Conducting an exit interview and/or survey
Planning a send-off or farewell event
Throughout the process, it's important to make the departing employee feel respected and appreciated. Employee voices are more powerful than ever—so if someone's last memory of your organization is a good one, you may see positive returns. These can include good reviews on sites like Glassdoor, partnerships with their next employer, and referrals for new hires.

In addition to being powerful, employee voices are also incredibly useful, provided you're listening to and acting on them.
Exit surveys: one tool for improving retention rates
Finding out why an employee is leaving is a critical step to a successful offboarding. The surface reason may be obvious (relocating, finding another opportunity, retiring)—but a strong exit survey can yield insights that might otherwise have gone unnoticed.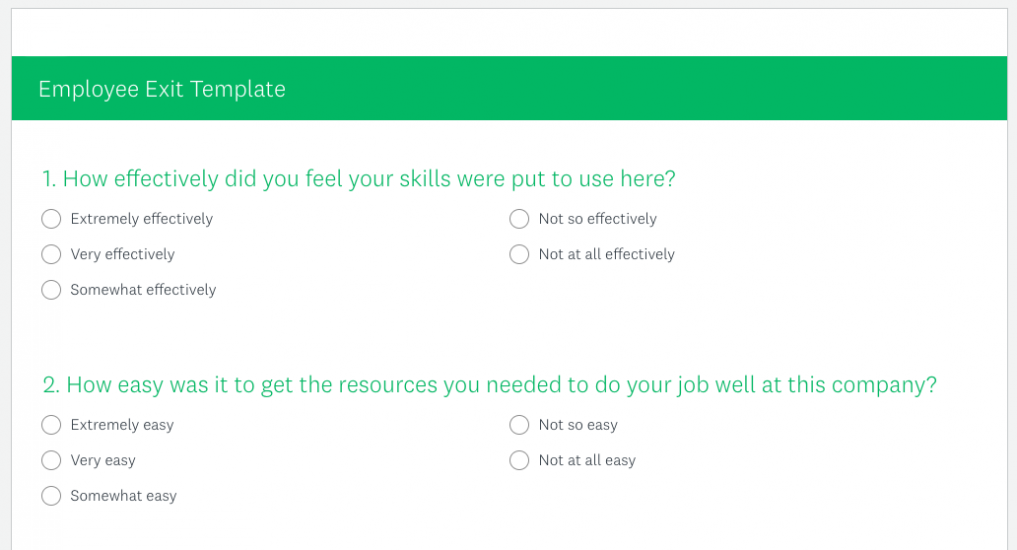 Consider asking questions like:
What are your reasons for leaving this company?
How easy was it to get the resources you needed to do your job well at this company?
How much room for professional growth did you have at this company?
How often did your supervisor listen to employees' opinions when making decisions?
How well did the members of your team work together to reach a common goal?
How easy was it to balance your work life and personal life while working at this company?
Exit surveys can help you find out what you're doing right as a company, and where there's room for improvement. Some examples:
Survey responses indicating a lack of professional growth may call for new learning and development programs, conference budgets for employees, and a focus on hiring new positions from within.
Responses mentioning poor teamwork dynamics may be remedied by an increased focus on team-building exercises and programs for casual meetups between cross-functional teams.
Is work-life balance out of balance? Consider work-from-home policies, and flexible hours to accommodate family life.
As you gather feedback from departing employees, make sure you package key insights so that they can be shared with sensitivity among the appropriate stakeholders. Be on the lookout for emerging patterns that signal the need for a deeper dive, either on a functional or company level.

The next post in our series will focus on pro tips to strengthen your surveys. Coming soon!

Want to build a more inclusive employee experience from beginning to end?
Our comprehensive HR playbook explains how to use surveys to attract, engage, and retain talent.