More than half of Millennials closely tuned into news about GameStop's soaring then cratering stock fortunes, with the big swings particularly appealing to young investors, according to a new poll from Fortune and SurveyMonkey. 
The drama around GameStop stock -- and the Robinhood stock trading app that helped fuel the massive volatility -- comes at a time of significant anxiety about the national economy and personal finances. The high-stakes trading flurry also hits the widely held, and growing, perception that the stock market is deeply unfair. 
Today, 64% of all Americans see the stock market as unfairly benefiting rich investors, rather than giving everyone an equal chance to make money. Overall, that's a double-digit jump from 2014 in the percentage seeing such inequity in the equity markets, and it's a viewpoint held by majorities across demographic and partisan lines. 
Robinhood aims to level the playing field in investing, and it has big appeal among younger investors, who are disproportionately apt to say seeing GameStop over the past few weeks makes them more likely to trade stocks. Among those ages 18 to 34, 27% say they are now more likely to day-trade after seeing the GameStop run-up, double the proportion among those ages 35 to 64. Among seniors, just 4% see the increased draw. 
Fully 50% of Robinhood users are ages 18 to 34, about triple the proportion that age cohort makes up among Fidelity and Vanguard customers. Both young and old investors are souring on the app: by greater than 4-to-1 more say their views of Robinhood are getting worse rather than better recently.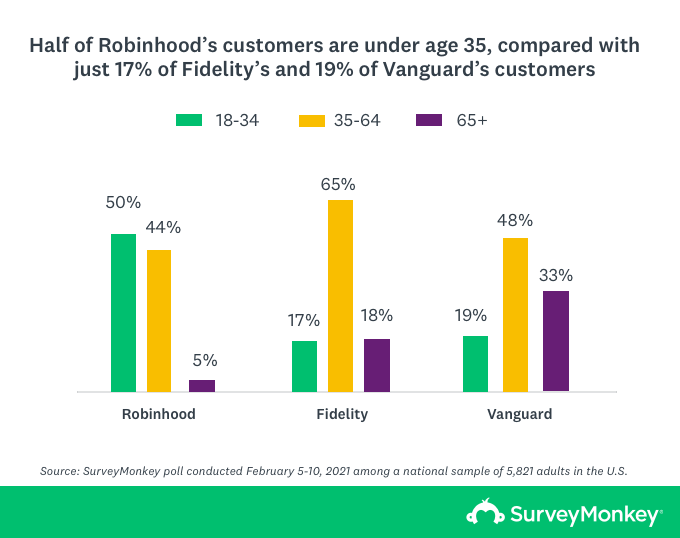 Nor is a governmental remedy seen as likely to help even things out. Majorities of younger and older investors share a lack of confidence in regulators when it comes to making the stock market fair for all, with the overall number expressing low confidence soaring to 84% among those who see the market as unfair today. 
Read more about our polling methodology here. 
Click through all the results in the interactive toplines below: