Investment services firm Raymond James faced a dilemma that's become like the Holy Grail to marketers and business leaders everywhere: Understanding millennials' internet habits.
Raymond James' internet analysts need to find exclusive insights about the tech markets that they can share with their investor clients. They need to follow fast-moving market trends:
Which social or music apps are popular among millennials this month—or even this week?
Are young consumers using Snapchat or Instagram more?
When they want to buy something, do they search for products on Google or Amazon?
SurveyMonkey Audience has helped provide proprietary research that we leverage in our research reports and in discussing with clients.


Internet Analyst, Raymond James
This kind of Market Powered Data can be a treasure for investors. When they get trustworthy consumer data at scale and in real time, they may validate their investment thesis or predict market trends fast. A team of research analysts like the one at Raymond James can offer an edge to its clients by finding this proprietary information.

But they had a problem they hadn't been able to solve, according to their team leader: "Surveying customers in a cost-efficient way."

How to survey your target market quickly and cost-effectively

The team needed to put out a report identifying the latest online trends among millennials. So they designed a survey with questions about apps and websites like Facebook, Snapchat, Amazon, Google, GrubHub, UberEats, and more.
The investment researchers then launched the survey on our global consumer panel SurveyMonkey Audience, targeting U.S. residents between the ages of 18 and 34 from all household income levels.

"We were able to turn around a survey in a couple of days," the leader says. Soon, a report landed in Raymond James clients' inboxes, detailing 12 powerful consumer insights gleaned from the survey's Market Powered Data.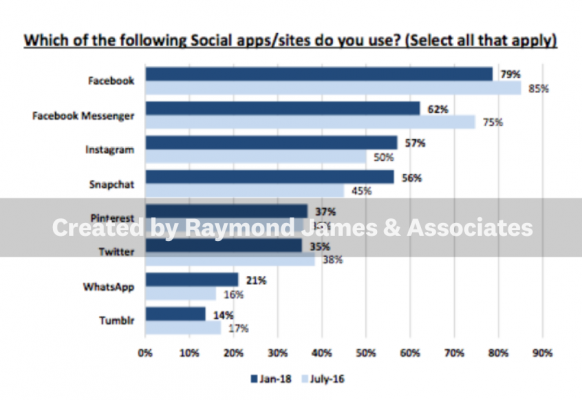 How to get market-shifting insights through consumer research

The conclusions analyzed metrics affecting both blue-chip tech stocks, such as Apple, Amazon, or Facebook, and pre-IPO companies like Spotify. It's the kind of Market Powered Data that may move markets and lead to stock upgrades or downgrades.

The Raymond James team was able to deliver on schedule and in budget.
Need consumer insights to drive your investments?
Validate your investment decisions listening to consumers with our fast global panel, SurveyMonkey Audience.
"Using SurveyMonkey Audience," the leader says, "we can quickly and cost-effectively target a broad audience or specific audience (for example, millennials) to gauge consumer opinions and usage of various Internet companies."

Surveys can power many investment research use cases

Investment researchers, market analysts, and investment fund managers work under time pressure and make crucial calls that can lead to shifts in market valuations.

Many of them use surveys for investment research with various goals, from measuring a startup's potential to gauging consumer sentiment about a particular brand to validating an investment hypothesis before signing off on a big venture capital investment.

To do this kind of market research, they need a market research solution that provides:

Speed
Ease of use
Global reach
Trusted respondents
Ability to track trends
Advanced targeting options
The Raymond James Internet Millennial Survey was successful because it helped the analysts attack one of the big research dilemmas of these times.

"We were able to draw conclusions in our research, both positive and negative for specific companies," the team leader says. "Audience is an invaluable tool in helping us provide unique research to buy-side clients."
Want to see how Market Powered Data can help you make better investment decisions? Try using SurveyMonkey Audience to stay ahead of the pack.