Black women are some of the most ambitious workers in the U.S., with three-quarters (75%) of black working women describing themselves as "very ambitious" when it comes to their career, compared with 65% of Hispanic women and 46% of white women. These results come from the first CNBC|SurveyMonkey Women at Work Survey, timed for International Women's Day 2020.
Overall, a large majority of working women in the U.S. (89%) say they consider themselves to be at least somewhat ambitious when it comes to their career, including more than half (54%) who see themselves as strongly so. Just 10% of working women say they are "not so ambitious" or "not ambitious at all" when it comes to their career.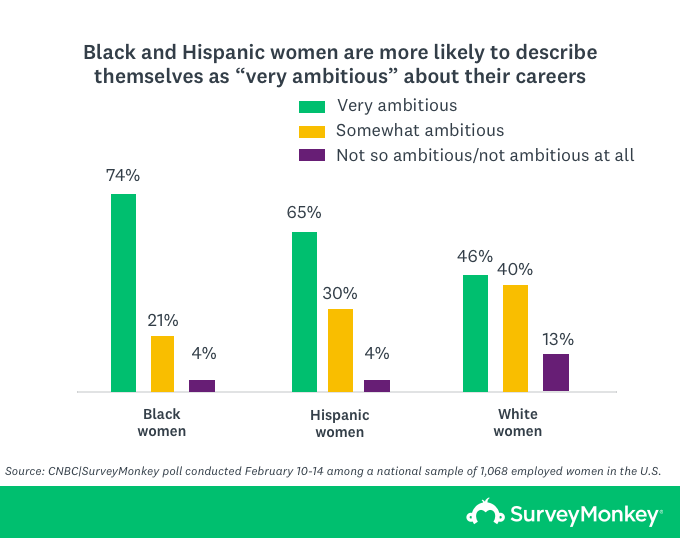 These self-reported levels of ambition match up with women's more specific expectations around job level, career growth, and potential for promotion. White, black, and Hispanic women are all equally likely to say they are currently individual contributors. But black women are the most likely to say they expect to be at the manager level in five years (40% among black women, 29% among Hispanic women, and 24% among white women). Even further, 30% of black women expect to work their way to the level of vice president or higher in 10 years; just 21% of Hispanic women and 12% of white women say the same.
Career growth opportunities are limited for young workers
Younger women workers are more likely to describe themselves as very ambitious: 65% of 18-29 year-old working women, 59% of 30-44 year-old working women, 49% of 45-54 year-old working women, 46% of 55-64 year-old working women, and 36% of 65+ working women call themselves "very ambitious" about work
Younger, most ambitious women are those who are least satisfied with the amount of career growth available to them at their current jobs. Just 29% of women individual contributors say they are "very satisfied" with the amount of career growth available to them, compared with 45% of women managers and 52% of women at the senior manager or higher levels. 
Working moms have one unique concern
Mothers are another key group that is more worried about taking advantage of flexible work arrangements. A majority (59%) of women with children under 18 say they are concerned that using flexible work arrangements (such as paid leave, working from home, or flexitime) will prevent them from achieving their career goals. Far fewer, just 41%, of women without young children at home share this concern.
For more detailed results, click through the interactive toplines below.
Read more about our polling methodology here. 
Question text:
How ambitious do you consider yourself to be when it comes to your career?
How satisfied are you with the amount of career growth available to you at your current job?
How often do you talk with your manager about your career goals?
How concerned are you that taking advantage of flexible work arrangements at your job (e.g. paid leave, work-from-home, flexitime) might prevent you from achieving your career goals?
What is the best way your organization can help you achieve your career goals?
How would you describe the gender representation among your organization's senior leadership?
Would you say your organization offers more, fewer, or about the same amount of opportunities specifically targeted to women as it did three years ago?
Would you say your organization's workforce is more diverse, less diverse or about as diverse as it was three years ago?
How many employees work at your organization, in all its offices?
Do you use any financial wellness resources provided by your company? These include any benefits services designed to help employees manage money, set financial goals or allocate their retirement savings.
Approximately how much money do you have saved for retirement?
Excluding retirement accounts, do you have at least $5,000 invested in any of the following: (Select all that apply)
Who is the person most responsible for managing your money?
Which of the following best describes your current job level?
What job level do you expect to be at in 5 years?
What job level do you expect to be at in 10 years?
*women *employees