More than half (53%) of U.S. adults say SpaceX is at the forefront of leading the private sector's push into space
Team Elon: Gen-Z is most likely to say SpaceX is leading the way 
Two-thirds (65%) of U.S. adults say it's likely that private companies focused on space exploration will make a profit in the next 10 years, a 6% decrease from 2019
Many still aren't on board yet with space travel yet: 61% say that, even if money wasn't an issue, they still wouldn't want to travel to the moon
Space colonies may be lightyears away: 72% say it's unlikely people will colonize and live on the moon in the next 10 years
SpaceX dominates the space race
The past year was a big leap for mankind: several private companies helped usher a handful of civilians, celebrities, and tech moguls into space. More than half (53%) of U.S. adults say SpaceX is at the forefront of leading the private sector's push into space according to a new Axios|Momentive poll. 
Gen-Z greatly favors Elon Musk's SpaceX: around 7 in 10 (75%) believe it's leading the private sector's space race compared to Jeff Bezos' Blue Origin (7%) and Richard Branson's Virgin Galatic (1%). More than half of Millennials (54%) and 49% of Boomers also believe SpaceX is ahead, though with slightly less enthusiasm than Gen-Z.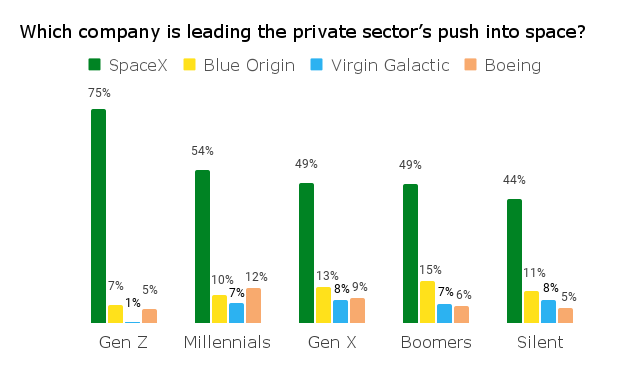 Majority expect privatized space companies to profit  
Private-sector space ventures may be small-scale for now, but two-thirds (65%) of U.S. adults say it's likely that private companies focused on space exploration will make a profit in the next 10 years, a 6% decrease from 2019. Only 1 in 3 (31%) say it's unlikely private companies will see profit in the next 10 years, up slightly from 25% in 2019. 
Republicans are least likely to say private companies will be profitable in the next decade (63%) compared to Democrats (68%) and Independents (70%). In comparison, 7 in 10 (73%) Gen-Zers believe private companies venturing into space will profit compared to 6 in 10 (61%) Boomers and 64% of Millennials.
Space travel hasn't taken off for many just yet
Despite advancements in the citizen space travel industry, many still aren't on board yet. Six in 10 (61%) say that, even if money wasn't an issue, they still wouldn't want to travel to the moon, a slight increase of 5 percentage points compared to 2019. Women are somewhat more likely than men to decline an out-of-this-world trip (68% vs. 54%). However, Gen-Z is all in: more than half (55%) say they'd take a trip to the moon, provided that money was not a factor. 
Considering many still aren't keen on traveling to the moon, space colonies may be lightyears away as well. Seven in 10 (72%) say it's unlikely people will colonize and live on the moon in the next 10 years, slightly lower than 75% who said the same in 2019. Boomers are least likely to believe we'll see colonies on the moon in the next decade (82%) compared to Gen-Z (58%) and Millennials (65%).
Read more about our polling methodology here. 
Click through all the results in the interactive toplines below: