Six in ten employed Americans say they're worried about their company's data being compromised, but that doesn't mean they always act like it: One third (34%) of the 1,507 U.S. adults we surveyed said they share passwords or accounts with their coworkers.

With 95 million knowledge workers in the U.S., that means that as many as 32 million employees may be sharing passwords.

The risks are immense. If hackers gain entry into your system, shared passwords make it much easier for a them to increase their access to other parts of your network, which can turn a single security incident into a full-blown breach.

So why would so many workers put their company, their teammates, and themselves at risk?  

The main reason isn't at all nefarious: They do it to collaborate. More than four out of ten workers (42%) who share accounts and passwords at work say they do so to more easily collaborate with their teammates. Nearly one in four respondents (38%) said they share passwords because it's the company policy.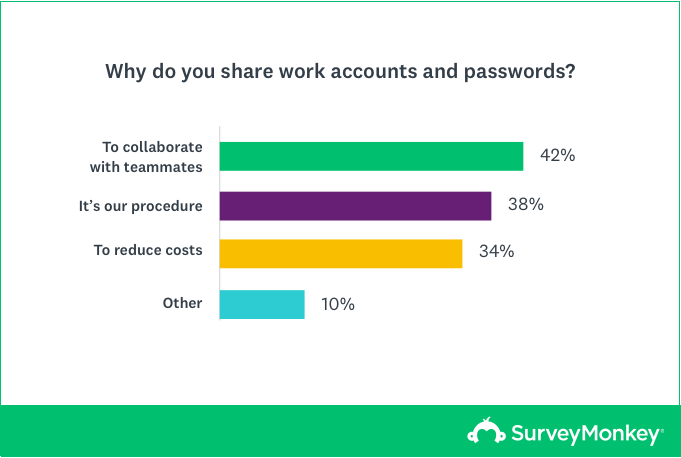 Password sharing isn't the only issue. Our study found indications of poor password management across the board. Almost a quarter (22%) of the people we surveyed admitted to reusing the same password on multiple work accounts. And while nearly one in six (58%) say they memorize their passwords, a third (34%) write them on paper, and one in ten has a document on their computer full of passwords.

Finally, only 21% say they use password managers like Lastpass or 1Password, the technology most security professionals recommend for safely managing multiple passwords.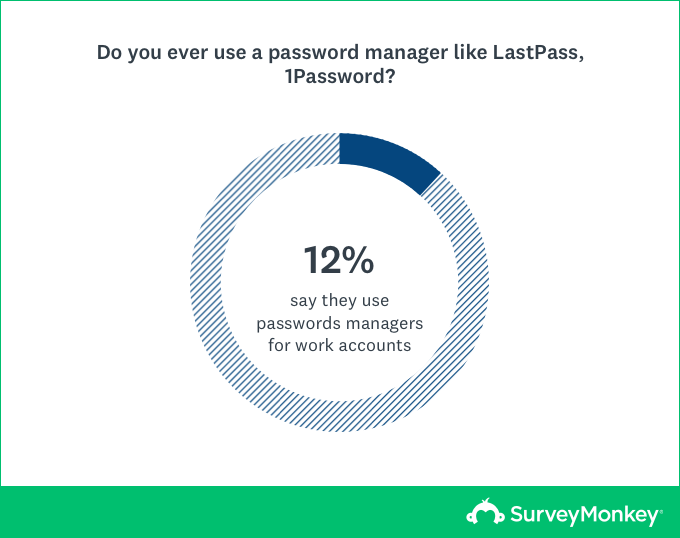 Despite all this, employees are not particularly worried about the security or legal repercussions of poor password management. Less than one quarter of workers that share passwords are worried about having data compromised (23%), having legal action taken (22%), or getting caught and having to pay more (14%).

Their biggest concerns about sharing passwords were purely practical, largely related to access. They worried about others changing the passwords so that they can no longer access their accounts (37%), others sharing the password more widely (26%), and getting caught and losing access (20%).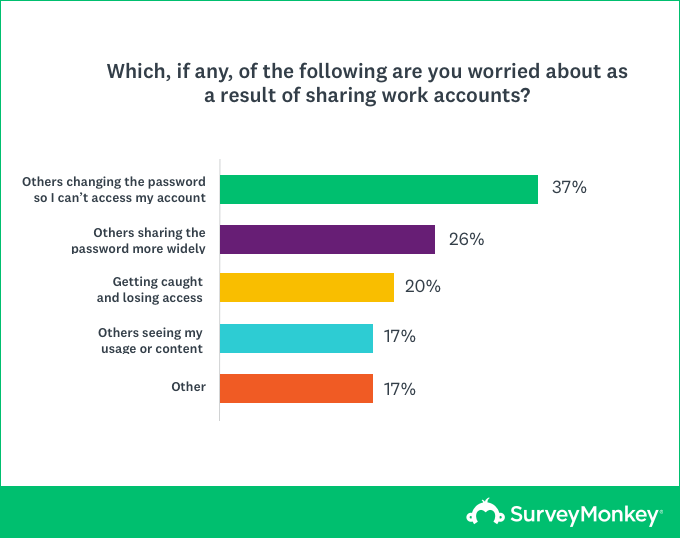 While password sharing doesn't always result in a full-blown security breach, there are more subtle ways that unregulated shared access to sensitive accounts can impact your business.

Users with shared passwords can delete or alter sensitive company data, make unapproved charges with stored payment methods, or lock other users out of an account by altering login credentials. Perhaps worst of all, unregulated access means it's hard to know whether employees who have left the company have access to sensitive company data or accounts.

Even if they're accidental, these types of issues can seriously affect productivity, cost you money, or even land you in legal trouble.

This is all particularly important when it comes to surveys because it's a format where collaboration is common—even necessary.

And with plans suitable for small teams or large companies, you can add users, control their permissions and access, and work closer together on surveys—all without sharing a single password.

This SurveyMonkey Audience poll was conducted online from January 23 - 25,2019 among a total sample of 1,507 adults age 18 and over living in the United States.  Respondents for these surveys were selected from SurveyMonkey Audience , SurveyMonkey's online survey panel. The modeled error estimate for the full sample is plus or minus 3.5 percentage points. Data have been weighted for age, race, sex, education, and geography using the Census Bureau's American Community Survey to reflect the demographic composition of the United States age 18 and over.