You've invested a substantial amount of time and effort into crafting a superb survey. The next step? Figuring out the smartest way to get it in front of your customers, colleagues, or target market, so you can get the most—and best—survey responses.
SurveyMonkey gives you lots of options, and it can be hard to choose the most effective method for sending your survey (which we call a collector type). So here's a handy guide to the best ways to send surveys for our top 3 use cases: employee research, customer research, and target market research.
Remember: you're not limited to just one collector type for your survey! Sending your survey in multiple ways extends your reach and nets you a higher response rate. That said, the below recommendations are our top picks for each scenario.
1. I'm surveying my employees
You need to find out what your employees are thinking. The best method in this case is via email with the Email invitation collector type.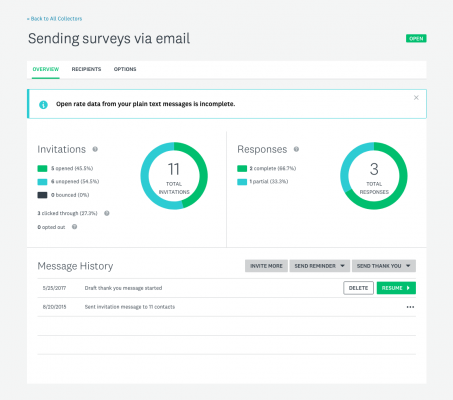 Why? First, you already have your employees' email addresses, so finding them is easy. Second, since confidentiality is crucial to receiving candid employee feedback, you can set responses to be anonymous. You can still track who has taken the survey, so you can send reminders or follow up if needed.
Webinar: How to send surveys
Are you using the right collector type for the job? See how to get the most and best data from your surveys.
2. I'm surveying my customers
Keeping in touch with your customers is key to the success of almost any business. So what's the best way to get your survey in front of them?
Again, email is one of the most effective methods. But since you might not have your customers' contact information, let's talk about another versatile way to get customer feedback: sharing a Web Link.
(By the way, if you want to learn more about the details of using email—and other recommended methods of reaching your customers—watch our free webinar here.)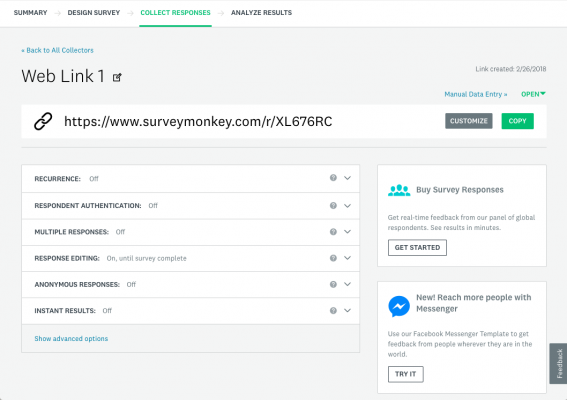 A Web Link is one of the most popular ways organizations collect data. Why? It's easy to create and share your survey's custom URL on a web page, in a PDF, or wherever you choose. While it doesn't have the built-in tracking and email creation that the Email Invitation function offers, it's ideal for reaching a large audience when you don't have their email addresses.
3. I'm surveying my target market
Conducting market research with SurveyMonkey is simple and fast. When it comes to tapping your target market for insights, try using the Social Media collector.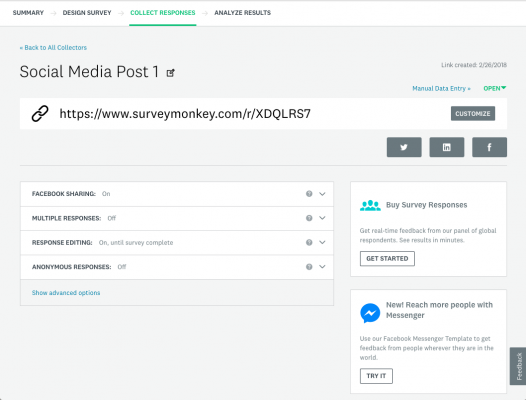 This collector lets you reach highly targeted sets of people at scale, generating links that are customized to meet the requirements of Facebook, LinkedIn, and Twitter—so you can directly embed your survey in the channel(s) of your choice.
If you want to extend your reach even further, consider buying a sample of survey respondents in the demographic of your choosing with SurveyMonkey Audience.
Need more control over the collectors being used by your team?
If you're a primary administrator of an organization, you may be responsible for collecting sensitive information such as medical records or other personally identifiable data. You might also have policies in place regarding how your users interact with customers or prospects.
For either of those cases—and more—we allow primary account admins on SurveyMonkey Enterprise plans to apply Global Settings for their entire team, allowing them to require anonymity, restrict certain collector types, or require respondent authentication via Single Sign-On (SSO).
Check out the first installment of our Survey Collector Series, How to send surveys: best practices for better data, where we'll go into greater detail on the various collector types, additional guidelines for determining which one you should use when, sample size best practices, and more.