Here at SurveyMonkey, we believe that great things happen when your team is aligned and feedback is shared broadly. That's why we're always working to make it easier for the right people to have the right access to data that drives decisions. 
We've thought about how teams work together to brainstorm, build, and analyze surveys—and we've set up survey sharing accordingly. Our sharing features were designed to help all kinds of teams accomplish all kinds of survey wins. 
When you understand the different ways your team can share surveys, you can avoid work bottlenecks, pass off projects more efficiently, and get more out of your surveys. We'll walk you through the different ways to set up survey sharing, including when these options may be helpful for your team. We'll also explain some upcoming sharing features that will expand and enhance how you collaborate. 
Did you know that team members with full access seats can easily share multiple surveys at the same time? This sharing ability has several benefits for busy teams who work together across survey projects. It saves time, so no team member is forced to share surveys one by one. It also allows you to quickly get new collaborators up to speed. 
This sharing feature may be helpful for your team if:
Someone recently joined your team or changed roles.
Someone on your team needs to quickly familiarize themselves with previous survey projects.
Your survey process has become highly collaborative. Everyone on your team needs to be able to access, review, and get involved with survey projects.
There's no reason for survey sharing to be limited to survey owners—especially if that limits how your team members work together. Luckily, survey owners can allow a survey to be shared by collaborators. Adjusting sharing permissions in this way can improve your team's productivity, since you won't have to depend on a survey owner granting access or getting involved in the sharing process. 
This sharing feature may be helpful for your team if:
Your survey involves several stakeholders across multiple departments. 
You've ever had to wait for a survey owner to extend access to a survey, and the delay has cost you time and energy or muddled your workflow.
You have a large team and need to expand how you work together.
Wondering about the security of re-shared surveys? We've got you covered. It's important to note that collaborators can only re-share a survey with the same level of permission that they themselves have. So a collaborator with View Only access to the survey design can only grant that level of access to another user. Plus, survey owners can manage and adjust sharing permissions at any time, so you can still keep an eye on shared surveys and finetune who can edit or access them.
Automatically share new surveys with your team
Most teams enjoy the pick-and-choose power of sharing specific surveys with specific people at specific times. This gives you a lot of sharing control, so you can keep an eye on survey security and how projects are progressing. However, sometimes automating survey sharing is the best option if you need to sync up as a team.
When starting a survey from scratch, you'll see a checkbox option to share your new survey with your whole team. Selecting this will allow you to instantly share out what you're working on, and make sure all your team members are included. You can also find the checkbox to share with your entire team by going to My Surveys and clicking the share icon next to the survey you want to share.
This sharing feature may be helpful for your team if:
You want your survey sharing to become automatic, and to establish a precedent for sharing in the future.
Your team is a collaborative democracy. Team members are heavily involved in different aspects of each other's survey projects and need regular access to each other's work.
You want to save time by looping in your whole team at once.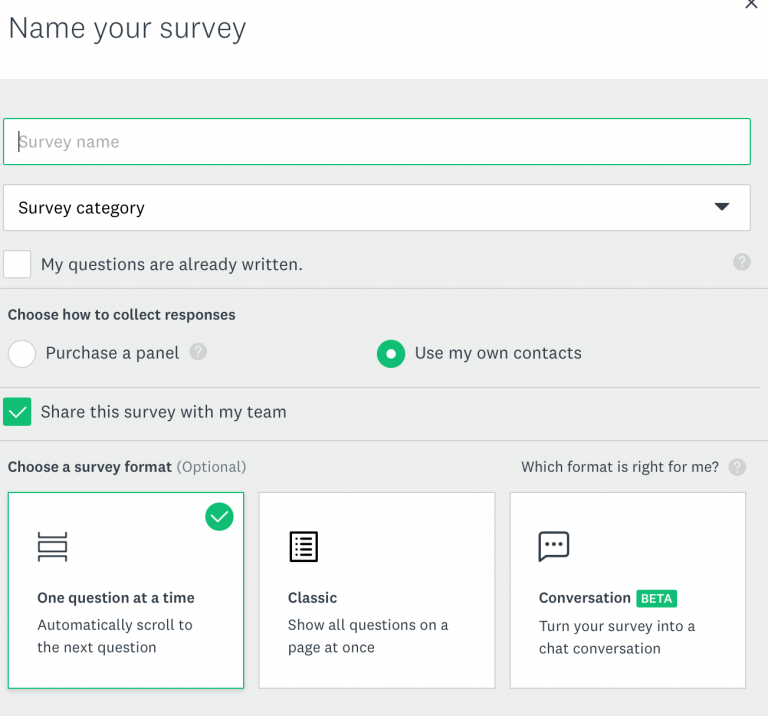 What's next for teams survey sharing?
We believe that automatic survey sharing can supercharge how teams collaborate and help them get on the same page even quicker. We're working on extending this feature to apply to more ways that surveys are created, such as when you start a survey from a template or copy an existing survey. 
We'll also be adding more ways for a team Admin to manage survey sharing for their team. This includes the option to automatically share all new surveys with all team members—along with individual preferences that allow you to control whether all of your future surveys are automatically shared.
We'll also offer the ability for team Admins to manage and share surveys created by team members. For example, if a team member leaves the team, the Admin will be able to share or transfer that person's surveys to another team member and make sure the survey process is never disrupted.
Why do we invest in all these sharing features? Because we want to make survey sharing easy and flexible for all teams. Sharing surveys with team members shouldn't come down to an all-or-nothing approach. Think about what's right for the project and what's right for your team, and use any or all of these sharing options to kickstart your collaboration.