"Let's just do it smart."  Sounds simple, but for IT leaders, making the smart decision isn't always popular. At a recent CIO event sponsored by SurveyMonkey, Talend CIO Eric Johnson talked about how IT often has to bring up the subjects no one wants to talk about.  

"Good IT leaders want to move as fast as the business, but it's also our job to protect the company from doing things that aren't smart," says Eric. "That means asking questions like, are we compliant? Do we know where our data is and do we have control over it? And, are we mishandling data that our customers, employees, or partners have given us in a way that they would find pretty disturbing if they knew?"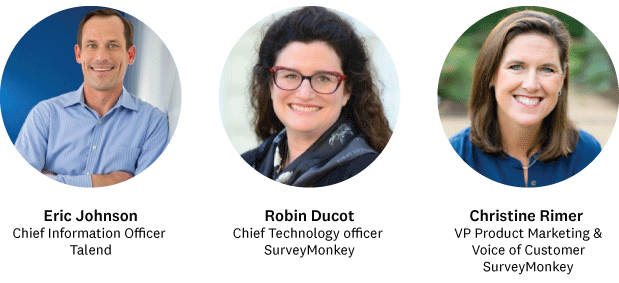 The balancing act between moving fast and staying in control is a familiar tension for IT leaders. The goal is for businesses to iterate at the speed of thought, but do it in a governed way that doesn't create security and control nightmares for the company.  
The double-edged sword of collecting data
Today's cloud-based data collection and analysis solutions are a huge boon to companies, giving users access to powerful tools that lead to better business decisions. According to Gartner, by 2022, 90% of organizations will be using cloud services.

"The cloud has created all kinds of fantastic opportunities to really do amazing things, at a speed that has accelerated," says Eric.
However, the cloud also contributes to potential data misuse. Collected data can be a risk to governance, compliance, and security. "Data is the lifeblood of the organization, but it could be your best friend, or your biggest enemy," says Eric.

"Collected data is your data," says Robin Ducot, chief technology officer at SurveyMonkey.  "We're just trying to make it easy for your users to access it, whether it's through integrations or the API. And, we want to make it easier for you to administer and give you ways to control it."

Christine Rimer, VP of product marketing at SurveyMonkey, describes an enterprise who had SurveyMonkey self-service accounts spread throughout the organization. The CIO assumed users were collecting inconsequential data, like tee shirt sizes. In fact, the company had over a thousand power users who had individual accounts, and had collected almost a half a million responses. Says Christine, "They owned the data, but they didn't have visibility into it; they weren't leveraging it or governing it."

"It makes you realize that the data people are collecting is actionable, and once you take an interest, you'll find a way to unlock it's value."
According to the Brookings Institute, businesses need a way to enable data-driven knowledge and innovation while laying out guardrails to protect privacy. According to privacy expert Helen Nissenbaum, professor of information science at Cornell Tech, "it is crucial to know the context–who is gathering the information, who is analyzing it, who is disseminating it, and to whom."  
How data can give IT a more strategic role
IT can play an important role in ensuring data is secure and compliant, and that the value of collected data is realized. "What I own is making sure the data we collect can be used in a way that will drive value for the company," says Eric. "It can fuel better business decisions that may include things like, building different product features, or providing better support for customers, or a more competitive pricing model. It makes you realize that the data people are collecting is actionable, and once you take an interest, you'll find a way to unlock it's value."

Industry experts agree–data success relies on business and IT partnerships. According to NewVantage Partners, organizations that are successful developing a data culture–where data is embedded in decision-making–have strong alignment between data, technology, and business professionals.

Getting data out of silos and into workflows
Survey feedback is sometimes overlooked as a source of data that can be valuable in decision making.  "A couple of years ago, our survey data was locked away in a silo, and it was hard to extract any value from it," says Eric.  "I think this is traditionally how IT sees survey tools–people might be gathering really interesting information from employees, business partners, or customers.  But, that data just sits there. Never to be seen again."

Eric continues, "So, I started thinking of things we could do with it.  Once you think about all the information you are gathering from employees and customers, you can also think of interesting ways to start applying it into growth and sales opportunities."  
"Wouldn't it be interesting if you could bring together all this disparate information you're gathering in a way that makes sense for the business? That's the kind of secret sauce I think that IT professionals need to be thinking about," says Eric.

Integrating survey data used to be a challenge, but today's providers are making collected data more accessible. Unlike closed platforms that force users to adopt a new system of record, industry leaders are offering integrations and APIs that make it easy to incorporate feedback into workflows, and allow users to work within the apps they use everyday.

"What you're seeing from SurveyMonkey is this really amazing opportunity to start figuring out what you can actually do to get that data out of the silo, into a place where it's going to help someone in your organization–in sales, marketing, or customer support–to actually do something valuable."

"As an IT leader, we need to be business people first. It happens that we use technology to get our jobs done," he says, " but every IT leader could be a real hero with their data."