As your SurveyMonkey team admin, you have an extra hand in your team's success. Your admin "super powers" go beyond managing your team's account. You can improve efficiency and productivity across your team—break down data silos, close feedback loops faster, and spend less time on administrative work. Your admin features will help you do it. 
Check out these 5 ways to set your SurveyMonkey team up for success:
Need more seats on your team?
Add more users to your SurveyMonkey team to maximize you team's impact.
1. Bring in the right people
As the team admin, you can assign and reassign accounts at any time, so don't be shy filling seats. If you're reassigning an account to a new user, you can give them access to certain surveys your team has created in the past, all of them, or none of them.
As the team admin, you get to decide what the rest of your team has access to. Let's say you have a team of five users. Two users are going to be creating surveys, and one is responsible for editing those surveys, then sending them off. The remaining users analyze survey results and build reports to share with your organization.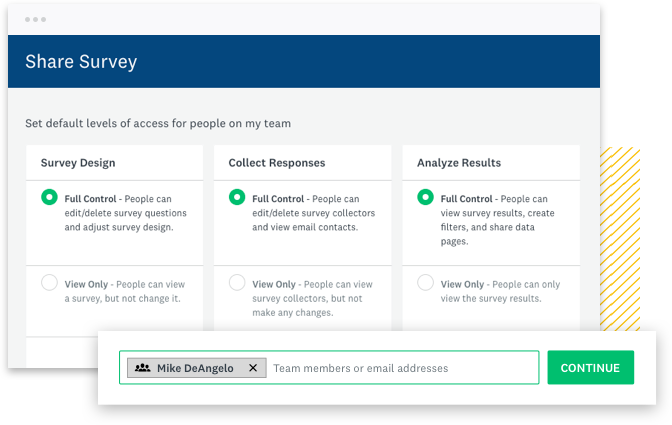 Your team plan allows you to give everyone access to what they need to do their jobs. Or, limit access, so your team can stay focused. Give full control over survey design to just the survey creators, and give only the team members in charge of analysis the ability to cut and filter the data however they want.
The user that works on editing surveys can invite comments on survey drafts. You can set up alerts for any users analyzing survey results to keep everyone in the loop on new response data. Each user has the same plan and features, so you can determine what workflow is optimal for your team. You can even change permissions over time, for example to make sure nobody edits the survey design after it's been sent.

2. Help your team become expert survey creators
Give your team a place to start and the confidence to use SurveyMonkey in a variety of ways. Point them to how they can collaborate more efficiently, start a survey, use their library, and analyze results. Challenge them to create better surveys with tips and tricks for everything from getting a higher response rate to eliminating answer bias.
3. Keep everyone on brand
One of the best features for SurveyMonkey teams is the library. Like other digital asset management tools, the library can be your team's destination for logos, images, style guides, and more. Loading up your library with company assets can help keep your entire team on brand. Only admins can add content to the team library, and like permissions for accounts, admins can place permissions on assets within the library. 
Remember our team of five users? Within the library, you can add company boilerplates, editorial style guides, logos, or even entire survey templates for your two survey creators. With access, your survey creators can add logos to surveys, or ensure that surveys reflect your brand's style and tone of voice. 
You could also give your two survey analysts access to the design style guide in the library. Then, users can add custom charts and graphs to a results dashboard that's designed in your brand's color palette.  

4. Transfer surveys to your team
If you've upgraded from an existing SurveyMonkey account, then you might have surveys you want to share with other team members. Go through your existing surveys and set up permissions, like we mentioned earlier. But if you want to transfer ownership entirely, survey transfer helps take care of that—even when you're looking to transfer a large volume of surveys.
You can transfer surveys from your account to another team user. The entire survey, including collectors and responses, is transferred to the new user, removing it entirely from your account.
Transferring surveys not only ensures your team has access to the content they need, it allows you to work on other things.
5. Share filters and custom reports
Get your team of survey analysts to take advantage of reporting and customization tools, right in SurveyMonkey. Anyone that is analyzing your survey results can easily customize charts, apply filters and rules, and learn how to export results. 
SurveyMonkey analysis features are robust— you can view your data, browse individual responses, create and export dynamic charts, and easily download your results in multiple formats.
As an admin, you can create new filters and rules for your reports, and allow your team to use them. You can also create a custom dashboard that you can share with your team including charts, graphs, quotes from open-ended questions, and more. 
Or, give your team a blank slate and let them explore the power in SurveyMonkey analysis tools for themselves. You might be surprised with what insights they uncover!