At SurveyMonkey, we're constantly talking to our customers–trying to better understand how you create surveys, what could be improved, and how we can help. One thing we frequently hear is that as a survey creator, you want confidence that the questions you're asking are the right ones. How should you word them? What answer options are the best ones for your question? How can you eliminate bias in responses?
We're excited to announce a new feature that aims to make survey creation much easier, much faster, and give you confidence in the questions and answers you use: SurveyMonkey Question Bank. Question Bank is basically exactly what it sounds like–a bank, or library, of thousands of questions (that we'll keep adding to) that allows you to find and add commonly asked questions by category. Every question and response set has been written in a methodologically sound way to reduce bias and give you the most accurate answers.
Using Question Bank is Easy
When you create a survey, you'll be asked what type of survey you're creating. This isn't mandatory, but will help us show you the most relevant questions in that category.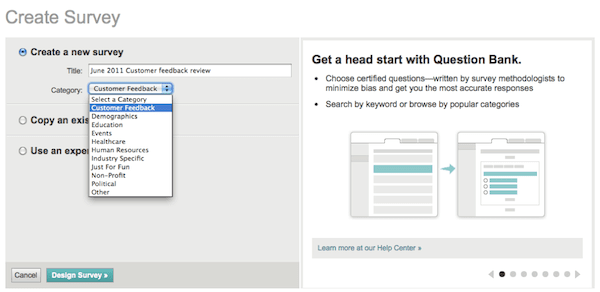 Once you're in the survey editor, you will see Question Bank on the left.

Browse or Search for Questions
When you select Question Bank you'll see questions that match the category of your survey.  If your survey doesn't have a category, feel free to browse around the other categories or to search for questions. (Question Bank tip: Search by keyword or concept to get the best results.)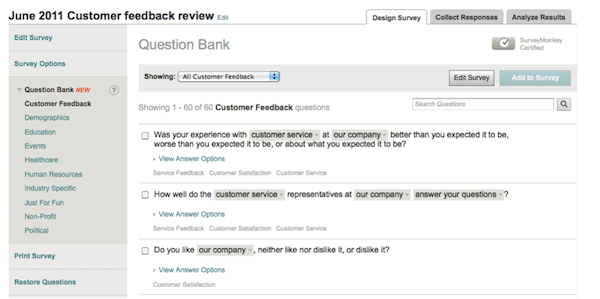 For each question, you'll also see the variables that you can select or edit, to customize the question for your needs. Each question and response set in Question Bank has been very carefully vetted by our team of survey methodologists.

We've also updated all of our survey templates to use questions from Question Bank, to give you another way to quickly and confidently get started with your next survey.
As always, we'd love to hear your feedback, so let us know what you think in the Comments section below!