The World Health Organization (WHO) estimates that 14% of the world's population is affected by some form of mental challenge. This is not surprising after a year in which many people's horizons have been limited through lockdowns, and families are forced to work, learn, live and cooperate in a confined space.  
In a January 2021 study of 1,606 consumers, respondents reported a high awareness of, and sensitivity to, the dangers of neglecting mental health—their own and their families'. Over half of consumers indicate a significant concern about stress levels.
When asked about their stress levels, half of consumers said they are burnt out and hanging on by a thread.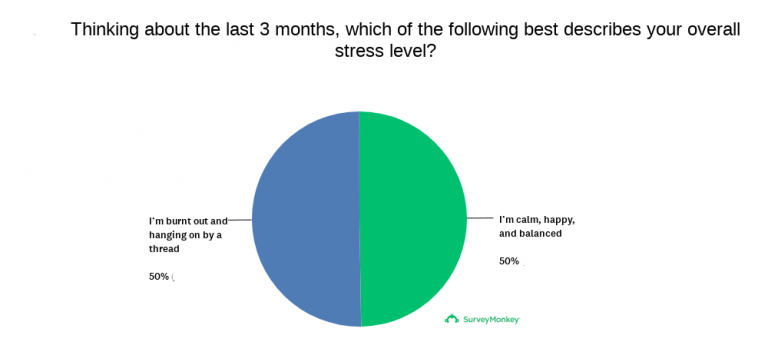 In a positive recognition of the damage such a burnout can inflict on themselves and those around them, 29% of consumers are now taking time to destress every day. 
Coping day-to-day—lifestyle changes, apps and the outdoors
Consumers are embracing apps, practices, and activities to relax and recharge. Over half plan to spend more time 'outdoors or in nature', always a way to put stress and worries into perspective.  47% of respondents said they planned to practice meditation, either on their own or by taking a class, within the next 3 months. 14% of them planned to buy a relaxation or meditation app. 
When it comes to the workplace—a phrase which has grown to encompass everything from a kitchen table to a downtown high rise—people and their employers are trying to cope with the many challenges arising in the new world of working. Mental health is right at the top of that list, with over 40% of people saying that their mental health has impacted their job performance over the past 3 months. 
However, 58% reported that their employer was not doing anything to address mental health issues. 
Just 15% of consumers say that their company offers mental health benefits.  This number will increase as awareness of how mental health affects productivity improves. A recent report from the National Alliance of Healthcare Purchaser Coalitions showed  that 53% of employers are providing special emotional and mental health programs for their workforce at this time.
The survey also highlights the opportunities  for employers to improve mental health offerings beyond the disruptions of the pandemic.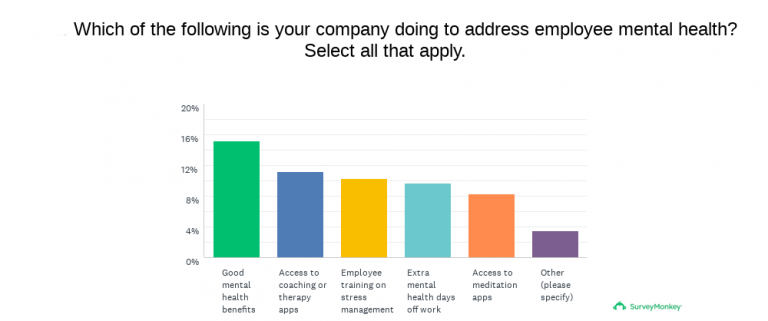 Examples of company wellness programs
Many companies have taken creative approaches to the challenges of maintaining employees' mental wellbeing. Software giant Salesforce, for example, has partnered with Stanford Medical and Thrive Global to develop Thriving Mind, a series of articles and webinars on emotional health. All employees have access to Thriving Mind, as well as to other offerings including Plum Village's Zen Meditation app. 
SurveyMonkey used our Coronavirus leadership check in survey template to check in with employees frequently over the past year. Based on the feedback we collected, 40% of employees were troubled about social isolation, 24% about their physical workplaces at home, and 22% about childcare—something that can be debilitating for productivity, especially if younger children are younger and home from school.
We developed a comprehensive response. According to Becky Cantieri, the company's Chief People Officer, "Of course we can't "fix" external threats and anxiety, but we can help address it through empathetic policies and helpful informational resources."
"We decided to extend a $250 budget to every SurveyMonkey employee, so that they could purchase whatever they needed in order to feel more empowered. We had originally planned for this to cover new software, hardware, desks, etc., but after seeing the survey results, we decided to extend the budget to cover (responsible) childcare, dependent care, and academic subscriptions for kids stuck at home."
There is no single resolution to issues of stress or mental health challenges. However, it's clear from our own research and from the actions of enlightened employers that it's an issue that is indeed being surfaced, addressed and discussed more than ever.  And that's good for all of us.
This study was conducted using SurveyMonkey Audience between January 7-21, 2021 to acquire a national sample of 1,606 adults in the U.S. The sample was balanced for age, gender, and US Region according to the Census Bureau's American Community Survey.