What makes a good customer experience?
Creating personalized messages for customers is high on the list. Prompt response time is another. But to do either of these and create the ultimate positive customer experience, you need to make sure you do one thing – get to know your customers.
People like to feel heard and understood. They want to feel like they have your attention even if they know they aren't your only customer. One of your top priorities needs to be getting to know your customers.
How do you do that? Marketing automation.
Marketing automation software automates marketing actions or tasks, streamlines marketing workflows, and measures the outcomes of marketing campaigns. Automation provides a centralized location to monitor all marketing interactions, helping marketers create segmented, personalized, and prompt marketing experiences for prospects and customers. 
There are several top marketing automation platforms that not only give businesses the capabilities they need to set them apart from competitors, but that also integrates with your existing systems to make the transition that much smoother.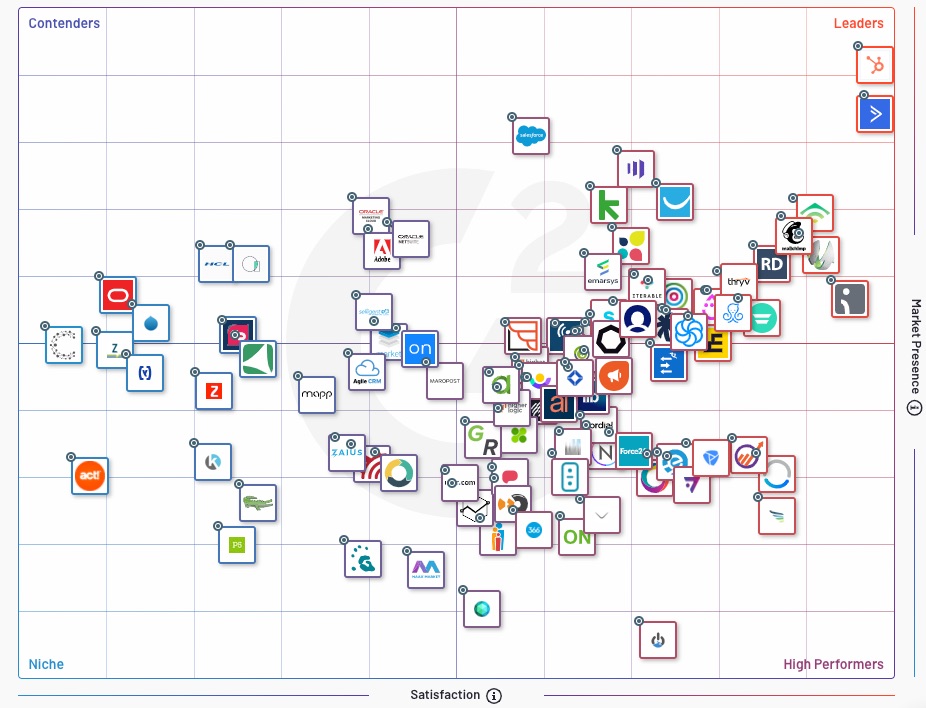 How does marketing automation help you know your customers? Basically, it creates another you.
Automation does what you may not have time to do manually for every customer – and you can personalize everything that it does for you. The more you know about a customer, the more customized automations you can create.
That way, customers are met with personalized communication and resources at every turn, which makes them much more likely to engage. Everyone loves an easy, positive customer experience.
And throughout every step of the customer journey, there is a constant flow of customer information at your disposal that you can use to continuously make your customer experience an even better one.
To collect customer data and use it to your advantage, marketing automation and survey forms are here to help.
How it works: the power of marketing automation and surveys
A lead comes to your business' website and is curious about learning more. So they fill out a form to get more information – and maybe even download some helpful gated content. They give you:
Their contact information
Their geographic location
How they heard of you
A note about what help they're looking for
Send a prompt response – and get even more customer information through a survey form to use to your advantage
Dig into that data – this is all information you can use to keep future communication regular and personalized
A lot of higher customer satisfaction comes from good response times. According to Forrester Research, 77% of customers say that valuing their time is the most important thing a company can do.
Customer expectations drive their experiences. If you can exceed their expectations by getting back to them quickly, it makes your business look better – like one who really cares about its customers. A slow response can equal a negative customer experience – one that could end in a departure.
After you use that initial form of information, you can use the combined power of marketing automation and surveys to open up the conversation more and get to know this new lead.
The moment after a form submission is a great time to follow up – people will be expecting an email from you. They're also a great time to ask for more information.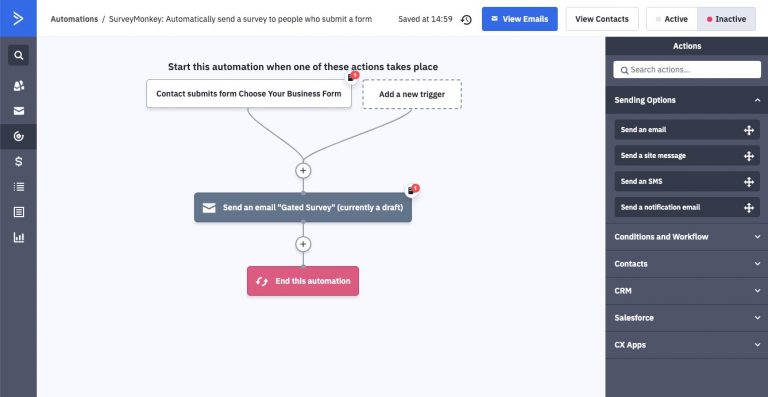 Marketing automation recipes like this SurveyMonkey Forms recipe can help you get survey responses without extra work. As soon as someone submits a form, you can automatically send triggered email surveys with the ActiveCampaign email builder.
The survey responses you receive can set you up to send tailored content campaigns to prospects and customers that incentivize them to engage more.
Did a prospect become a customer after filling out your survey and getting more information? Send them a personalized welcome email series with all of the essential information they need to get started – and to keep getting more information from them (never stop learning about your customers!).
This welcome email from The Essential Man is a great example of give and take that enhances the customer experience from Day 1.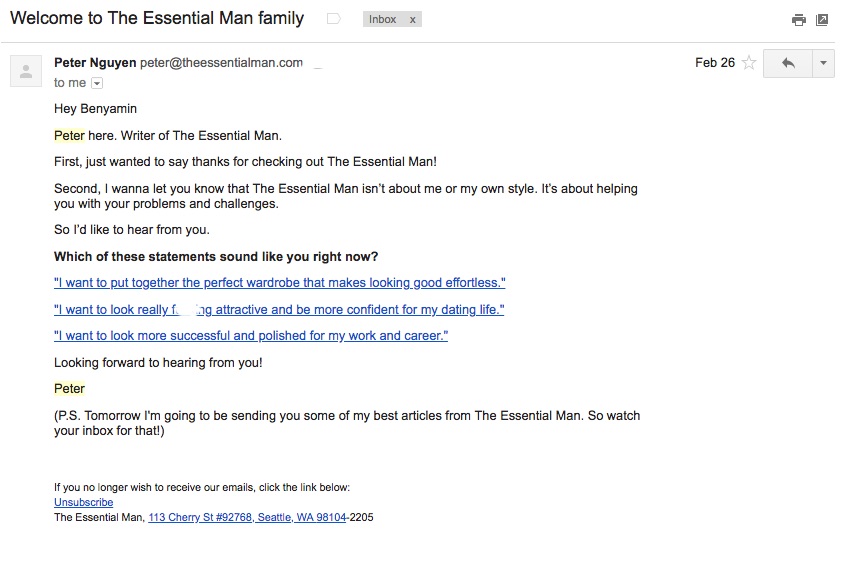 Not only does this welcome email give customers useful information, but it asks to hear more about what customers want from their experience. You can integrate a survey form into your emails to get this customer information.
Marketing automation is like an extra set of hands ready and willing to do the extra work you don't have time for – but that still needs to get done. 
But marketing automation is more than just an automated message delivery system. It's a customer experience.
To a customer, the customer experience isn't, "send an automated email as soon as the customer does X." 
To the customer, it's, "I need help with X and I think you can help me, so I'm going to ask you to tell me more."

The best way to help your customers is to know your customers. A form integration like SurveyMonkey and a customer experience automation platform like ActiveCampaign can help you know your customers like never before. 
Ready to automate personalized survey experiences?
Get to know your customers better and bring them a customized experience at every touch point.