Marketers have a lot of tools to choose from to meet their goals. They can harness organic social and content marketing to connect with a target audience, and churn out events and trade shows to raise visibility and generate leads. Or, they might decide to channel their budget into paid ads to boost brand and product awareness. 

However, no matter what marketing program they decide on, it has to work. No company at any stage of growth can afford to invest marketing resources, time, and budget into initiatives that don't deliver on company goals.

The problem is, sometimes it's not until a quarter or two after the fact that marketers can see what's working. By that time, expectations are high, the budget has been spent, and it can be too late to pull back and regroup.

In a recent SurveyMonkey study*, less than one-third (31%) of marketers said they expected their team to reach all its goals this year. That adds up to a lot of investment in marketers' time, resources, and budgets that will not pay off.

So how can marketers make sure that the programs they launch are hitting the mark and will lead them closer to their goals? 
Marketing has increasingly become performance-based, where metrics matter. But here's something smart marketers have known for a long time: starting your programs with data is as important as making sure they are measurable at the end.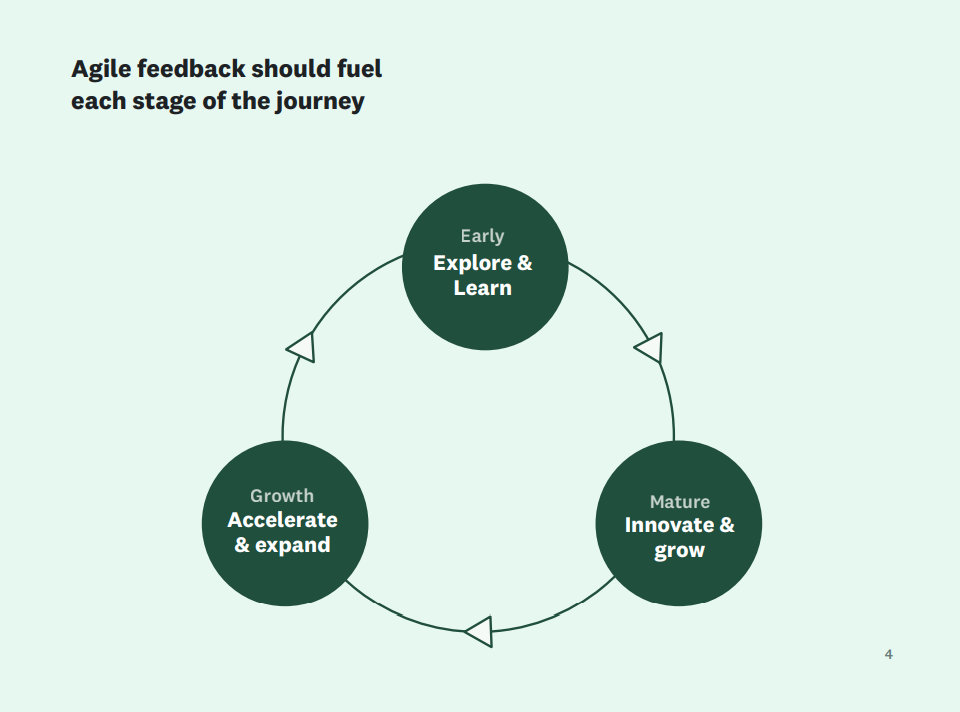 What kind of data should you start with? Depends on the kind of programs you're running. If you're a startup, understanding your target audience could be your first step. And really, every company could benefit from taking a deep dive into target market preferences, needs, demographics, and—perhaps most importantly—what drives purchase. You could spend a lot of dollars promoting a discounted price when your target audience cares more about flexible shopping options or feature set.

In our survey, over a third (34%) of marketers said their biggest challenge to understanding their target market was not having enough data.

For a middle stage company, marketers may want to know that the money they are pouring into event properties will attract a crowd. A concept testing study can help test whether the messaging, ads, and designs will land with a target audience. Event feedback studies will collect the feedback needed to make sure the next event is even better.

Once you get to the stage that you're pouring money into paid programs, the stakes get higher. Investing in ads, videos, and media is a costly adventure and missing the mark with a tagline or offer can often do more harm than good with a target audience. An ad test can help you know what will resonate before you build out a full campaign, and pull the trigger on a costly spend.
Developing a holistic research program to fuel growth
These are some examples of ad hoc research that can be launched before or even during your program development. Using an agile research model allows you to collect feedback on campaigns without derailing your project timeline.

Instead of guessing, agile research allows you to ask your customers about their needs and experiences, listen to the market to understand trends, and take action to optimize your programs and deliver better outcomes.

The next step is to create an ongoing, holistic insights framework that acts as a foundation, and provides continuous data about your customers and the market. This framework allows you to capture insights on the fly so you can add that thinking into your programs. Think of agile research as a process where you listen and then act over the lifetime of your business.
 
The goal is to tailor your research program to the maturity stage of your company. If you're entering a new market, you might want to focus your research on market exploration and learning about a new audience.
 
As you innovate and grow, research can help you create products customers love and develop campaigns that make them want to buy. Later, as you focus on accelerating business, you might need insights to explore new opportunities and markets to sustain your growth.
How marketers can harness research through all stages of company maturity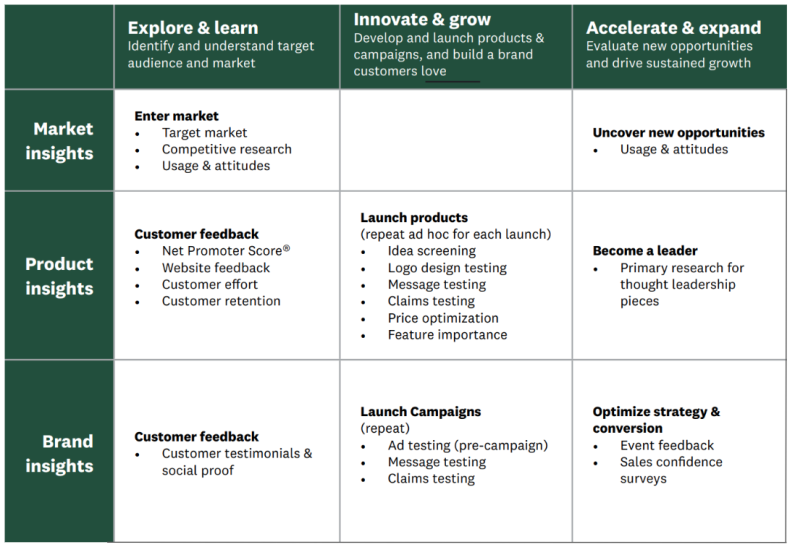 The key to any research program is putting the findings to work. That means that as a marketer, you need to take a hands-on approach to your research. Sometimes waiting for internal teams to have the bandwidth means you might miss an opportunity to test your ideas with the market.

In our study, almost a quarter (22%) of marketers said it was difficult for them to develop and execute a plan based on insights. The data you collect needs to be timely, actionable, and tied to the programs you are trying to launch.

Running a headline test can be an easy proposition with a message test; checking out a pricing strategy can be accomplished with a quick price optimization survey. But first you need to establish a program that makes research tools easily accessible to all stakeholders.

We've written a guide to help you establish this kind of program, designed for marketers at companies of any maturity stage. Taking into consideration that most marketers are wearing many hats, we've included easy to deploy, affordable solutions that can be launched quickly, and deliver results in hours or days—vs. the weeks and months that traditional market research can take.

Take a look and see how to get started with a holistic approach to market research in this informative guide.
*SurveyMonkey study conducted in January 2023 of 1,127 workers in the US, including 544 marketing professionals.

Get the holistic research guide
Discover how to drive growth by using research at all stages of business maturity.