With 17.5 million active users across the globe, SurveyMonkey has a wide international pawprint—and it's only going to grow. This week, we're showing love to our users, employees, and fans all over the globe with executive visits to our global offices, social shout outs, and a celebration of everything we do to power curiosity across the world.
We also just announced our new European international data center (IDC), which will help our European users take control of their data sovereignty and more readily comply with GDPR and other privacy regulations. The result will be a simpler, better user experience for survey makers across the continent.  
Hint: If you want to know more about how SurveyMonkey addresses GDPR, check out our page about it here.
How SurveyMonkey supports curiosity without boundaries
The IDC is the latest, but not the only, investment that we've made in Europe in the past few months. In April, we officially welcomed Amsterdam-based company Usabilla into the SurveyMonkey family. Usabilla has over 450 customers in 35 countries and 5 offices around the world—a truly international company.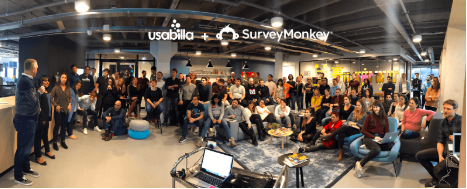 SurveyMonkey already had 5 global offices before acquiring Usabilla, and recently added new resources for our Dublin office, with a series of official visits from our execs to top it off. (Check out pics of our new Usabilla employees below!)
Recent international research
Our survey science team is always publishing new insights, and recently we've done a fair amount of research overseas. In addition to our study on security preferences, we also partnered with S&P Global to examine women's attitudes toward spending and investing around the world.
Here are the top takeaways from that research:
Internationally, more women find themselves in "fair" or "poor" financial shape than men, but some parts of Asia are an exception. Korean, Indian, and Chinese women are just as likely to feel financially prepared as their male counterparts. Switzerland, Australia, France, Germany, and the U.S. have the greatest gender discrepancy, where the share of women in bad financial shape are 10 to 18 points higher than men.
General trust in financial institutions is low, but 8 of the 11 countries we surveyed had at least a little trust—including the majority of respondents in India and China.
The countries where women are most dependent on their income to sustain their current lifestyle are France (45%) and the U.K. (43%).
We also recently worked with Hubspot to take a look at social media preferences and trends across countries in 3 different regions (Europe, U.S., and Latin America).
A few standout findings from that partnership:
Globally, most people think that social media has had a positive, or negligible impact on society. Only 38% think it's had a negative impact.
The country with the least trust in social media is Germany, while Colombians consistently listed the most positive feelings. Latin Americans were also most likely to put Facebook as their favorite form of social media (57% vs. 40% in Europe and 47% in the U.S.)
People everywhere are more likely to trust content from Google or YouTube than Facebook, Twitter, or (especially) Snapchat. Ninety-one percent of consumers trust content from Google and 88% trusted YouTube, vs. 49% for Snapchat.
Whether it's improved privacy options, expanded features, or new research and insights, SurveyMonkey is becoming a more global company by the day. We couldn't be more excited.