Technology companies do not reflect the demographics of the United States despite the availability of diverse talent. According to the Kapor Center, the stark race and gender disparities in the tech workforce are due to a combination of biases and barriers in the recruitment, hiring, performance review, and promotion processes. 
The COVID-19 pandemic is exacerbating the socioeconomic inequalities of our society, including  driving the digital divide—the gap between those who do and do not have access to technology—and its hindrance of people's ability to complete everyday tasks (employment search, communication, or schoolwork). According to Pew Research Center):
53% of Americans say the internet has been essential during the COVID-19 pandemic 
20% of parents with homebound school-aged children say it is very likely or somewhat likely their children will not be able complete their schoolwork because they do not have access to a computer at home 
Through our non-profit partnerships, SurveyMonkey is donating pre-owned, high-quality computer equipment, including gently-used laptops, to youth in need. As a Silicon Valley tech company, we are proud to collaborate with organizations advancing diversity in the industry through technical training that inspires youth to pursue a career in STEM and enables individuals from underrepresented communities to enter the talent pipeline.
Access to the proper equipment, such as a desktop computer or laptop and high-speed internet connection, is a first step in unlocking the full potential of underrepresented minority communities. We hope to encourage all companies to consider donating their pre-owned technology equipment to local community programs and students in need. Learn more about our various partners, and the lives of students and individuals impacted by our in-kind technology contributions. We hope and encourage all companies to consider donating their pre-owned technology equipment to local community programs and students in need.
Boys and Girls Club of Northern San Mateo
The on-site coding camp, led by top university students, introduced the young people(ages 7-12) to the basics of programming through custom lessons and games in a small group environment—ensuring each student had the support they needed to complete the program. As many of the program participants did not have their own computers, SurveyMonkey also gifted a laptop to each student, enabling them to fully participate in the, continue programming post-camp, and share all they had learned with their classmates. 
The program leader shared one student's experience: "On the first day of camp, she told me she was hesitant to join because she had never coded before. On the last day, she was able to successfully finish the program and had so much fun! When I told her that the laptop was hers to keep, her mother was on the verge of tears, explaining that finding a computer to use during the school year was now one less worry that she had. Her mother shared with me that she could hear the excitement in her daughter's voice every night as she shared what she learned in 'coding school.' She was truly grateful to the Boys and Girls Club of Northern San Mateo and SurveyMonkey for providing her girl with a week that she will never forget, as it exposed her to a whole new world."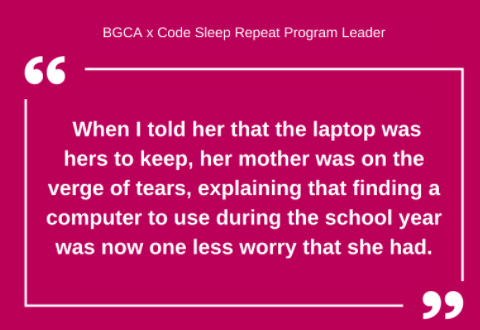 SteetCode Academy's mission is to empower communities of color with the skills, mindsets, and networks to use tech and innovation to fulfill their full potential. To date, they've provided free, high-quality tech education classes in coding, entrepreneurship, and design to over 4,500 students throughout Silicon Valley. 
Since the coronavirus began, StreetCode launched their Level Up Initiative, partnering with local supporters to raise $2.5M to provide 2,500 laptops, internet, and tech education to local students who urgently need it. In their research, they found that there was only roughly 1 computer for every 7 people in the households of program participants. With contributions from partners like SurveyMonkey, the organization has secured over 500 computers from companies and individual donors and provided over 9,500 hours of free, remote technology classes to the broader Palo Alto community. 
Elenoa, a Menlo Park resident and student with StreetCode Academy, joined the organizations' free tech education classes shortly after she was laid off from her job amidst the pandemic. "After getting laid off this past March due to COVID-19, I was surprised StreetCode was still alive and operating now offering online classes, and I thought, 'this is perfect!'" With goals to see every household in East Palo Alto and the surrounding areas supplied with reliable laptop and  tech education, the Level Up Campaign  helps students like Elenoa continue to trailblaze their own paths of success and redefine their ventures into the tech industry.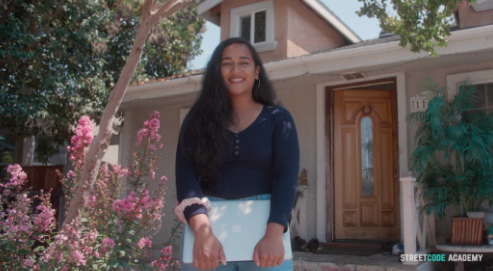 Here's what another Level Up program participant had to say: "It's been a blessing to have a reliable laptop and to stay connected with school, learning, applying for jobs, volunteer work, friends and families. I'm grateful that this process was available for us and it was an easy process. Thank you StreetCode for caring!"
Reskill America: The Great Rehiring Initiative
The economic impacts of the coronavirus have left an unprecedented number of Americans without jobs and  disproportionately impacted low-income communities, women, and people of color. That's why Career Karma's Reskill America program is on a mission to raise over $500,000 and provide 5,000+ laptops to these communities in need and help those impacted by the virus. 
With the support from partners like SurveyMonkey, Reskill America's laptop program enables individuals who want to break into tech to gain access to online learning opportunities provided by Career Karma and re-enter the workforce with a strong foundation that will last them a lifetime. As many companies have shifted towards long-term remote work, these laptops also help people secure previously inaccessible jobs—thereby accelerating Black and brown representation in tech.
By supporting underserved individuals and guiding them through the process of leveling up into tech careers, Reskill America is fostering economic prosperity and technological innovation in their local communities one laptop at a time.
One of the program's participants is named Kesha. Here's what she had to say: "I really wanted to change my life, my future, for myself and my kids. I had the drive and the brains, but I just didn't have a laptop that I could learn to code on. Once the Career Karma team found out I needed a laptop, they immediately paired me with someone who could donate one. This donation is the real catalyst for change in my life. This machine literally changed my life and showed me that there are people out there who believe in me enough to invest in my success."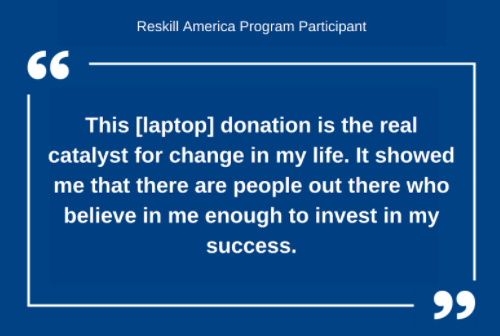 SurveyMonkey is committed to bringing positive change to our community and to the world. To learn more about our efforts, check out our SurveyMonkey for Good page and learn how you can get involved.