Here at SurveyMonkey, we're all about creating an inclusive environment that celebrates and supports our employees' unique experiences and identities. It's built into our company values and just one of many reasons why our internal Employee Resource Groups (ERGs) and Diversity, Inclusion, and Impact Groups (DIIGs) are so important. 
These groups are dedicated to empowering employees who share identities, interests, or goals—this includes caregivers, the LGBTQ2+ community, women, and people of color. In addition to providing a network for these communities and their allies, our DIIGs and ERGs host events, serve as a resource for the business (product, marketing, recruiting, etc.), and look beyond our company to support local communities.  
This year, we chose to empower these impactful groups and similar ones at other companies with an ERG/DIIG leadership summit. The 3-day, cross-organizational event was held at the tail end of February and kicked off with leadership perspectives from our CEO, Zander, and our new Chief Diversity & Social Impact Officer, Antoine Andrews. 
"The Summit is a dedicated space for leaders to connect, learn, and hone ERG/DIIG excellence," explained DEI & Social Impact Program Manager Karina Cerdan, who organized the Summit. "These folks are not only the heartbeat of SurveyMonkey; they are actively building culture and partnering with the business to infuse DEI and social impact into all we do. This is just one way we support them and invest in their leadership."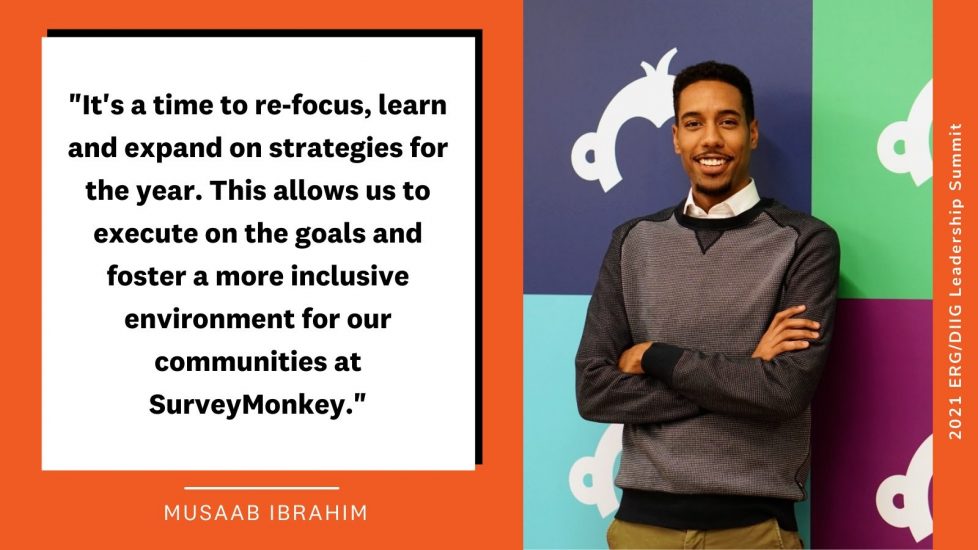 We were thrilled to welcome ERG program leaders from Twilio, Workday, and Yelp, who walked us through their 2020 accomplishments, DEI initiatives, and how they're working to influence change in their organizations and beyond. Here are some highlights from each company:
All together, Twilio's ERGs hosted over 100 events in 2020, including educational panels, cooking classes, volunteering, and external speakers. And their impact went beyond the organization, with over $10,000 raised for charity through Twilio programs and events. They also focused on increasing ERG visibility and awareness by kicking off a new company-wide ERG newsletter and highlighting programming across social media channels and the Twilio blog. Twilio has committed to being an antiracist company by actively leveraging their people, products, and resources to create a more just and equitable world.
Workday's ERGs are known as EBCs (Employee Belonging Councils) and Workday has prioritized visibility and executive sponsorship of all groups. In 2020, the company also began the VIBE Voices series on its blog to elevate EBC awareness and provide a place for conversations around VIBE (value inclusion, belonging, and equality). 
Yelp is home to several ERGs, with membership accounting for 46% of all employees. In 2020, the BlackBurst ERG was founded to give the company's Black employees a space for conversation, a forum for community interests, and an opportunity for shared learning. In response to the caregiver challenges during the pandemic, the Yelp Parents ERG began hosting "Yelp Parents Brain Breaks." These weekly virtual meetups allow parents to chat about specific topics and share ideas with each other. 
SurveyMonkey ERGs and DIIGs also celebrated some of our own DEI strides from the past year, including: 
Company-wide anti-racism training, conducted in partnership with The Justice Collective
$400,000 in employee and SurveyMonkey donations for racial justice organizations
Establishing a Racial Justice Task Force with participation from ERG and executive leaders
Formalizing our ERG/DIIG program structure and defining group OKRs 
Reaching our 1-year progress goal of increasing representation of underrepresented people from 15% to 17%—next up, 19% by the end of 2021!
We want to congratulate Twilio, Workday, and Yelp on their DEI efforts and thank their ERG leaders for enriching our summit. The more we can get together and share ideas and successes, the better equipped each of our companies will be to innovate for diversity, equity, and inclusion and work toward a more just business world. 
What we've covered here is just some of the progress these companies, and SurveyMonkey, have made. We know there's still work to be done, but connecting with our ERGs and DIIGs and supporting their goals helps build a stronger path forward.