Learn about the Net Promoter Score (NPS), how it works, and get practical advice for using NPS surveys to make targeted improvements to your customer experience.
Chances are you've heard of Net Promoter Score. "How likely is it that you would recommend this product/service/company to a friend or colleague?", is the Net Promoter Score (NPS) question. And while it may seem simple, it's a remarkably effective way to quickly gauge customer loyalty. While a "good" NPS varies by company size, industry, and location, the higher your score, the healthier your company is. But do you truly understand it? What does "good" look like for your business? Becoming deeply familiar with how it works can be critical to your success.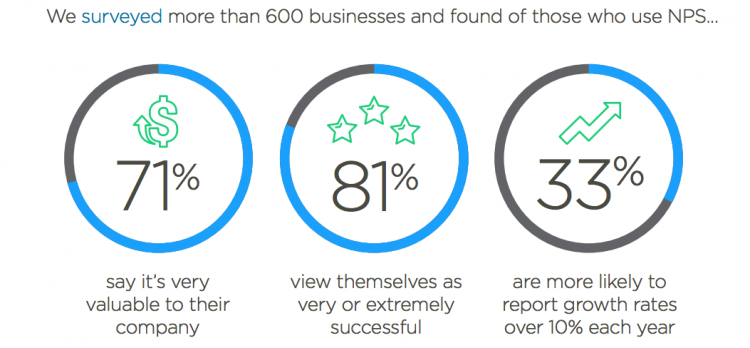 If you're already gathering customer feedback, you're off to a great start! We found over 81% of businesses who describe themselves as "successful" measure customer satisfaction. In fact, research published in the Harvard Business Review revealed just asking customers for their feedback makes them happier—and can increase their likelihood of shopping with a brand again.
But, just listening to your customers' praises and complaints may not be enough. Customer comments can help, but they're not easy to quantify. And, the people you hear from most are usually either extremely happy or unhappy with your brand. You may be missing out on tapping into valuable data from the majority of your silent customers in the middle. That's where the NPS survey comes in.
Why is NPS so important?
It's benchmarkable — Once you set a baseline NPS, you can begin tracking your progress over time and see how the improvements you put in place affect it.
You can react to it quickly — When employees or customers give you a low rating you know exactly who to improve relations with first. When you get high marks, you know where your next best opportunities will be.
It's easy to understand — Need to quickly explain how well your brand loyalty is doing? A Net Promoter Score is really easy for most people to understand. It's straightforward and not at all complex, so it's really valuable as a data point.

Whenever anyone answers an NPS question, they're lumped into one of 3 groups: promoters, passives, and detractors. You can calculate your NPS by simply subtracting the percentage of detractors from the percentage of promoters.

Promoters: Respondents who answer 9 or 10.
Passives: Respondents who answer 7 or 8.
Detractors: Respondents who answer less than 7.
Fast track your calculations with our NPS calculator. To get your score, you'll just need need the number of Detractors, Passives, and Promoters from your survey.
So what's a good NPS? Unfortunately, NPS scores aren't one size fits all. The average NPS can vary a lot by industry, geographical area, or even company size. But SurveyMonkey Benchmarks has a host of comparisons you can use to see where you stand.
How to measure your NPS
5 reasons why NPS works
How to use NPS to improve your customers' experience
How to thank your biggest fans and promoters
How to move your more passive customers in the right direction
How to win back your unhappy customers
Finding your NPS is a great place to start—but finding out what's behind it takes you to the next level. Ready to discover your NPS and what's driving it? Collect, understand, and act on customer feedback faster than ever.