What if I told you that 32% of people want to get requests for reviews (you know the ones—"Did you like our sushi? Rate us on Yelp!") People are more open to these requests than email listicles, advice, or details about a new product.
That's one of the many insights from our partnership with predictive email intelligence platform SparkPost that shows that the presumptions that you might have about sending brand email might not be as clear cut as they seem. 
Together, we analyzed consumer email communications preferences in two different ways: 
Through a national survey of 1,124 people where we asked them to explain their preferences and reasoning when it comes to brand emails—including those review requests. 
Through analysis of email activity and performance data from SparkPost's consumer panel of 1.5 million email recipients
Looking at the comparative data, we set out to uncover data-based trends on preferences consumers express as they compare to actual behavior. Email pros have to constantly balance expectations as well as the ever-present pressure to drive more traffic and "engage the audience" with the equally constant threat of that "unsubscribe from all" button.
This article will explain how to do email well by investigating great brand examples; what the average consumer cares about (and what they don't), and how to take your own email marketing to the next level. SparkPost's sister report dives more into key takeaways, especially in the ecommerce industry.
We asked our respondents to name a brand that they enjoy getting email from, and Amazon came up more than 300 times unprompted—the most popular answer by far (though Target and Walmart each deserve a special mention, too.) 
When we gave respondents a list of 10 companies to choose from (based on SparkPost's analysis of the biggest senders), the result looked like this: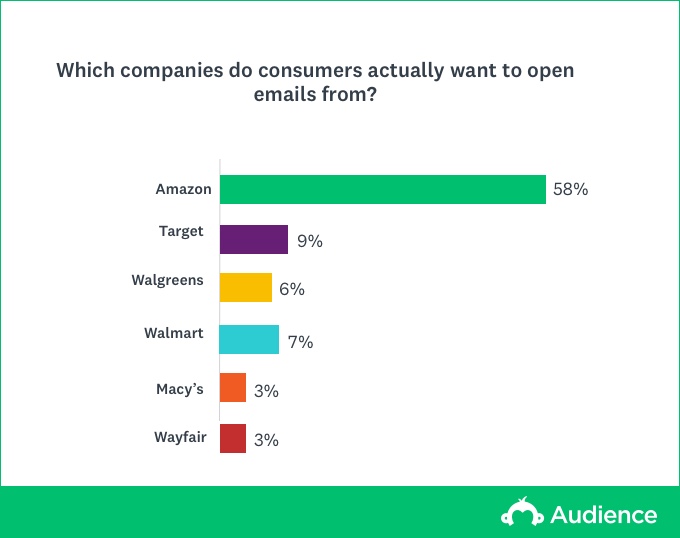 So why is Amazon so popular? The reasons that people gave most often fell into one of a these categories:
Personalized recommendations
Important account information or updates about orders
Elite/special access to deals and discounts
Good pictures and graphics of products
Only relevant information
SparkPost's data reflects the positive performance impact of these features:
Amazon's read (open) rates average in the 35-40% range. Most major retail brand read rates average in the mid- to high-teens. Even the better performers (e.g., eBay; Target; Etsy) average in the mid-twenties.  
Amazon's inactivity ratio (percentage of email subscribers who haven't opened an Amazon email in more than 90 days) averages around 30%,  Most of even the better major retail  brand inactivity ratios are in the 40-50% range. 
Amazon's inbox rates consistently average around 95%, which is in the top tier for major retail senders
What matters: direct benefits, relevance, actionability, and opportunity
Direct Benefit: Like always in life, the best incentive to like something is when it benefits you personally. Far and away, the most popular form of email is deals and promotions. 64% of consumers enjoy getting these emails, and 58% of people are most likely to open an email if the subject line says something about deals and promotion.
Actionability: But successful emails don't always have to be self-serving. Think back to the stat we shared in the intro to this article (32% of people want to get review requests). For context, here was the total breakdown: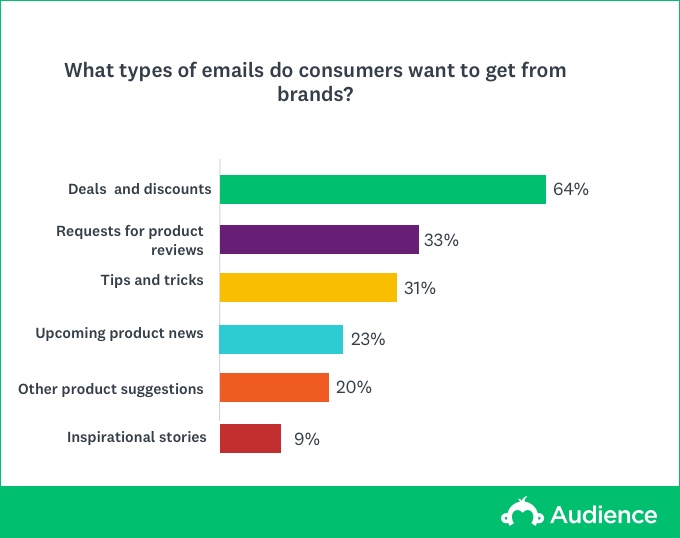 Review requests are second only to information about deals and discounts. It might seem strange that people would be so receptive to a request for help, which will only create more work for them, if they're up for it. But that openness speaks to a deeper trend that seemed to lie at the root of many of our findings: people want to get emails that serve a clear purpose.
Relevance: This part is pretty universally agreed on, but worth restating: When it comes to brand email, it has to be relevant. People want emails that are tied to their personal purchases, behavior, or usage of the product—the Netflix experience. 
A few sample quotes from Amazon email fans about what they like about it:
"I like that there are suggestions for new offers, and deals similar to things I've bought."
"I like the product recommendations for my grandchildren."
"They contain products I would actually use."
There's a big upside for companies that invest in a personalized email experience, too: a higher upside than they might get spending money on ads. 
18% of people would buy something that they discovered via branded email, compared to only 8% that would buy something they saw in a TV ad and 5% that would buy a product based on a print ad. 
A reasonable frequency: This one is probably the most important of the bunch, and the least surprising, for who has a personal inbox. The #1 frustration that people have relative to email is getting too many, and 61% of people have unsubscribed from an email list because emails came too often. 
Email activity tracked by the SparkPost consumer panel illustrates how well Amazon's marketing email observes these principles:
Amazon's messaging is precisely targeted to small audiences (averaging under .05% of their estimated audience size).
This targeting is clearly based on what Amazon knows of the customer's browse of purchase behavior, status, location, and preference.
Subject lines very clearly reflect key message features; e.g., product; offer
Amazon doesn't over-mail.  Their contact frequency per subscriber averages under four; even at peak periods like Holiday.  Other major retail brands can be in the seven to eight range.  Some are even higher.
What (may) matter less: 3 email marketing "best practices" where consumers are lukewarm
The best practice: Using emojis and first names in subject lines are good ways to personalize content and improve open rates.
An oft-cited LeanPlum study from early 2018 found that emails with emojis in the subject line are opened 254% more often than emails without. Do those findings still hold up in 2020?
According to our respondents, the answer is probably not. Only 7% say they are more likely to open an email with an emoji in the subject line. 
Here's another one—HubSpot research from way back in 2014 found that using a person's first name in a subject line results in more email opens. It's a best practice that appears in hundreds of email marketing/email communications blogs. But is it true? Only 3% of our survey respondents seem to think so.
The problem may be that many marketers read about the benefits of "personalization" and see adding first names to the subject line as a solution. But the type of personalization that experts are really talking about is closer to the Amazon approach that we talked about earlier—tailored content based on specific behavior or preferences. 
There was a session at SparkPost's annual conference dedicated to understanding good vs. bad personalization. You can check out the summary here. 
The best practice: Video content > than static content
Let's start with an important clarification: we're talking specifically about video within the context of an email. Because there is ample evidence that video content in general is a very good idea. It's a quick, engaging way to share information and is a primary way that many people consume content. (Our own research even shows that people may trust video content more.)
That said, it's also pretty expensive to produce. Corporate videos usually cost between 500 and 10,000 dollars per minute of the finished product, and most companies have limited team members to devote to the cause, if they have a video team at all. 
Here's where our data comes into play: if you're considering creating a video exclusively for an email campaign, you may not need to. Only 10% of respondents say they care about having dynamic content (like videos) in their emails.

On top of that, video never came up in our open-ended responses for what brands do well. Instead, graphics, design, and imagery came up consistently. Maybe people are less likely to watch video when they're in the email mindset, or maybe they just don't have strong preferences. Either way, if you're looking for pure engagement, an infographic or beautiful image may serve you better than a video, or at least be a feasible alternative.
The best practice: Use email as a primary channel for tips and best practices for using your product.
There are 2 truths you need to balance when it comes to email: The #1 thing that consumers claim they "want to get" from brands is necessary information about how to use a product, and their #1 pet peeve is getting too much email. Not really a conflict of interests, but these facts together do mean that you need to be a little choosy about what counts as "essential info." 
First of all, rest assured that you don't really need to cover everything—either in onboarding emails or in subsequent flows. According to our research, 60% use Google to learn about a new product, while 45% play around with the product themselves, 36% read the directions, and only 19% use welcome emails. 
You're better served by writing some blog posts or other online resources and linking to them from the email. That way, you're covered for search as well as onboarding. Similarly, niche tips and tricks are probably better fits for your website and social media—50% of our respondents have unsubscribed because emails didn't include info that they found interesting or wanted to use.
There's one exception: changes to the product. 36% of people said email is the primary way that they learn about new changes, and you're unlikely to burn any bridges with informative updates unless they come way too frequently.
5 ways to build a better brand email experience with surveys 
Use survey feedback to create a tailored experience and segment your audience.
Getting to that sweet, sweet "good" type of personalization can take some work, and surveys can help you get there quickly and effectively by segmenting your audience according to their responses. 

You can segment any way you like, based on what's relevant to you and your audience—and it's best to customize it your survey to those needs. SurveyMonkey has a market segmentation survey template that you can use as a starting point, but you should note that it's not specifically for email, so you will need to customize questions about your audience's communication preferences and challenges.
Here are a few types of common segmentation to consider:
-Geographic segmentation: Where people call home can drastically change their expectations and preferences, as well as their local lingo. Tailoring your email communications to those preferences is almost always a good idea.
-Psychographic segmentation: This segmentation type, which surveys are especially helpful for, allows you to divide your customers into groups based on their lifestyle—their attitudes, values, habits, and opinions.
-Behavioral segmentation: This separates your audience depending on how they interact with your particular product or service. Where did they learn about your org? What do they use your product for? How often do they use it? This is extremely helpful for making sure your content is going to be helpful for them.
-Demographic segmentation: Breaking your audience up by gender, country of origin, religion, etc. may make sense, depending on your brand and product.

Drop your first survey question directly into your email to create as painless a survey taking experience as possible. Embedding your survey directly into your email makes it easier for them to answer quickly, and without having to follow a link. This will get you higher response rates and more accurate results. A SurveyMonkey study found a 22% increase in survey opens when the survey's first question was right in the email. And not only are people more likely to open a survey that teases the first question, they're also 20% more likely to finish the entire survey.

Visually design your surveys to build trust and brand awareness while gathering critical info. As we mentioned earlier, looks matter. Whitelabeling your survey gives it a brand identity and, simply, prettier. Here's how to make sure your survey looks its very best:

-Color: Use your brand colors to create a cohesive, beautiful experience. SurveyMonkey lets you match exact shades with hex codes.
-Fonts: Stick to fonts that work well for surveys—sans serif fonts like Helvetica, Veranda, and Arial—and away from ones like Georgia or Garamond. The flourishes on those fonts don't translate well into the survey experience.
-Pictures: Embed images into your survey to communicate a lot at once, and brighten the whole experience.
-Progress: Include a progress bar so that respondents can see how far they've gotten and how much they still have left to do.

Time it right: According to our research, most people take surveys on weekdays during the mid-morning or mid-afternoon, which means you'll probably want to send surveys (and other email) earlier in the week rather than later. If your survey is a follow-up to some kind of engagement with the recipient (like buying a product, coming to an event, etc.) then the best practices is to send it no more than a day or two after that interaction so that it's still fresh in their mind and they don't confuse it with other products or events.

Integrate your systems to avoid repeat or irrelevant communications. Because overly-frequent emails is such a terrible email sin, you need to streamline your communication efforts to avoid sharing redundant information. If you aren't already, connect your email efforts with your other communications channels to avoid conflicting or repetitive messages.

SurveyMonkey integrates with email solutions like Marketo and MailChimp and CMSs like HubSpot and Salesforce. You can read more about how that works here.
Making decisions about email strategy can be stressful as you try to balance your employer's needs with the needs of your audience. Having data to reference can ease that tension. Feel free to use the research above to inform your decisions or make your point to stakeholders you might be negotiating with.
Or, do your own. Like everything else in the world of customer experience, a good email program thrives on regular doses of fresh feedback.