Chatbots are the virtual assistants popping into our online lives. We are typing more questions to these online chatterboxes, and 15% of consumers surveyed had engaged with a chatbot in the past 12 months.

Overall, consumers see chatbots as helpful, and they expect to enjoy benefits such as:
64% - 24 hour service
55% - Getting an instant response
55% - Answers to simple questions
51% - Easy communication
These are some highlights of a research collaboration between SurveyMonkey Audience, Drift, Salesforce, and myclever to study consumer attitudes and behavior around chatbots. This type of survey research can be a leading indicator for emerging products and technologies, and our study uncovered both opportunities and barriers. Here's the full 2018 State of Chatbots Report.

Traditional communications are dominant… for now

Consumers communicate with businesses over telephone (60%), email (60%), and website (54%) much more commonly than with chatbots (15%). Even online chat with a person (38%) is used more than twice as often as chatbots, but as the bots increase in sophistication and more business adopt the technology, that gap could close. Even though adoption is currently on the lower end, chatbot technology continues to improve, and the usage data highlights chatbots' growth potential.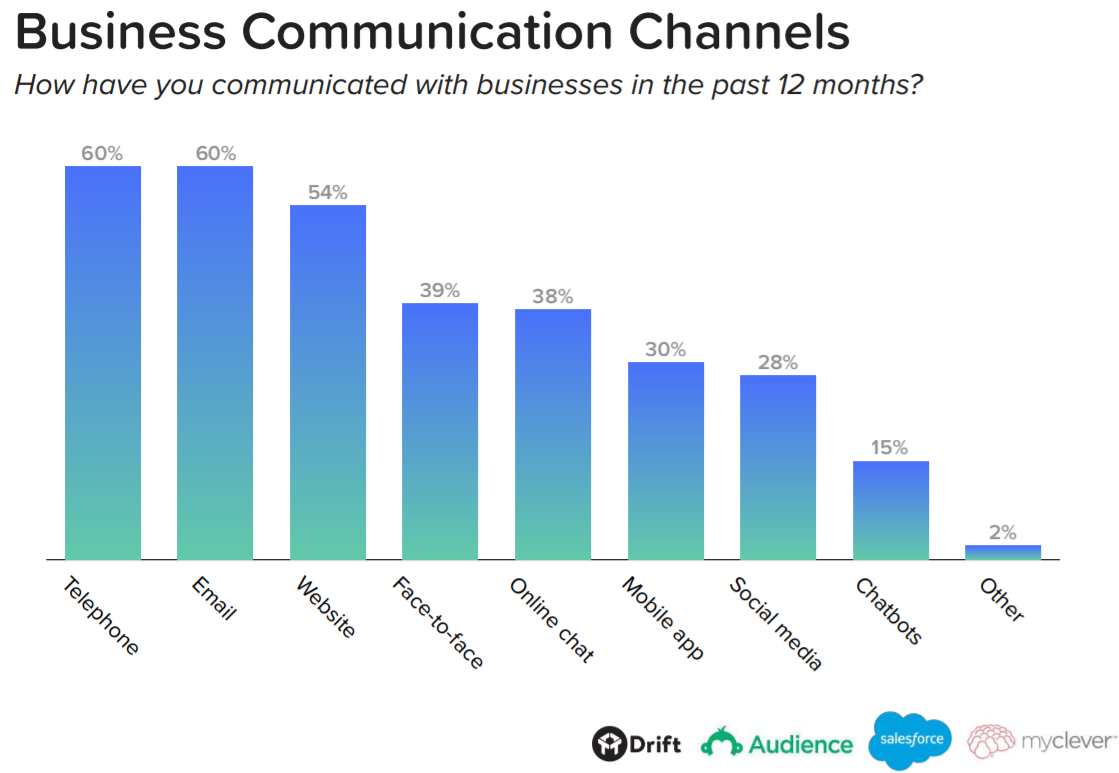 While businesses continue to explore the potential uses of chatbots, consumers predict they'll use them for getting quick answers in an emergency (37%), and resolving a complaint or problem (35%). For purchases, more predict they will use chatbots to buy a basic item (27%) than an expensive item (13%).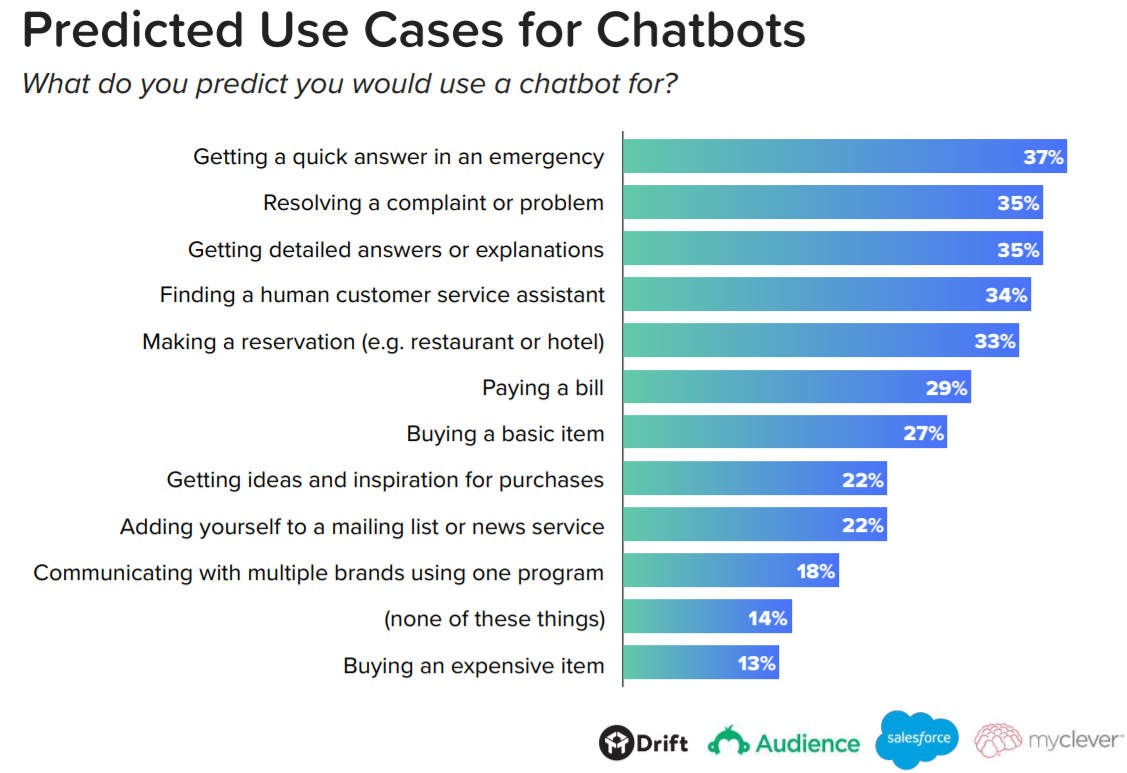 Barriers to bots: the human connection

Preferring a real-life assistant (43%) is the most frequently mentioned barrier to using chatbots, and worry about the chatbot making a mistake (30%) led a second tier of concerns. Understanding the issues that might stop consumers from using a new technology is a valuable result of research into a product or idea.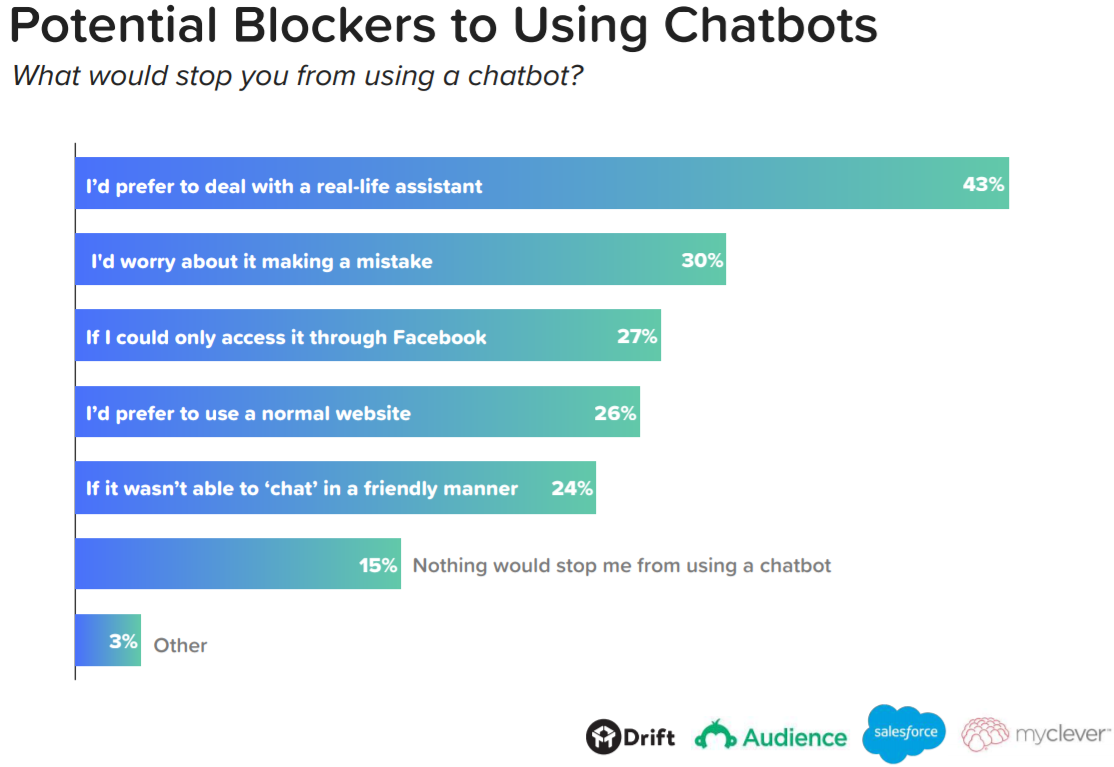 Consumers see clear benefits of chatbots in instantaneous responses and 24/7 availability.

We asked how soon people would expect to get a response on various communications channels. Chatbots are in the top tier (75%), along with online chat (77%) and face to face (73%).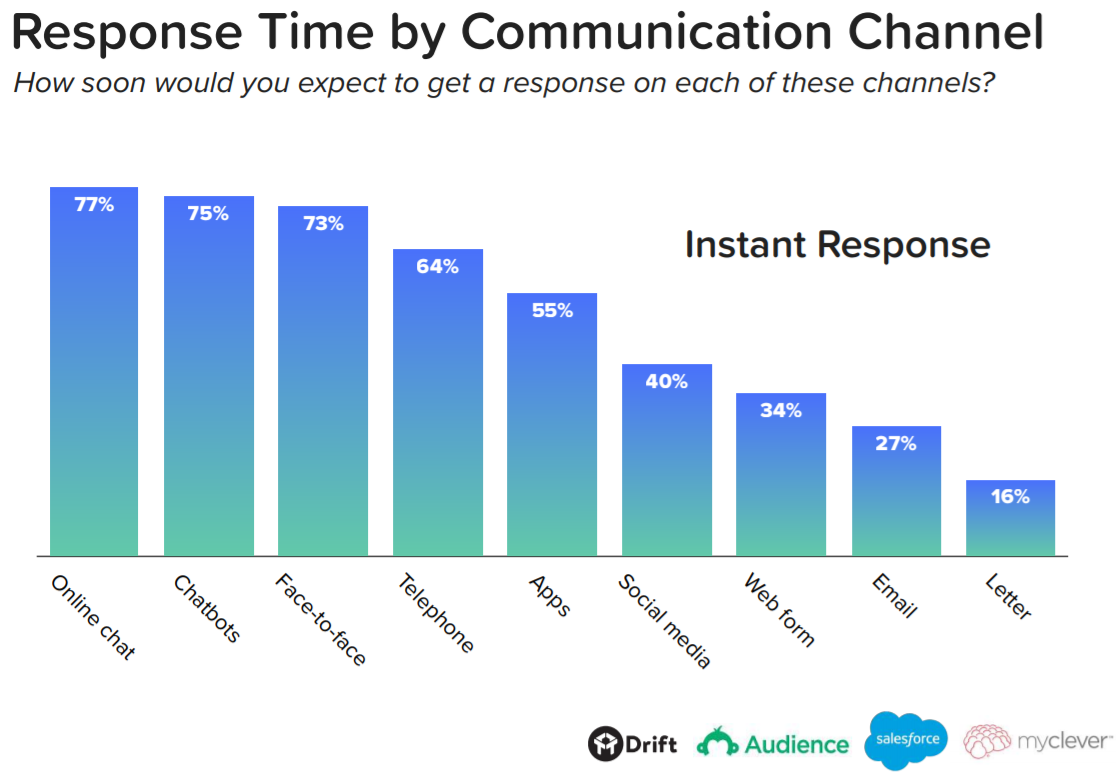 A wide range of emotions...

Our study gives us insights into what people think about integrating chatbots into their online lives. We found a wide array of reactions, from excitement to curiosity to skepticism.

Some are ready to embrace chatbots...
"An excellent solution to make my life easier"
"It would be very helpful and I could get more done"
"Bots are always there to help"

Many take a practical view…
"If it makes my shopping/online experience more convenient, I'd love it!"
"If they make life easier then I'll go for it"
"I'm fine as long as they're helpful"

And a few have reservations...
"It's something new I would have to adjust to"
"Depends on how good the bot is"

Applying survey research to your next business opportunity

Survey research into consumer attitudes and behavior can be a leading indicator for many businesses. This study showed potential growth and barriers for the relatively new technology of chatbots, and you can apply the methodology to other products, technologies, and businesses. If this has sparked your curiosity, try using SurveyMonkey Audience to put People Powered Data to work for your next idea. 
About our study: We used SurveyMonkey Audience to survey 1,051 adults ages 18-64 from October 30 to November 6, 2017 in the United States. The sample was balanced by age and gender according to the US Census and is representative of the adult online population.
Create your own stories based on data
Our content marketing guide will teach you everything you need to know about creating content based on original research from survey data.