You might associate the summer with clear, blue skies or a beach so hot you can't help but take a dip. But to many, summer offers so much more.

People come together to watch musicians perform, go out of their way to cheer on their favorite baseball team, and eat ice cream fast enough to get brain freeze—you can't let it melt!

So what, exactly, do people have in mind when they think of summer? And what kinds of activities are they most likely to pursue? We used SurveyMonkey Audience to ask 252 American adults—weighted by gender, location, age, among other variables—about their views on the summertime.

Before you put your bathing suit on, check out what they said:
What are you curious about?
Use SurveyMonkey Audience to test any and all ideas with your target market.
The #1 word people associate with summer is…

Aside from its natural beauty, it's the activities people do at the beach that make it stand out. For example, more than half of people go for a walk/run (53%) and either swim or play water sports (51%) on the beach.

When broken down by demographics, you'll find even more things people do at the beach. 62% of young adults (18-29 years old) want to either swim or play water sports, while 45% want to take a nap. Middle-age adults (45-60 years old), on the other hand, prefer to walk or run (55%) and read (47%).

Age isn't the only factor that influences the beach activities we pursue. People on the west coast for example, are roughly 10% more likely to build sand creations and play sports on the sand than people on the east coast.

Would a warm, sunny day make you want to relax or be active?

When we asked this question to our respondents, nearly two-thirds sided with the latter. And based on their summer plans, it's clear that they're right.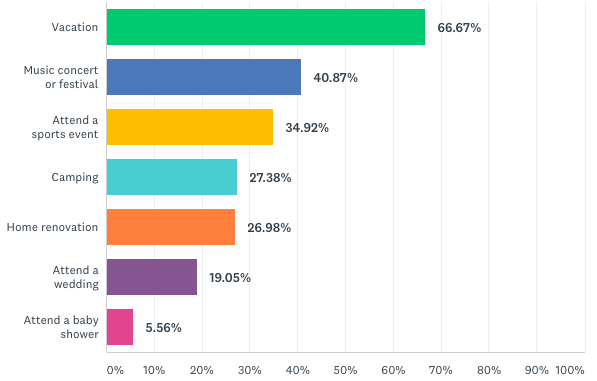 Here are some of the top things people are planning to do this summer:

Taking time off for vacation (67%). It wouldn't be summer without some "me time," right?
Getting your groove on by going to a music concert or festival (41%)
Attending a sports event (35%). There's nothing like spending some time at a game with a hot dog in one hand and a cold drink in the other
Going camping (27%). The mosquito bites are a small price to pay for the experience
As you can imagine, age also largely determines how we spend our summer. For example, young adults are more likely to attend a wedding (28%) while older adults (30 years and older) are more likely to stay back and work on some home improvements (34%).

The sunshine doesn't just help us be active; it also makes us happier. The majority (78%) of adults say that sunshine makes them feel better. This effect is particularly prevalent among people on the east coast (84%), young adults (81%), and women (80%).

No matter who you are and where you live, there's a good chance you've grown fond of the summertime. The sunshine makes for a happier you, while the variety of activities you pursue keeps you social, productive, and content. So get outside and be active—you're bound to have a good time.

Create your own stories based on data
Our content marketing guide will teach you everything you need to know about creating content based on original research from survey data.