Quizzes are perfect for employee training, quickly grading your students' tests, or even just for fun. Whether that means asking your friends about their favorite snack, onboarding new hires in a creative way, or engaging customers online, quizzes can really be used for anything.
The best part is that you won't have to spend time scoring dozens of quizzes—SurveyMonkey does that for you, automatically.
Quizzes are a game changer. They give you a simple, fast, and fun way to engage your audience on any device, anywhere.
Want to know how it works? Get a feel for quizzes below. We'll give you the inside scoop on the tool's top three features.
1. Customize how you score each question
As soon as you create your survey and start adding a question, you can checkmark the "Score this question" option, which automatically enables quiz mode.  A points column will appear to the right of each answer option.
Looking for a way to make some questions worth more than others? Good news—our custom scoring feature lets you do just that! That means you can change the point value of each question depending on your preference (1 point or higher).
With custom scoring, you can also set up your quiz to allow partial credit for answers. For example, if the right answer is worth two points, you can let respondents get one point for a somewhat wrong answer.
When you make your quiz, the custom scoring will show up like this: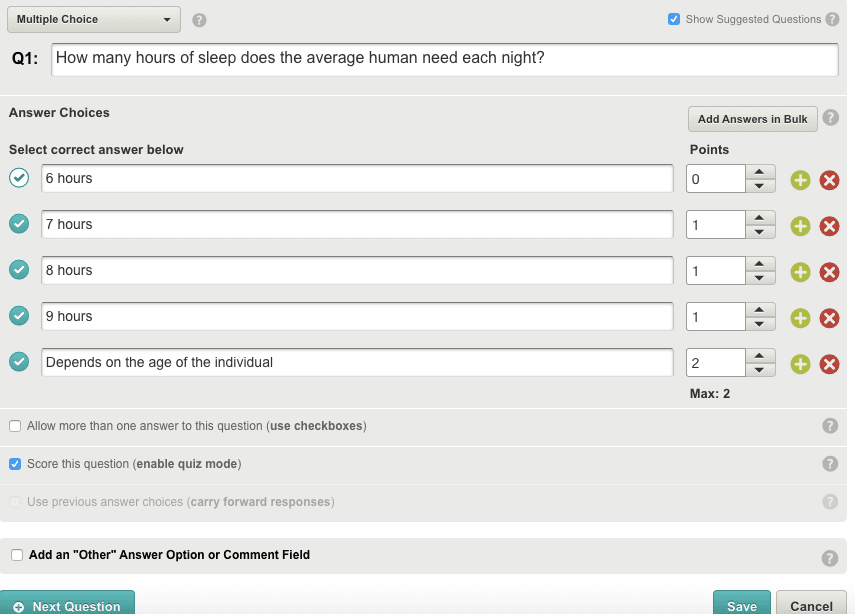 Pro tip: You can also use checkbox question types in a quiz. So if you want respondents to choose more than one right answer, go for it!
With quizzes, your respondents won't need to wait around for their results. They'll automatically be able to see which answers they got right or wrong after finishing the quiz. If you don't want them to see, it's easy to switch this feature on and off. To make sure your setting is the way you want it, remember to always use Preview and Test.
For the quiz below, we've let respondents see their right or wrong answers. Check it out: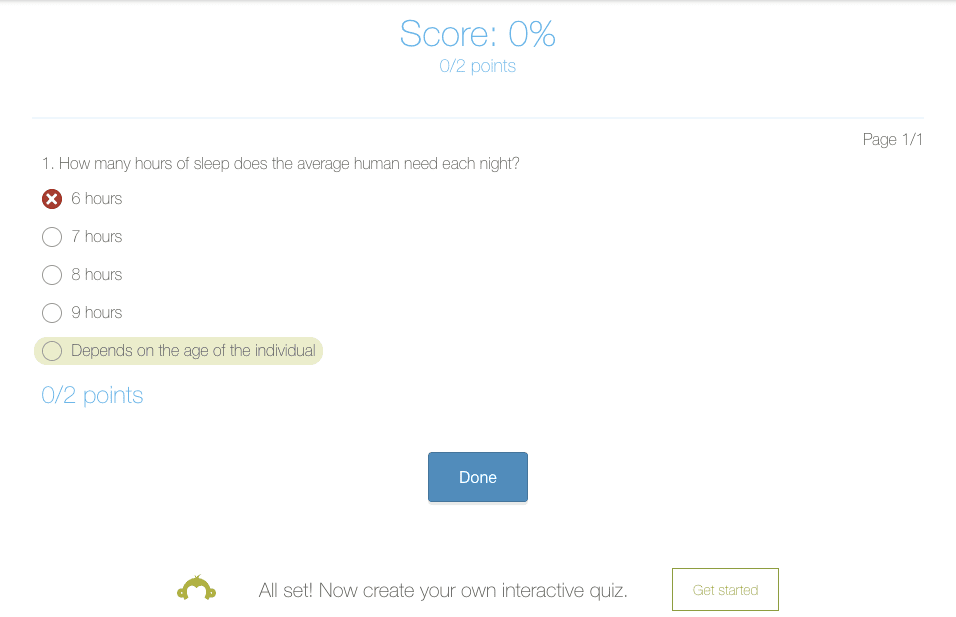 3. Let SurveyMonkey do all the analysis and scoring for you
One of the greatest things about quizzes is that you'll never have to score manually again. Wish you could dive deeper into your data? With Analyze in quizzes, you can access real time statistics about both your quiz takers and their answers. Here are some handy tools you can use:
a. Rank questions by difficulty or average score:
You can rank questions by difficulty or average score. That means you can see what questions were easy or hard for your quiz takers.
b. Make quick and easy-to-read graphs:
You can also make distribution graphs to indicate how many respondents are earning the most points, and how many are earning the fewest. They give people a quick snapshot of quiz takers' scores.
c. Rank individual respondents:
If you want to discover more about who's taking your quiz, you can check out your respondents' data on scores, ranking, and percentiles.
Once you've gotten enough data about your responses and your quiz takers, you can share what you've discovered. Send one page of data with all your insights—including a quiz summary, results on each question, and a summary highlighting each individual's response.
Want to make the most out of your quiz? Feel free to easily change or edit your questions even after launching your quiz. You can even reuse your quiz to keep track of how your respondents improve over time.
Ready to get creative with your questions? No matter who you're looking for answers from—your employees, students, customers, or friends—try out quizzes to get them hooked. Want to try it out for yourself? Make a quiz today.