If it feels like things cost a little more lately, you're right. Consumers are seeing rising prices in just about everything—from groceries to gas. And while it might seem like companies would benefit from the increases, businesses are experiencing their own economic pressures that are rattling markets and driving corporate cutbacks. The suggestion of an economic downturn has turned into a reality, which will likely impact everyone; from main street to Wall Street. 
There is some good news. Consumers largely feel confident that they can adjust to address a downturn, and many are taking steps to cut back and save. And, the most confident business leaders have something in common—a list of priorities and a plan to survive. 
In two July Momentive studies using SurveyMonkey Enterprise1, we took a pulse of what was on the minds of consumers and business leaders as they navigated the potential of an economic crisis. Here's what we learned.
Concerns about surviving a downturn run deep
Almost three-quarters of consumers agree that inflation will have the biggest impact on personal spending, ranking it above an environmental event, or a global war. An economic downturn ranks second, with 58% of consumers saying they would feel its impact.
While the majority of consumers are confident they can adapt their spending to survive a downturn, a significant percentage are concerned about coming out of a downturn unscathed.  Over a quarter, or 26% of consumers lack confidence that they can maintain their lifestyle during a downturn, and the areas of concern are fundamental.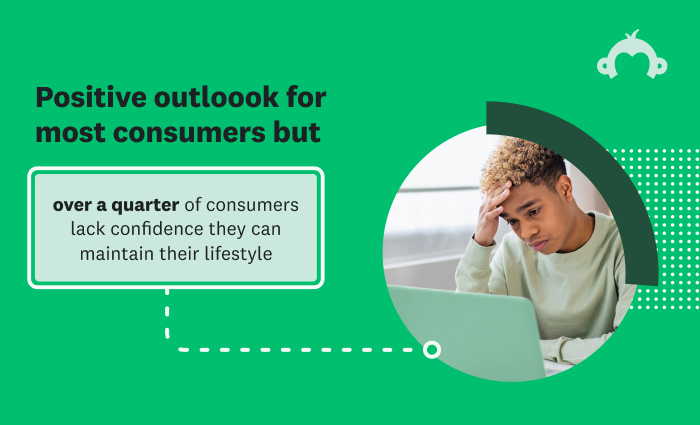 Almost two-thirds, or 63% of consumers are concerned about food security, the top response. Fifty-six percent are concerned about their family's well being, and half are concerned about employment. Mental health support came in last, but was still significant, with 16% of consumers ranking it as a concern.
Cost-cutting measures already taking shape
Pandemic shopping normalized some new habits for many people. Consumers were willing to spend on conveniences like delivery services, and pay more for products that were readily available.
Today's consumer is more cost-conscious, and reconsidering previous spending priorities. We found that 40% of consumers will stop using food delivery services, and 22% will stop using rideshare services.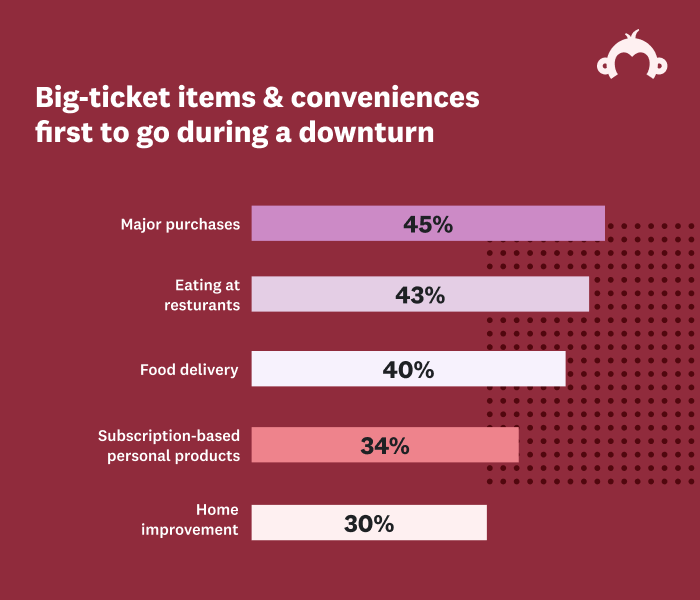 Paying a premium for delivery services and name-brand products is being displaced by more thrifty alternatives, like choosing less expensive product options. Additionally, consumers have already delayed big-ticket purchases and tightening their wallets in other areas.
In our research we found that 41% of consumers have delayed a major purchase, and 31% have delayed a home improvement project. Everyday cost-cutting measures are also taking hold, with 53% of consumers reporting they are likely to switch to a lower-cost generic brand from a name brand.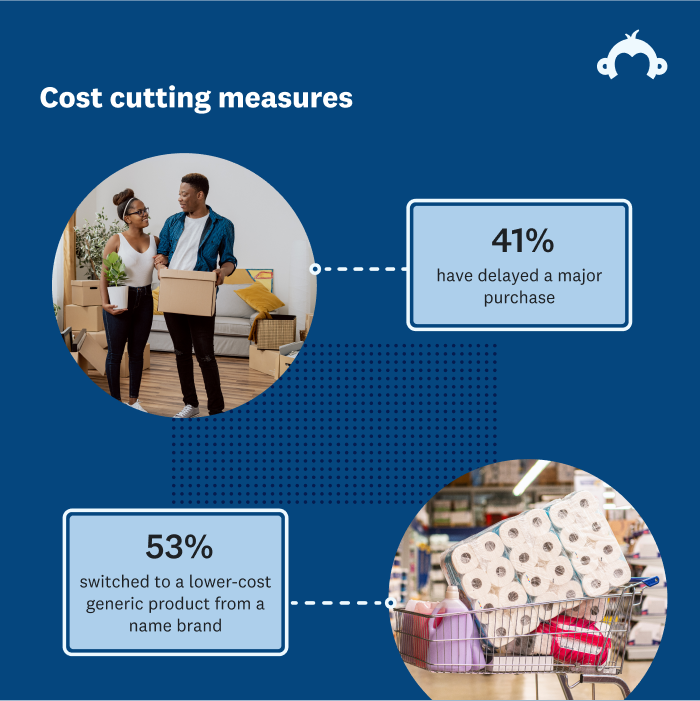 Understanding generational differences is crucial to brand survival
People are different and consumer choices on spending and saving plans vary based on their demographics. For example, in our research we found that Gen Z seems the most willing to spend less than other generations, with 91% of Gen Z saying they would prioritize lower-cost purchases compared to 84% percent of consumers aged 33-45. By comparison, older generations seem willing to save more, with 78% of consumers aged 33-45 saying they would bulk up their emergency funds compared to 53% of Gen Z.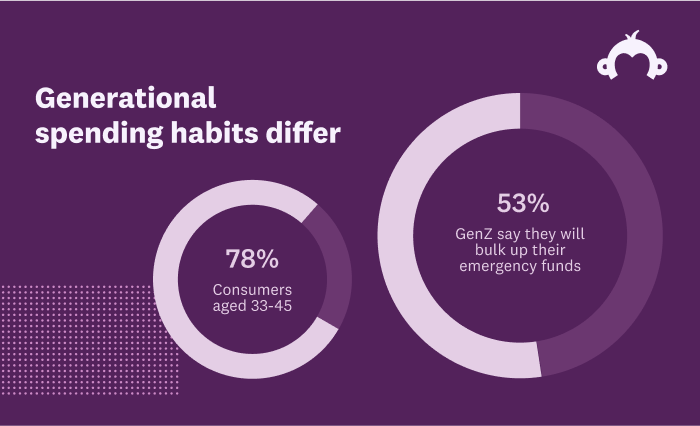 But when we dug deeper, we found that spending is a subjective business.  GenZ were also the most likely to spend in certain areas, such as dining out. About half of consumers over 44 say they will stop eating out at restaurants, compared to only 36% of GenZ.
This same thinking holds true for other demographic segments. Women appear to be more cost-conscious than men in many areas, such as eating out at restaurants, pausing on major purchases and saving. In our research we found that 52% of women would pause dining out, compared to 37% of men.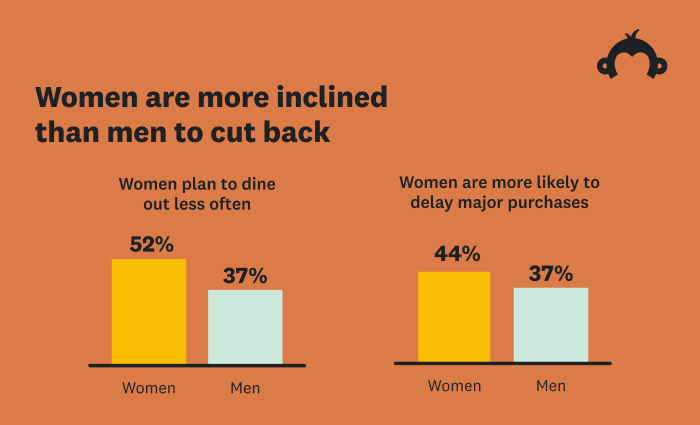 Not all business leaders feel prepared
Business leaders also have concerns about their companies' ability to weather an economic downturn. Over a quarter, or 28%, of business leaders predict their companies will respond with a lack of action, overreaction, or chaos to an economic downturn.
Leaders are also split in their belief in their company's ability to weather a downturn. Almost half, or 44% say they are not at all or only somewhat confident their companies will adapt and thrive in a time of crisis. 
However, there are things leaders can do. The top 3 leadership qualities that business leaders say will help them get through a crisis are an ability to pivot, which ranked first in our study at 64%. Big-picture thinking came in at 58% while quick decision-making ranked third at 56%.
Planning and feedback are keys to survival
Combining these leadership qualities with actionable data appears to be a winning combination. According to our study, 62% of business leaders say they will give their teams a clear strategy and set of priorities to get through a downturn.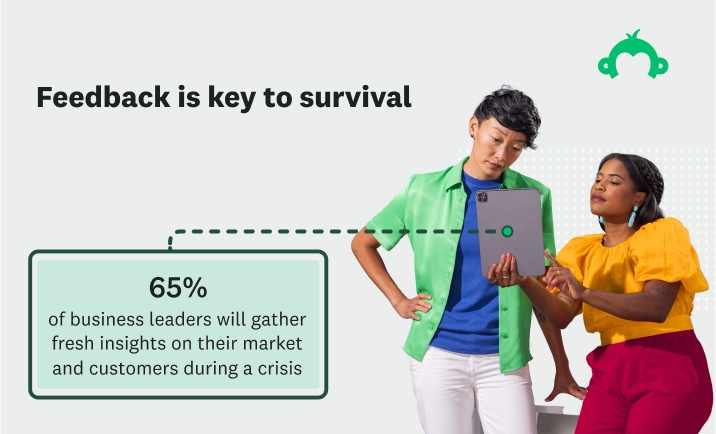 Almost half, or 48% said they will give their teams access to current feedback, and 42% said they would provide decision-making systems and tools. Over a third, or 38% will give teams access to data and insights to take action.
Collecting data to provide direction to teams starts with research. Almost half, or 42%, of business leaders say they conduct MORE research during a time of crisis. And, 57% of insights and marketing VPs/C-suite believe that reducing research during a crisis is very or extremely risky.
Business leaders may be concerned about an economic downturn, but the most confident are also prepared. For consumer brands, collecting insights on consumer behaviors and sentiment and giving teams clear, strategic direction are the keys to surviving and thriving a downturn.
Want to collect insights about your customers? Here's a few solutions that can help.
*July 2022 Momentive studies of 1,411 adult consumers and 410 business leaders in the US. Data collected overnight.