2020 Summer Conference: Call for Proposals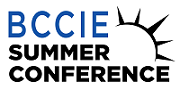 Summer Conference 2020: Call for Proposals

Session proposals will be accepted until 
December 31, 2019
. We encourage you to submit proposals with more than one presenter and preference will be given to proposals with speakers from multiple institutions. Interested lead presenters should complete the following session proposal form in full and provide as much detail as possible.
Lead presenter and session speakers are responsible for their own transportation, accommodation, and conference registration costs.
Please contact
conference@bccie.bc.ca
with any questions.
Note: The presentation duration is 60 minutes (45 minutes + 15 minutes for Q&A)