ST. John Banana Plants Order Form
For St. John Gardeners and Farmers Only!
To place an order for Bananas, please fill out the order form below... We have 5 varieties and we recommend 1 of each variety for a home planting.
Bananas are $3 each and approximately 6 inches tall. Questions email trees4STX@sgvbg.org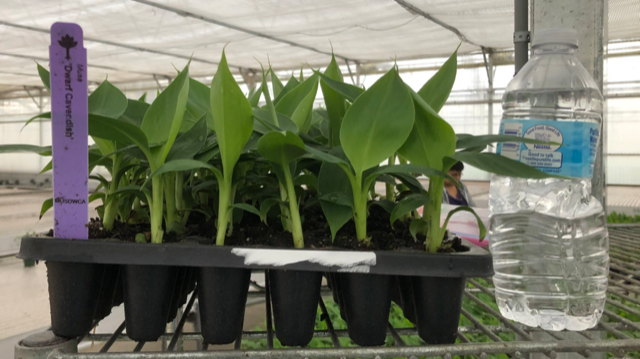 This is a high quality commercial type of banana, and is grown all over the Caribbean. It has a bright, highly saturated yellow hue on its just-thick-enough peel with an easy-to-separate, relatively-flavorful inner lining the author enjoys gnawing on. Its flesh, too, takes on a distinct yellow-to-orange color (pointing to its high levels of Vitamin A), and carries a balanced taste that has just the right amounts of sweet, slightly tangy, and custardy. 
This Banana is commercially grown and can be potted as a house plant. It is compact and quick growing and easy to care for.
A Dwarf plant that grows 5 to 7 feet tall. Mahoi means twins in Hawaiian. This banana plant is unique because it produces two large heads of fruit on the same plant and on rare occasions can produce three. The fruit is very sweet and tasty and should be considered among the best. The plant is a Dwarf Cavendish mutation.
Known as the Chiquita banana because it is the main product of Chiquita Brands International. Grand Nain bananas are banana cultivars of Musa acuminata. It is one of the most commonly cultivated bananas and a member of the commercial Cavendish banana cultivar group. 
Musa 'Dwarf Green' is a sturdy plant with extremely thick leaves. It is a sport off of Dwarf Red and use to be called Dwarf Green- Red, Has stripes of red on trunk and banana taste and looks like dwarf red. The thick leaves make this cultivar very wind tolerant. This is a cavendish type banana that produces a creamy orange pulp fruit. 'Dwarf Green' grows excellent cooking leaves that can be used for wrapping and grilling meat, as well as serving food. Fast Growing, Heat Tolerant, Wind Tolerant. HEIGHT: gets  to be 6 Feet