IT/OT Convergence Assessment Survey
We
have been hearing a lot about the convergence of information technology and operations technology (IT/OT).  This convergence been going on globally for several years as manufacturers realize that they cannot begin their digital transformation journey until this process occurs.  Connectivity between OT to IT is essential for any business to compete today with the increasing demand for tighter integration and more information that leverages IIoT, I4.0, cloud, edge, advanced analytics, big data, AI, and machine learning technologies.  However, the reality is most factories contain multiple generations of OT systems that must also be part of the IT/OT convergence journey This survey will explore where companies stand regarding how successfully they have linked their OT systems to their IT systems, covering both the technical and cultural issues. ARC Advisory Group conducts this survey to allow you to Benchmark your IT/OT Convergence Digital Transformation Journey with your peers.
Privacy: Your privacy is assured and your identity will not be released to others. Your responses and the responses of your peers will be included in the report you will receive for taking this survey.  If you have questions about the survey, please contact us at:
https://www.arcweb.com/about/contact-us

Please review ARC's Blog on IT/OT Convergence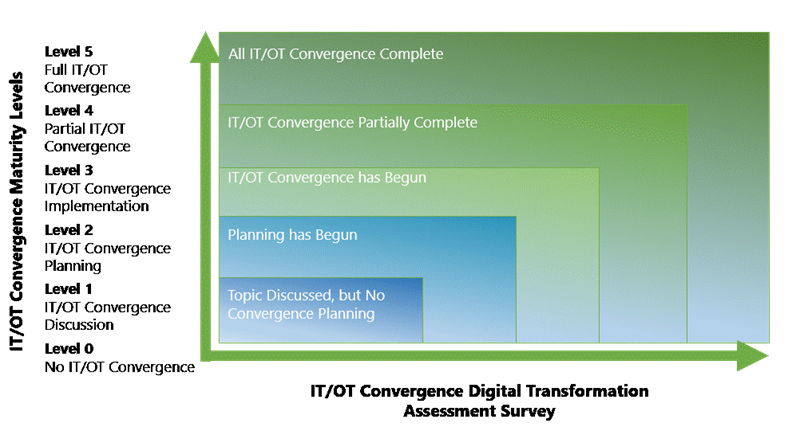 ARC has defined the following "Maturity Levels". For the following questions, please rate yourself in each of the following sections:

Level 0 - No IT/OT Convergence is planned. 
Level 1 - IT /OT Convergence is being discussed.  
Level 2 - IT/OT Convergence is planned. 
Level 3 - IT/OT Convergence is happening.
Level 4 - Partial IT/OT Convergence is complete.
Level 5 – Full IT/OT Convergence is complete.